Hand Cream for dry, rough and irritated hands | Protect your hands this Winter
"The colder seasons are routinely rough on the hands, drying them out to feel tight, itchy, or even cracked, along with exacerbating the effects of skin conditions like eczema and dermatitis that come with their own set of irritations. Thankfully, we have some tips on caring for your hands and recommendations on the best hand creams for you."
It is very common to suffer from dry hands in winter. There is far less humidity in the air; colder outdoor temperatures and dry air indoors from central heating systems, all contribute to dry skin in winter. This dry and cold weather causes moisture to evaporate from our skin quickly, making it vulnerable to dehydration. Common symptoms of dry hands include scaling, redness, irritation and cracking.

---
Our recommended handcare products for Winter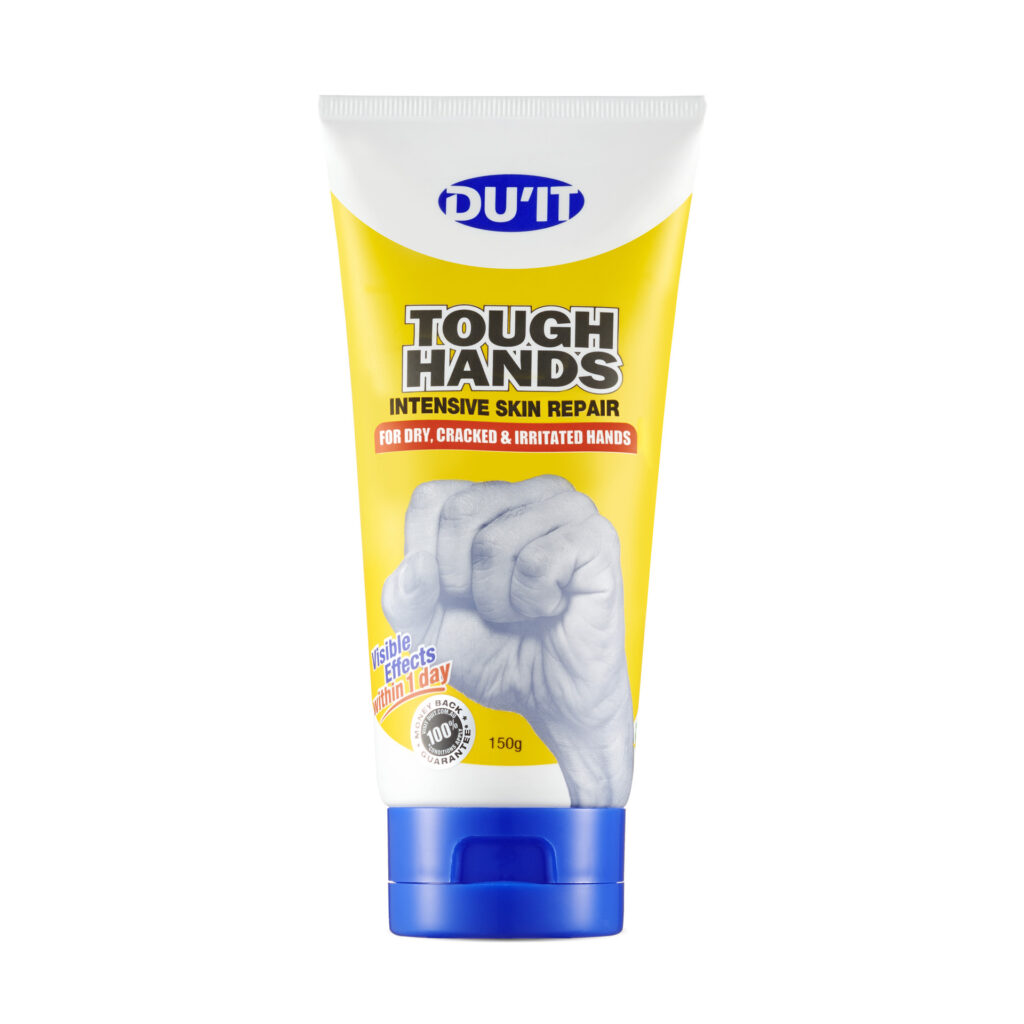 Tough Hands
Intensive Hand Repair Cream
Tough Hands Fragrance Free
For Sensitive Skin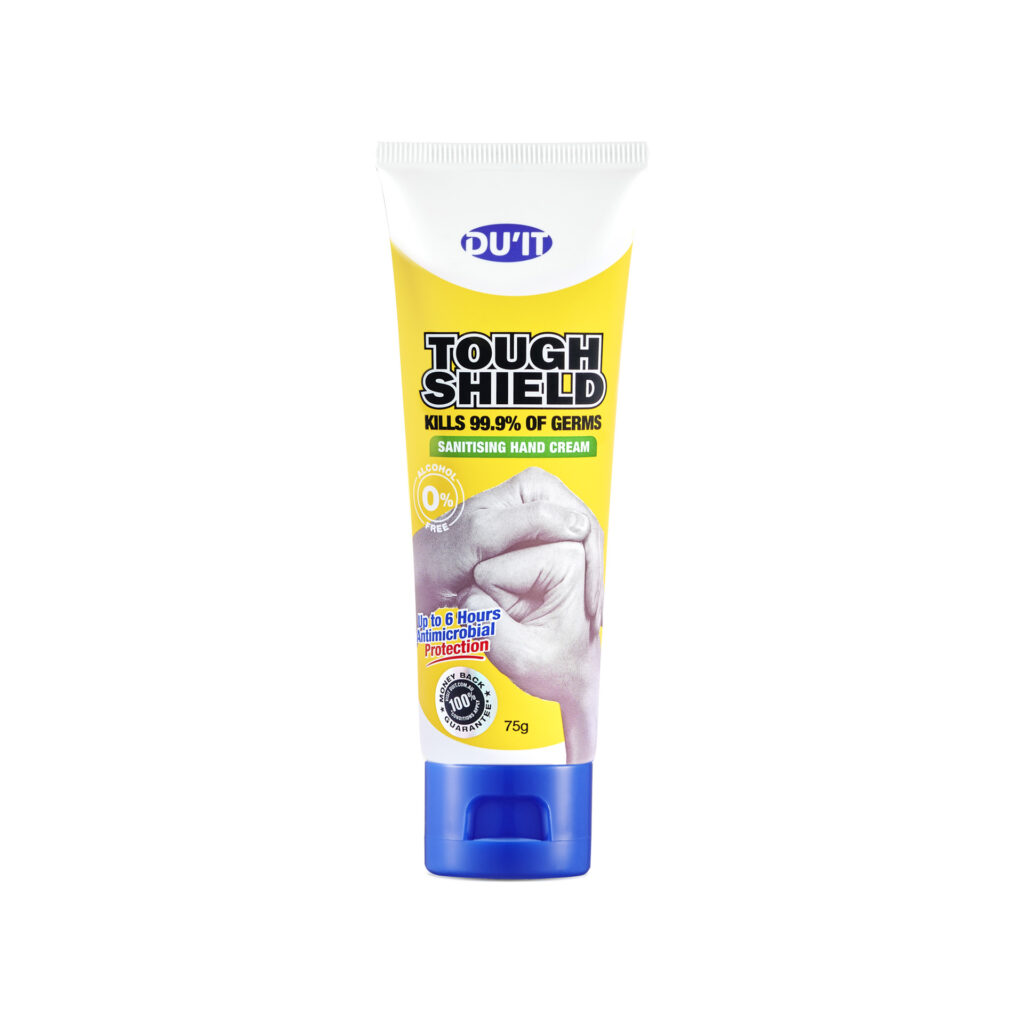 Tough Shield
2-in-1 Sanitising Hand Cream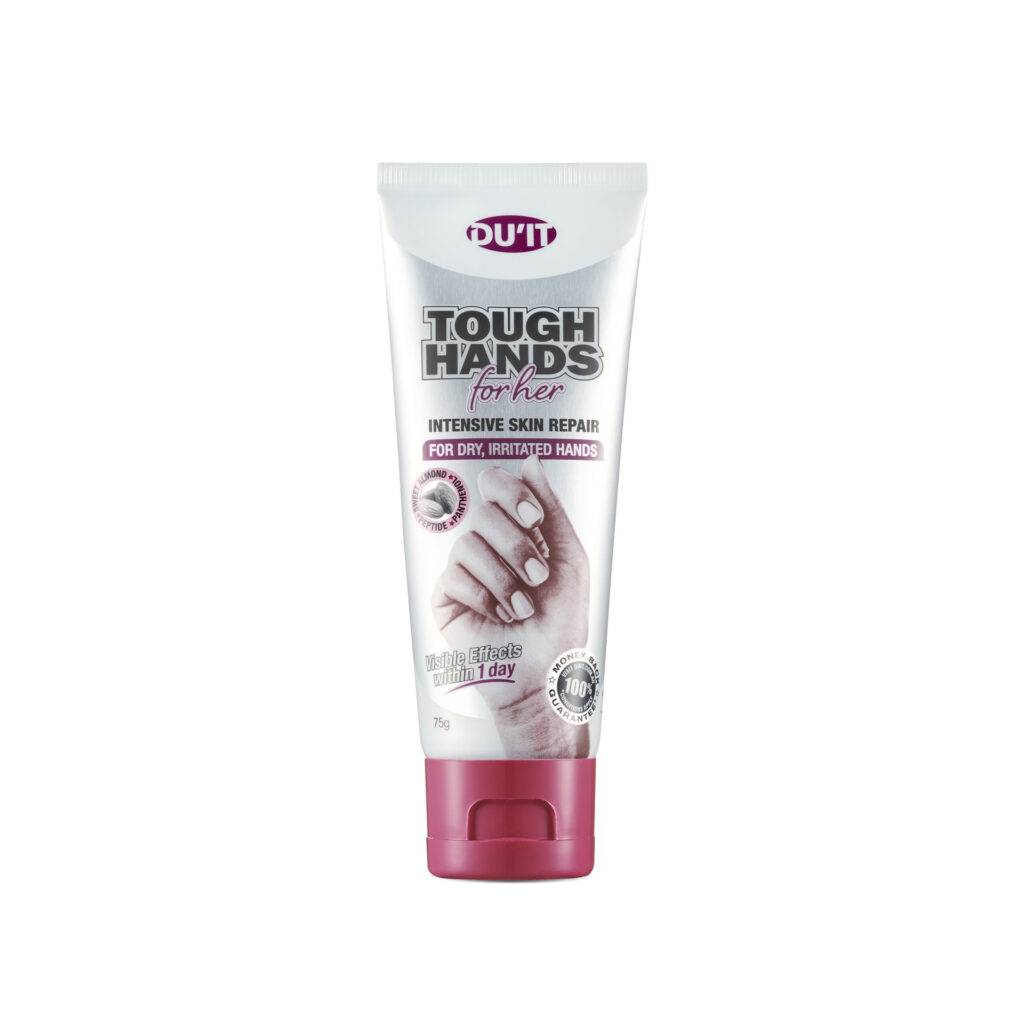 Tough Hands for Her
Anti-aging Hand Cream
So, how can you best treat and prevent dry hands in winter?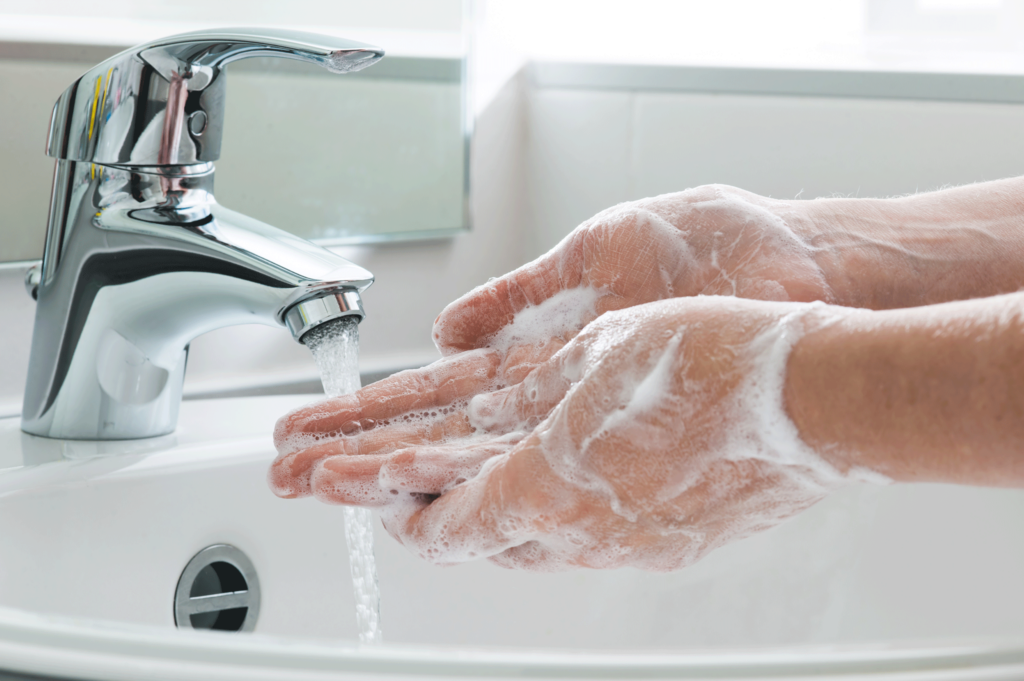 1. Do not use so much hot water.
Hot water may feel good, but it dries out and irritates the skin. This is because your skin's protective lipid layer is kind of like butter; it stays put under cool water, but it can melt away under hot water. Once it melts away, the moisture in your skin rapidly escapes until the lipid layer replenishes itself. As you age, it takes longer to replenish lost lipids and your skin stays dry for longer. So if your hands are prone to dryness, avoid cleansing with hot water. Wash them with warm or cool water instead.
2. Use a gentle hand sanitiser.
Proper hand washing is the best defence in winter against viruses and bacteria that can make us sick. But wetting and drying hands frequently can remove oils in our skin, drying them out and making them increasingly prone to redness and cracking. DU'IT Tough Shield sanitising hand cream is a 2-in-1 hand cream and hand sanitiser that kills 99.9% of germs, fast without water. Tough Shield is ideal for all skin types, including sensitive skin, it is 100% alcohol-free and doesn't dry out your skin. Enriched with a mixture of nourishing, hydrating and antibacterial formula, it is clinically proven to soften and repair dry and rough hands and kills 99.9% of harmful germs while providing up to 6 hours of continuous antibacterial protection, leaving your hands moisturised, sanitised and protected.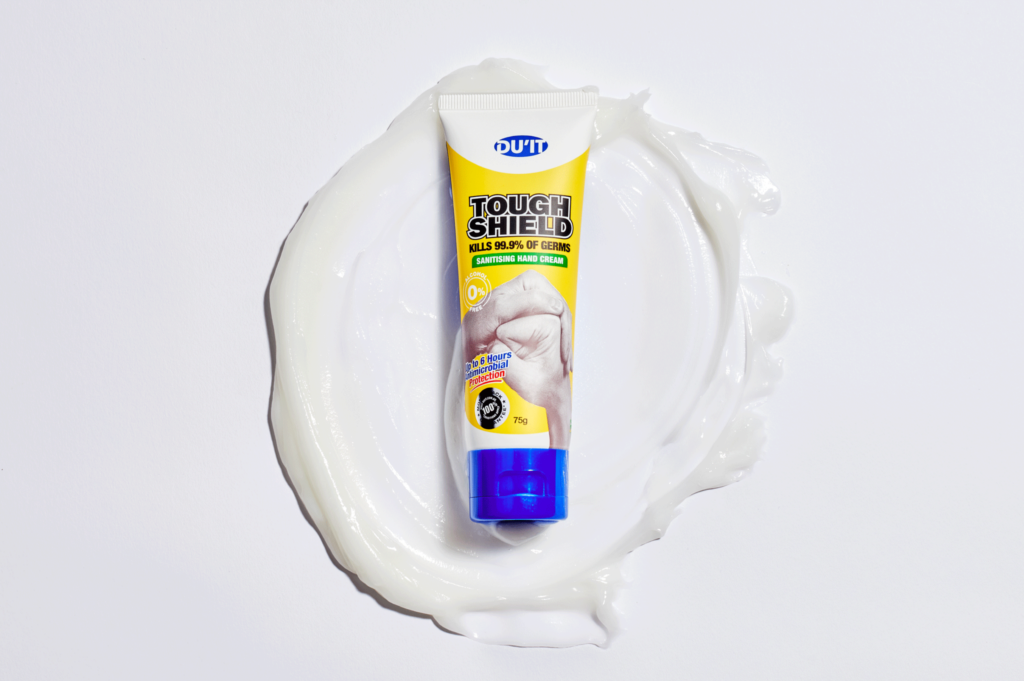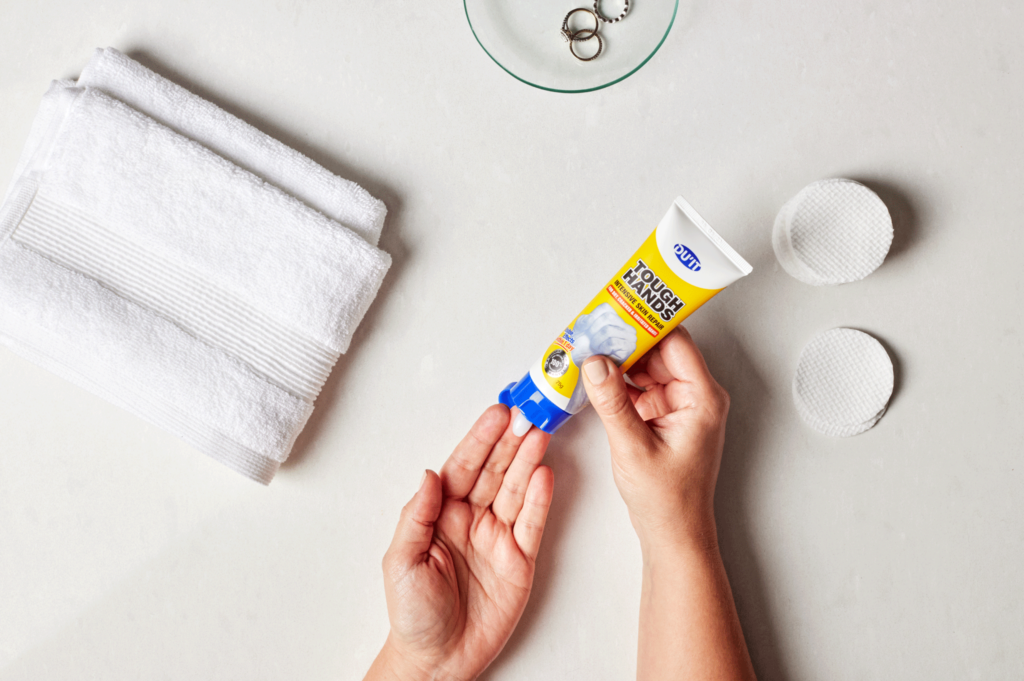 3. Apply hand cream after washing.
Make sure you always carry a hand cream and get into the habit of moisturising after hand washing.
Australia's No.1 hand cream DU'IT Tough Hands is a clinically proven hand moisturiser designed to target chronically dry, rough and cracked hands (IRI Data, Pharmacy & Grocery MAT to 05.02.2023). It has an intensive formulation that contains urea, vitamin E, sodium PCA, glycerin and dimethicone, to nourish and protect your skin around the clock. Natural AHAs help to remove dead skin cells and combat calloused hands. Tea tree extract and lemon myrtle have unique antimicrobial properties that help the cracks to heal. Its gel-emulsion consistency sinks in quickly without leaving any greasy residue. Tough Hands hand cream also comes in a travel-friendly 75g size, allowing you to moisturise your dry hands on the go.
If your hands are prone to sensitivity, we also have a fragrance-free hand cream for you. DU'IT Tough Hands Fragrance-Free is an effective hand cream that contains no added fragrances or any nasty ingredients. Free from parabens, petrolatum, mineral oil, lanolin and propylene glycol, it is super gentle and non-irritating even on the most sensitive skin type. It is the best hand cream for dry and sensitive hands and is recommended by the Eczema Association of Australia.
4. Use a nightly hand mask.
Apply a generous layer of hand cream to both hands before placing them into the gloves whilst you sleep overnight. This is almost like doing an intense 'hand mask' providing relief for dry and chapped skin.
Our Tough Hands for Her hand cream is a dermatologist-approved anti-aging and brightening hand cream that contains a unique complex of peptides, niacinamide and panthenol, perfect for treating dry hands. These actives work to plump the skin, restore skin elasticity and keep the hands smooth, radiant and tight. Its non-greasy texture quickly sinks in and deeply nourishes the skin. Covering your hands with gloves after applying Tough Hands for Her to lock in the moisture, allowing the active ingredients to work on the skin, leaving your hands replenished and radiant.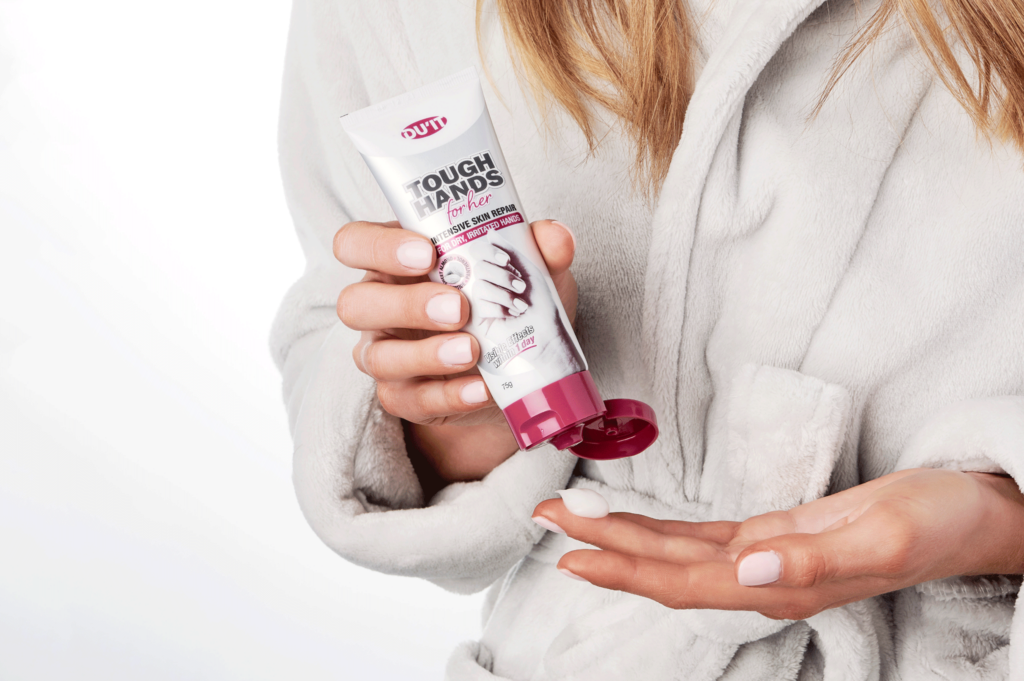 ---
DU'IT provides a commitment to creating safe, effective and gentle skincare products that starts with a clear checklist:
• Visible effects within 1 day
• Clinically proven
• Non-greasy, barrier protection
• Suitable for sensitive skin and dermatologically tested
• Supported by Eczema Association of Australasia and Diabetes Australia
• Australian made and owned
Our skincare does NOT contain Parabens, Petroleum, Propylene Glycol, Harsh Detergents, Mineral Oils or Allergens or Irritants.
---