After a BBQ, do you find it quite hard to get rid of the grease, odour, and charcoal mess on your hands? Learn how to clean your hands without wrecking them in the process.
Organising a barbecue is a great way to enjoy with your friends and family. The combination of delicious smoky food, drinks and scenic beauty of the beaches or your local park is something that is difficult to resist.
However, after the BBQ, you may find it is quite hard to get rid of the grease, odour, and charcoal mess on your hands.
Don't just grab a bottle of soap and start scrubbing. Some products that are made to cut through the grease do the job too well by stripping your hands of their natural oils.
Save yourself the skin cells and learn how to clean your hands without wrecking them in the process.
---
Our recommended hand care products for BBQ Pitmasters
Tough Hands
Intensive Hand Repair Cream
Tough Hands Fragrance Free
For Sensitive Skin
Tough Scrub
3-in-1 Hand Cleanser & Exfoliator
---
Hand care tips for BBQ pitmaster
---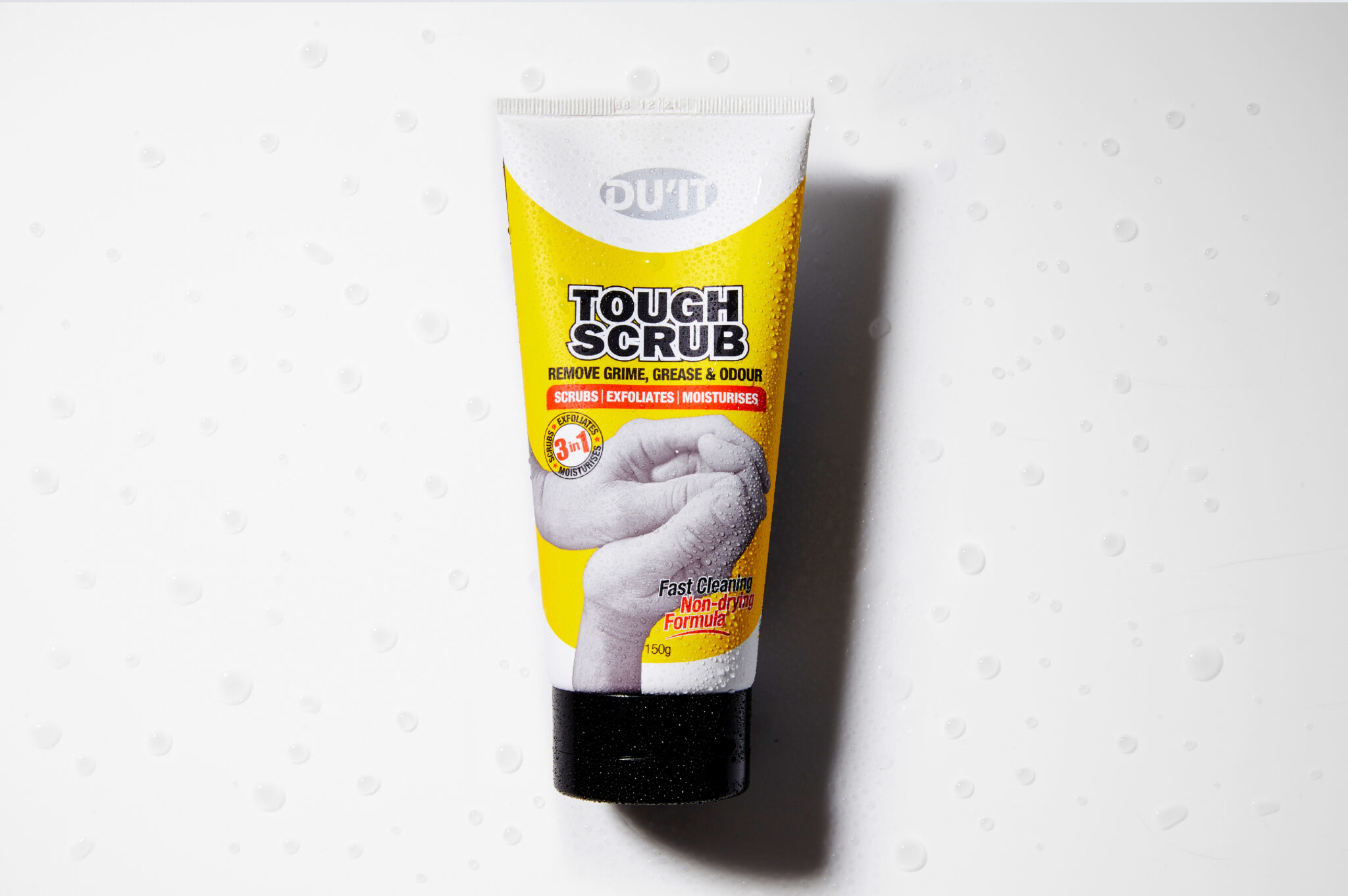 1. Hand Scrub
Exfoliating hand scrub is the most effective when it comes to getting rid of the BBQ mess. The potent odour residues on your hands come from sulphur molecules in foods. Due to our skin's natural oil, the sulphur molecules are easy to "stick" around your hands, which makes meaty, BBQy and smoky odours linger. An efficient exfoliating hand scrub helps loosen any build-up of sulphur molecules and dirt for a deeper cleanse. It not only removes odour and grime quickly but also can strip away the top layer of dead skin to make way for new, smoother and softer skin.
On the other hand, cooking oil is very sticky and can be caked in different areas on your hands, having a hand cleaner with a scrubber or pumice is also a great choice . DU'IT Tough Scrub is a 3-in-1 hand scrub that is renowned for removing tough stains, dirt, and oil from hands. It comes with walnut shell, glycerin, vitamin E and other skin-nourishing ingredients that remove odour, grease and stubborn dirt and leave your hands silky smooth.
2. Gloves
Gloves are commonly used for preparing food, especially for those who work in the food industry. However, it's sometimes forgotten about in home cooking. Wearing thin gloves while you prepare your BBQ or roast can create a barrier between your skin and food and keeps the smell from sticking around.
3. Hand Moisturiser
Finally, don't forget to replenish the skin's moisture with a good hand cream after the scrubbing . DU'IT Tough Hands is an intensive hand moisturiser that is specially developed for extra-dry hands. It is a hand cream that contains 10% UREA to quickly rehydrate dry skin and rebalance the skin's moisture. Enriched with natural AHAs, Tough Hands intensive hand repair cream softens calluses on hands and removes dead skin layers, revealing soft, smooth, and healthy skin.
If your hands are prone to sensitivity, our Tough Hands Fragrance-Free is specially designed for sensitive skin. DU'IT Tough Hands Fragrance-Free is clinically proven to relieve dry, cracked, itchy and irritated hands with visible effects within 1 day. Free from parabens, petrolatum, mineral oil, fragrance and other irritating ingredients, it's specially designed for dry, sensitive and eczema skin.
---
DU'IT provides a commitment to creating safe, effective and gentle skincare products that starts with a clear checklist:
• Visible effects within 1 day
• Clinically proven
• Non-greasy, barrier protection
• Suitable for sensitive skin and dermatologically tested
• Supported by Eczema Association of Australasia and Diabetes Australia
• Australian made and owned
Our skincare does NOT contain Parabens, Petroleum, Propylene Glycol, Harsh Detergents, Mineral Oils or Allergens or Irritants.
---