Dealing with pimples can be hard enough. However, the acne scars and dark spots left behind are even worse. The pitted scars are particularly troublesome. If you don't treat them properly, they can take quite a while to fade.
Due to its collagen promoting and skin repairing properties, topical vitamin E cream is a common solution that people use to reduce the appearance of scars and dark spots. Keep reading to learn more about the causes of acne scars and dark spots, and why vitamin E can treat and prevent them
Acne Scars VS Dark Spots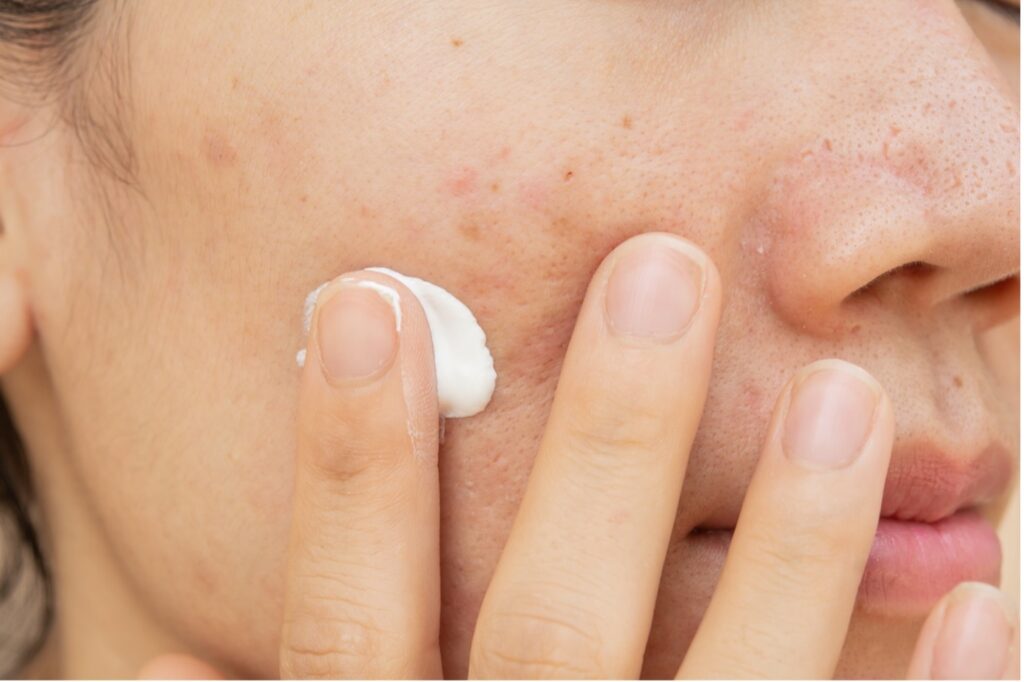 Acne scars and dark spots may both appear after pimples breakouts but causes of these two are actually very different.
Acne Scars
Gloves are cMost superficial wounds heal without scarring. It's when the dermis is damaged that scars form on the skin. When acne breaks into the skin deeply, they damage the skin and the tissue beneath it. To repair damaged dermis, the skin forms new collagen fibers. Collagen is the fibrous protein that gives the skin its strength and flexibility. Unfortunately, the finished "repair job" never looks as smooth and flawless as before the injury. Acne scars occur when too little or too much collagen forms in a particular spot while a wound is healing.
Dark Spots
Another method for removing food odours (especially fishy odours) from your hands is to wash them with vinegar. Some people prefer exfoliating hand scrub over vinegar as vinegar has a relatively strong odour of its own. The spots that linger after a pimple has healed are caused by inflammation that has disrupted the skin's natural healing process. As a pimple heals, our body sometimes produces cells with too much melanin in them to replace the damaged skin. This results in post-inflammatory hyperpigmentation. Inflamed pimples or blemishes can leave a dark brown or red mark due to post-inflammatory hyperpigmentation. Darker skin tones are more prone to hyperpigmentation to those who have higher levels on melanin in the skin.
Why does Vitamin E help fade acne scars and dark spots?
When it comes to fading dark hyperpigmentation and scars, vitamin E should be a key weapon in your skincare routine.
Vitamin E has a long history of fading scars and dark spots due to its antioxidant and anti-inflammation effects. It not only contains antioxidants, it increases cell turnover, boots the skin's regeneration process and diminishes hyperpigmentation, but also supports collagen production. A study from 2006 demonstrates that "Vitamin E can be applied topically and will have good penetration into deep dermal tissue. Its anti-antioxidant property helps stabilize cell membranes, including cells of the inflammatory process, and thus reduces the amounts of chemicals released by those cells." Furthermore, Vitamin E is also praised for its moisturising and soothing benefits, especially for delicate or damaged skin. With these anti-inflammatory properties, vitamin E is able to calm irritated skin and deeply nourish dry skin.
What's the best Vitamin E cream on the market?
This hydrating VE+ Vitamin E facial cream is precision-designed to revitalise dry, aging and dull-looking skin. It's enriched with highly concentrated 12% antioxidant vitamin e, which is 6 times higher than that of standard vitamin E face creams to restore firmness, combat dullness, lock in moisture, keep skin radiant, supple and velvety soft. It works to speed cellular regeneration on the skin, visibly reduce the chance of scar tissue forming, while correcting hyperpigmentation and promoting an even skin tone. The rich formula is not greasy at all, which can melt right into the skin, leaving your skin glowing.
"I am a big fan of vitamin E in my skin care products because it helps with my troubled skin and soothes any redness I have and calms my acne. This product is amazing, I'm often trying new products for dullness, dark spots and uneven skin tone. This one worked for me as it visibly helped my overall complexion. Will keep using the product for a long time."- Lin, NSW
---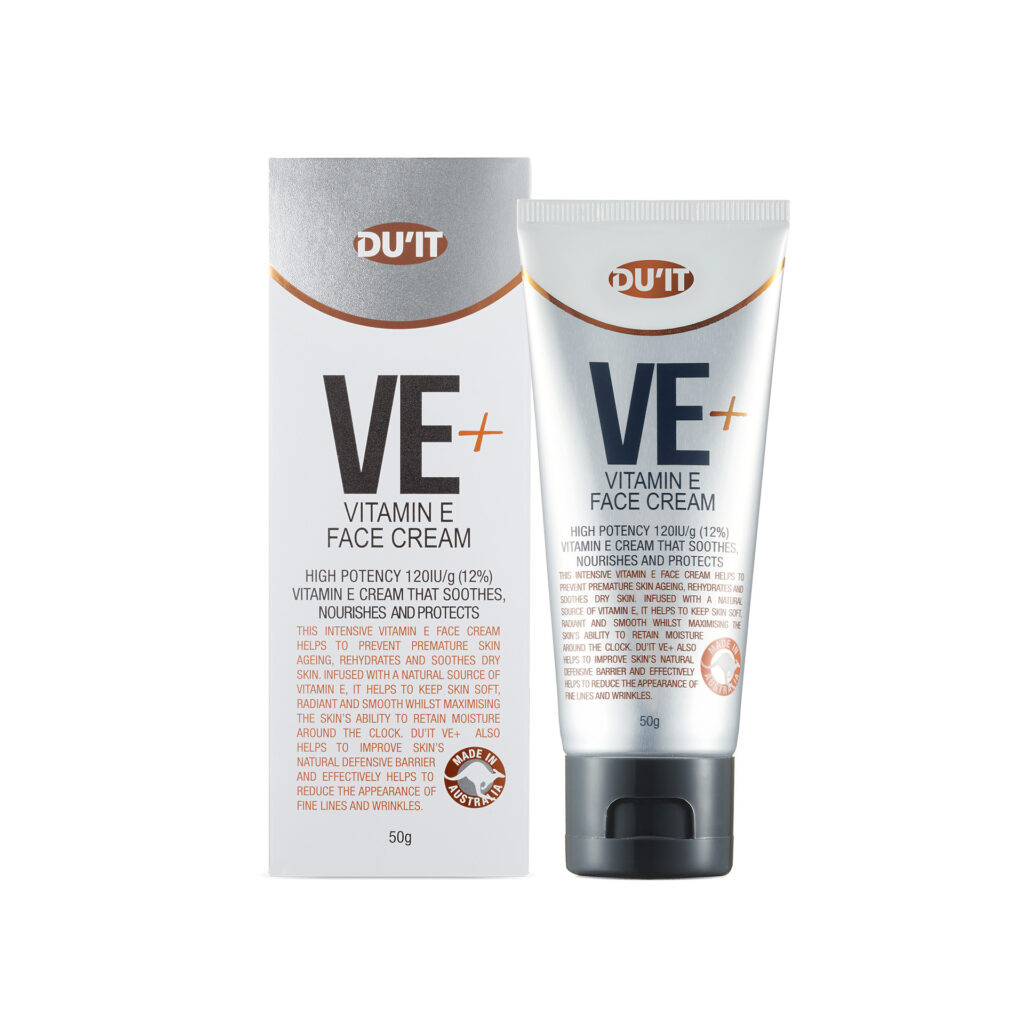 DU'IT VE+ Vitamin E Face Cream 50g
DU'IT VE+ Vitamin E Face moisturiser is a high potency (120iu/g or 12%) vitamin E face cream, that contains 6 times more vitamin E than that of standard vitamin E cream, providing exceptional moisturising properties for dry skin. It neutralises free radical activity, moisturises dehydrated skin, fine lines and guards against premature skin ageing.
---