Dry skin is a very common skin problem caused by a lack of moisture in the most superficial, outer layer of your skin. This can happen as a result of frequent washing, use of harsh products, or even seasonal changes.
If you're experiencing dry skin and want to learn how to moisturise your skin properly to lock in moisture and protect your skin from drying out – please keep reading! This article will look deep into the main symptoms and treatments.
The main signs and symptoms of dry skin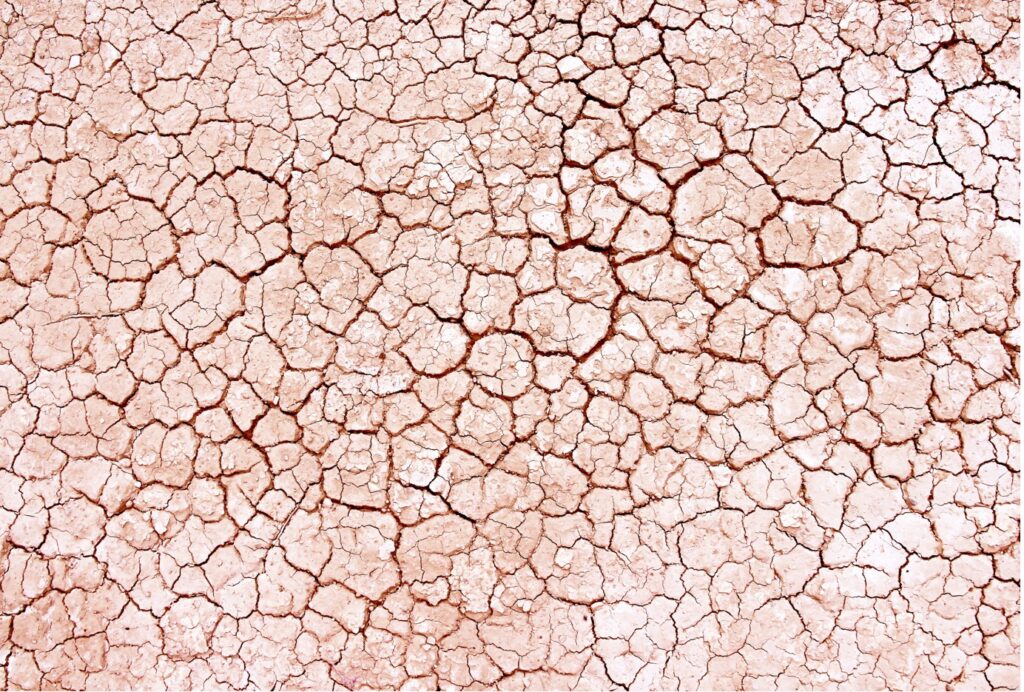 The skin naturally produces oil named sebum. When the skin does not produce or replenish enough sebum, it can cause dryness. Dry skin can be itchy, peeling and (it may look flaky and bumpy). If you have dry skin, you're likely to experience the following symptoms:
Itching is the most common symptom of dry skin. People with dry skin easily find rough, dry and red patches on their skin, which are often itchy. Wind and extreme temperature changes can zap moisture from the outer layer of your skin, resulting in a tight and itchy sensation. Regardless of the amount of oil on your skin's surface, this is frequently accompanied by flaking.
Increased sensitivity is also a consequence of dry skin. When your skin's moisture barrier is compromised, it is unable to protect itself from external stressors. As a result, irritants such as bacteria and pollution can penetrate its outermost layer, exacerbating symptoms such as redness, itching, and irritation.
Cracked skin is another common symptom of dry skin, and it often appears on your heels. When the skin dries, it can become rough and flaky with small tears that can lead to deeper cracks called fissures. Fissures can extend into the deeper layers of the skin.
SKINCARE FINDER
See which DU'IT hand care product is best for your skin. Use our skincare finder and get 10% off your next purchase.
3 tips to fix your dry skin
Here are some effective ways to combat dry skin if consistently used:
Tip #1: Add a gentle chemical exfoliator
Adding a gentle chemical exfoliator is the first step for dry skincare. The benefits of exfoliation are not a secret. Exfoliation can help strip away build up dead skin cells accumulated from dry winter air, leaving your skin more glowing and helping your post-cleaning moisturiser to absorb better. However, people with dry skin are more prone to redness, flaking, and irritation. and therefore should avoid to use physical/manual exfoliators such as cleansing brushes. Physical exfoliation can give the skin an instant smooth feel, but it's easier to go overboard. For example, it is easier to strip off your skin's protective barriers that lead to moisture escapes. This will set off an inflammation cascade which not only leads to the skin feeling extra tight and dry but also contributes to your skin aging faster.
Try a gentle chemical exfoliator one to two times per week is recommended to help expedite skin cell turnover without causing further dry out. Alpha Hydroxy Acid (AHAs) products are recommended. AHAs are water-soluble acids made from sugary fruits and are great gentle and safe ingredients designed for dry skin or even sensitive skin condition. They help generate and take place new skin cells without further damage your skin.
What products do we recommend?
Formulated with skin-hydrating urea, walnut shell and vitamin e, DU'IT Tough Scrub is a multipurpose hand scrub that works to clean the skin of dirt and slough off build-up dead skin cells without stripping away the skin's natural oil and moisture. Free from nasty ingredients such as harsh solvent and drying alcohol, it's perfect for dry and sensitive skin.
Tip #2: Repair dryness with a urea cream
Urea-based creams are recommended if you have dry skin. Urea cream is a non-greasy emollient or moisturiser, used to treat dry skin conditions such as peeling, cracked skin, and even eczema. It's also a key ingredient that is widely used in the skin care product. Urea can loosen and break down hardened protein, relieving your skin of roughness and itchiness. Moreover, Urea, as a humectant, can keep your skin moist by drawing water from the deeper layers of your skin and the air.
Urea cream is available in a variety of strengths at local pharmacies. Urea 10% cream, as a light exfoliator, is frequently used to moisturise moderately dry skin. At highly concentrated 25% urea: it becomes a powerful keratolytic, making it great for more serious therapeutic uses such as treating excessively dry skin or calloused skin on the feet.
What products do we recommend?
A cult classic that's been tending to skin for over 20 years, DU'IT Foot and Heel Balm Plus is one of the best foot healing balms for extremely dry skin. Enriched with 25% urea, vitamin e and natural exfoliating AHAs, DU'IT Foot and Heel Balm Plus is scientifically designed to restore and maintain skin's moisture barrier, seal cracks, and repair irritation. Created for all skin types and suitable for sensitive skin, the ultra-moisturising foot balm is a daily moisturiser that prepares, plumps and protects your skin all day around.
Tip #3: Use a thick moisturiser
If your skin is extremely dry and cracked, skip the lotion and go straight to the thick cream. the lotion is lightweight with minimal oil which is great to use for oil skin. Cream, on the other hand, is thick and oily. It forms a protective layer that will keep moisture from evaporating and can help moisture penetrate through these thick layers of skin, making it perfect for dry skin especially for hand, foot and body.
What products do we recommend?
Looking for an everyday hand moisturiser for dry, rough and sensitive skin? DU'IT Tough hands is a perfect solution. For maximum relief of dryness, DU'IT Tough Hands is scientifically formulated with ultra-nourishing ingredients derived from urea, vitamin e and dimethicone to lock in moisture and bring long-lasting protection to your skin. It has been clinically proven to soothe dryness and seal cracks with visible results within 1 day.
---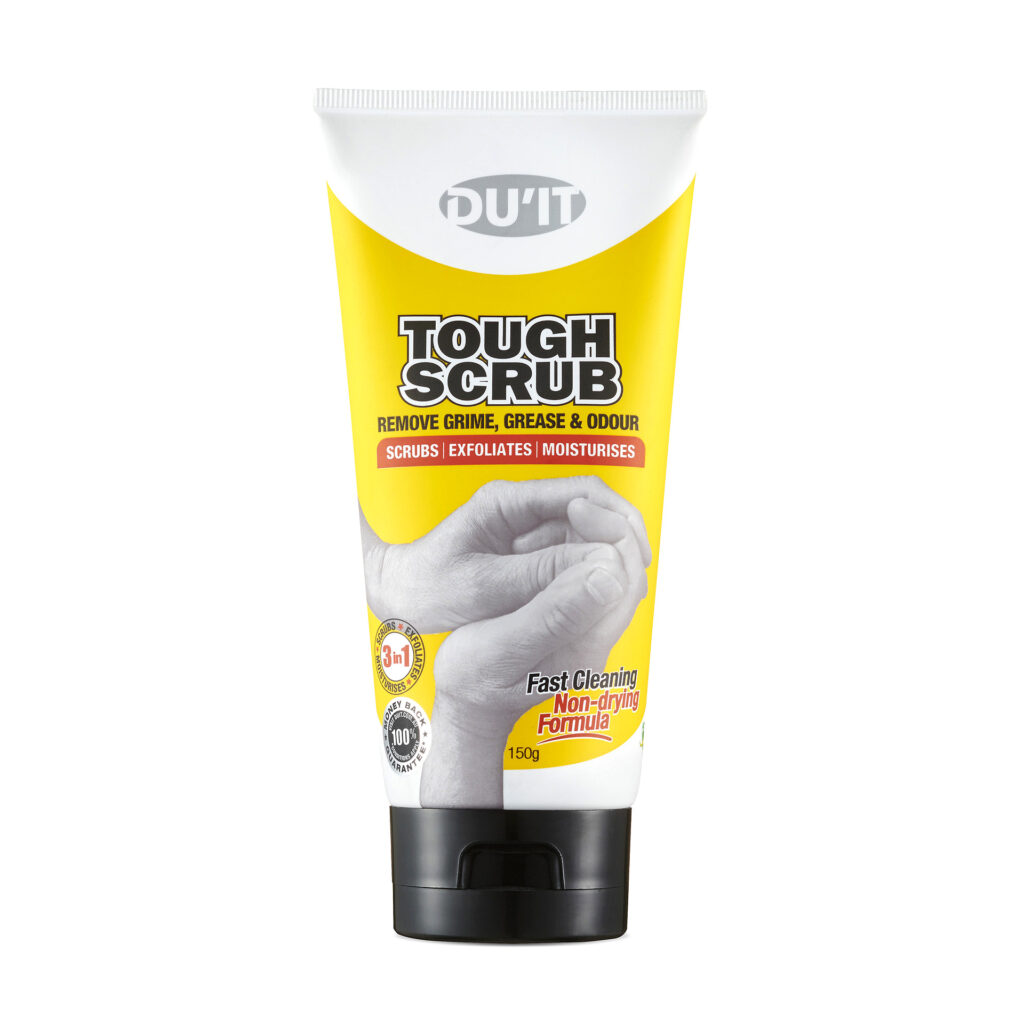 DU'IT Tough Scrub 150g
DU'IT Tough Scrub is a 3-in-1 moisturising hand scrub that works as hard as your hands. This hand scrub cleans, exfoliates and moisturises the skin and contains no harsh chemicals or irritants that dry out the skin.
It cleans stubborn dirt, removes odour, grease and grime, whilst leaving your hands silky smooth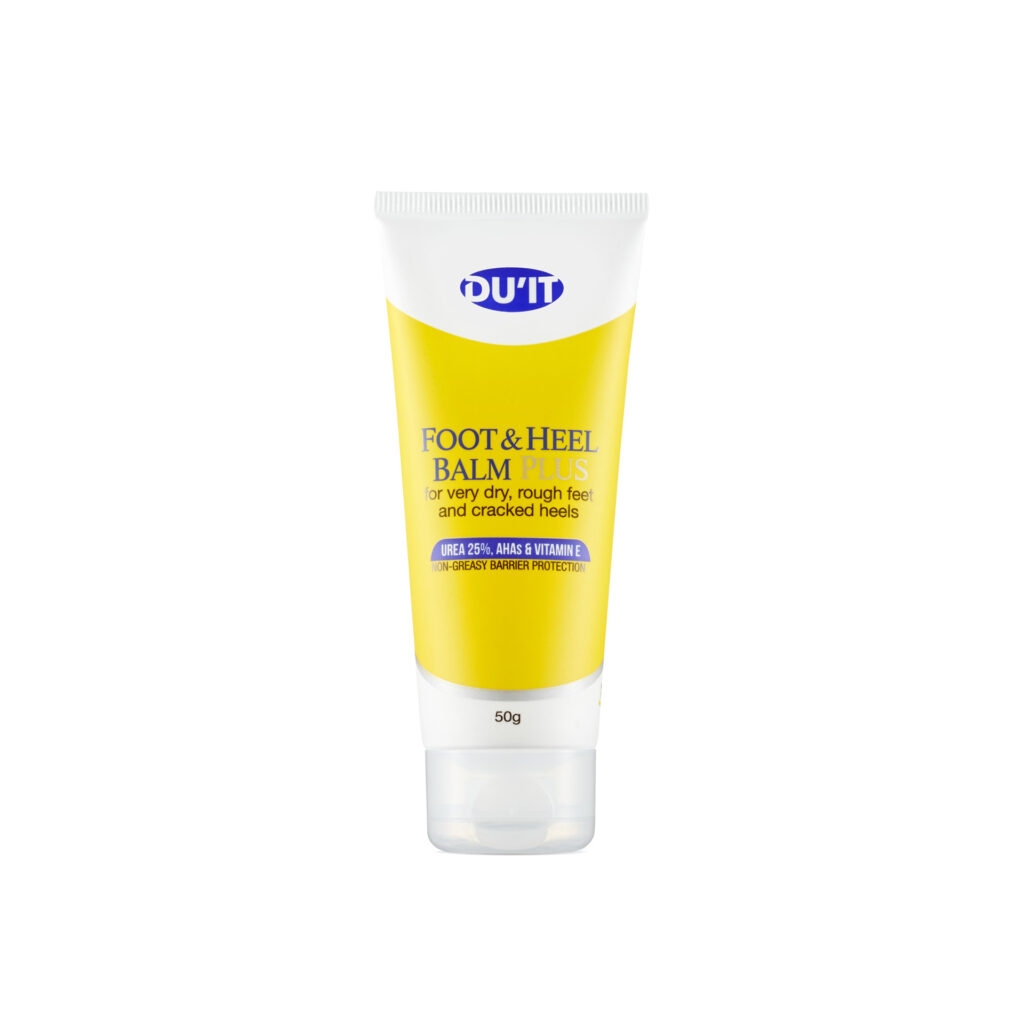 DU'IT Foot & Heel Balm Plus 50g
Visible effects within 1 day, DU'IT Foot & Heel Balm Plus is an intensive heel balm formula containing 25% Urea that helps repair cracked, dry heels.
This foot cream is clinically and dermatologically tested to effectively rehydrate, soften and protect feet, giving you soft, smooth, healthy feet.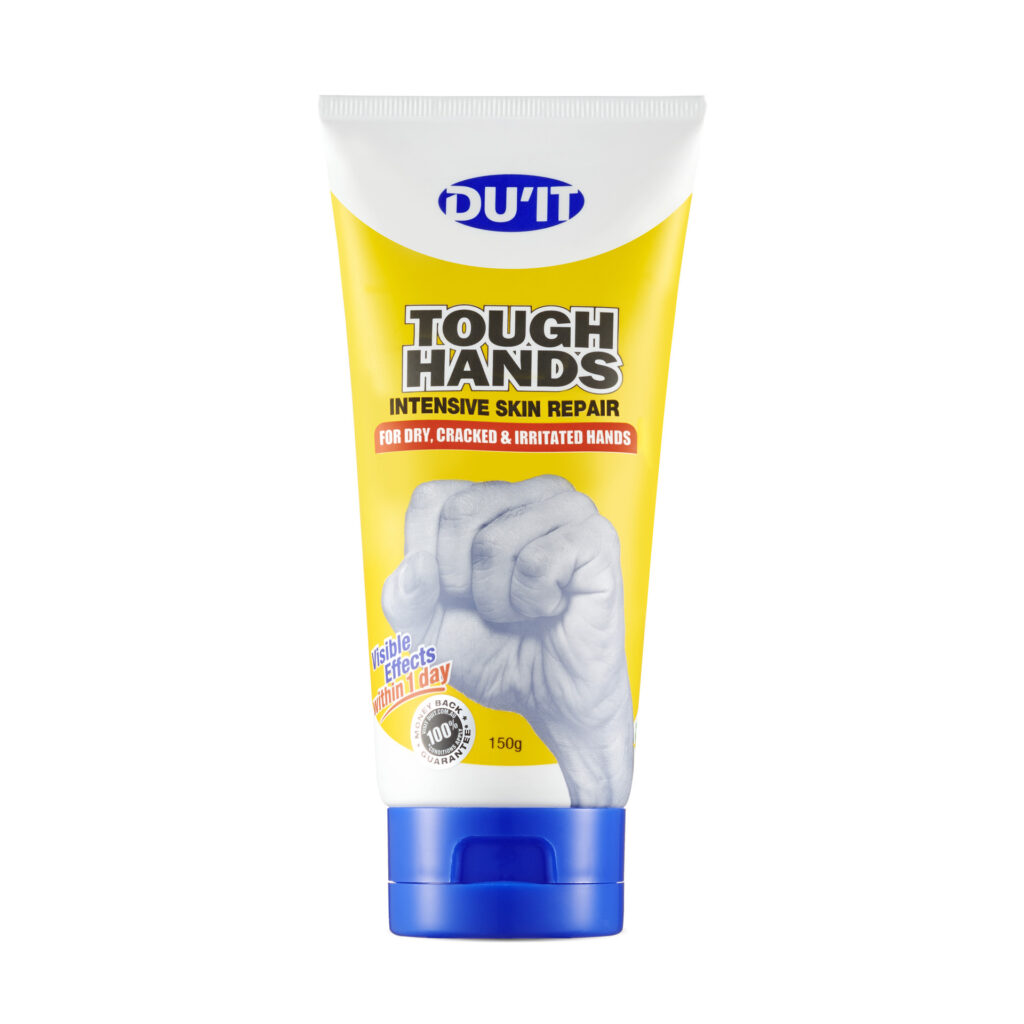 DU'IT Tough Hands 150g
DU'IT Tough Hands is a clinically proven, intensive strength hand cream for dry hands that works to seal cracks, replace lost oils, condition the skin and form a protective barrier to keep hands in top condition.
It's Australia's No.1 hand cream* (IRI data, Grocery & Pharmacy, 2021).
Repairs dry, rough, cracked, irritated and calloused hands, with visible effects in 1 day. It's non-greasy, made in Australia and contains no nasties.