It should come as no surprise that the majority of us regularly suffer from dry and cracked heels. After all, your feet suffer a lot – everyday walks and ill-fitting shoes tend to put extra strain and friction on our feet throughout the day. Additionally, this is made worse if you leave them untreated when it comes to daily care.
If you're currently experiencing dry, cracked heels, you are not alone! In fact, a survey in 2012 stated that 20 percent of adults have experienced cracked heels in their lives and on top of that women appeared to suffer from more foot ailments than men. Although there's a wide range of triggers for dry and cracked heels, in today's article let's start to look in depth at the most four common factors and treatments for cracked and dry heels.
The factors that contribute to cracked heals are:
Dry Skin
Cracked heels are generally caused by loss of moisture and lead eventually to splitting. When skin is soft and supple, it's easily stretched without any cracking or fissure, as our skin can continually alter and repair itself in order to adapt to different conditions. However, when it dries out, our skin is like a drought river – the visible cracking and splitting appears around the heels.
Friction and Pressure
Friction and pressure on dry skin also lead to thickening of the epidermis – it forms noticeable signs of cracked heals called callus's around the edge of our heels. Without any proper treatment, the callus can cause more severe issues when you stand, walk or run. When the callus splits and cracks, bacteria and viruses can easily enter into your skin, which might result in painful infections and skin damage such as cellulitis.
Aging Skin
Aging contributes to a thickening of the skin's outermost layer. The reason is the change of hormonal and metabolic decrease skin cell turnover. Aging also leads to the loss of the elastic tissue in our feet skin. Feet become more fragile and easier to split.
Diabetes
Cracked heels commonly appear in those with diabetes. Diabetes reduces blood circulation to your feet, depriving your feet from oxygen and nutrients. People with diabetes have dryer skin than the rest of individuals. Furthermore, peripheral neuropathy, a kind of diabetic nerve injury, can cause numbness in your feet. Diabetes patients are more likely to suffer cracked heels' infections as they can't feel cuts and blisters.
The best foot balm in 2021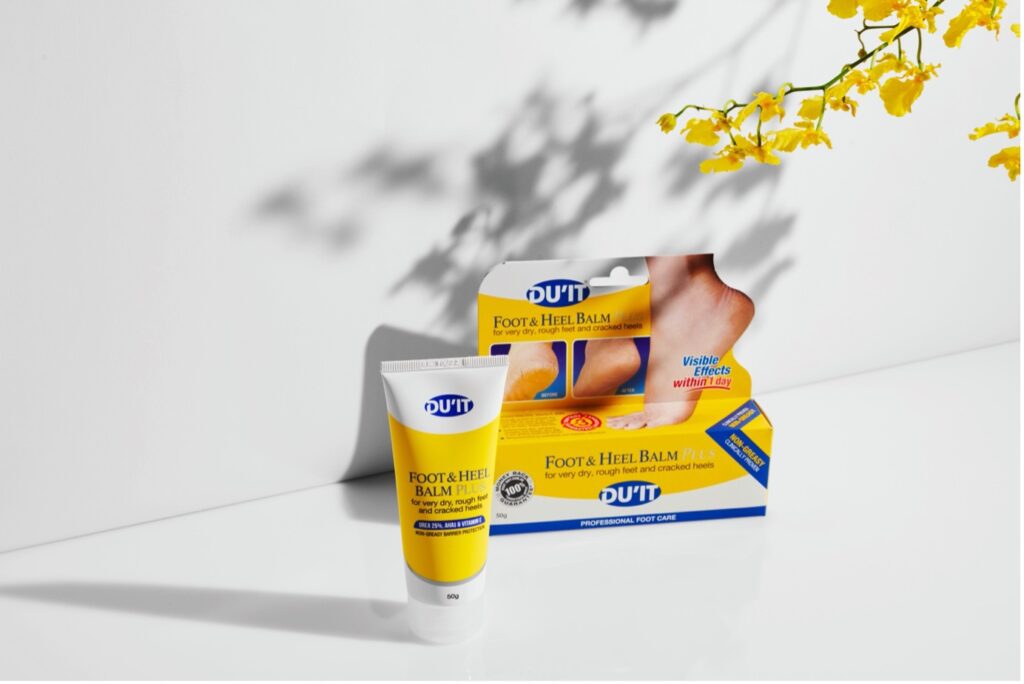 Foot & Heel Balm Plus 50g | Foot Cream
The best treatment for cracked heels is to exfoliate dead skin cells and keep your feet moisturised. It is essential before you go to bed to use a high quality heel balm to heal your cracked heels – a foot cream with at least 25% urea in the ingredients is recommended.
DU'IT Foot and Heel Balm Plus is an intensive foot balm that includes a generous 25% of moisturising urea, as well as natural AHAs to exfoliate dead skin cells, vitamin E and dimethicone. The cream is a great choice for hard-working feet and clinically proven to hydrate extremely dry heels or chronically cracked skin.
Massage the cream into your feet every evening for the best results, giving it some time to melt in. Whilst it is not greasy, we recommend wearing socks if you're going to be walking around post application. It doesn't feel greasy but best not to walk around for a little while after you've just applied it. The rich emollient actives actively replenish moisture deep below the surface of the skin, promoting visibly smoother and healthier skin in just 1 day of use.
What our customers have to say:
"I have suffered with foot problems for most of my 76 years, corns calluses and rough, cracked heels at various times and have never found any product so effective. I had an operation on my toes 18 years ago and the scars are often quite itchy, this miracle cream has fixed that. I apply the non-greasy lotion/cream (it's transparent and very light) morning and night – the directions actually say 3 times daily – then put on some socks. The cream feels great, is absorbed almost immediately and leaves my feet with a pleasant tingling cool feeling, rather like mint,
The results have been astonishing, and my feet and I thank Beauty Heaven for the opportunity to discover this cure for my lifetime worry, Du'it will appear on my shopping list whenever the tube starts to empty – I'm a satisfied customer for life!" – Sandy from Beauty Haven