If you have extremely dry skin, you are not alone. Lots of factors can leave your skin dry, cracked, or even bleeding. These things include frequent hand washing, use of hand sanitisers or exposure to cold or windy weather.
When it comes to dry skin, the primary focus of crafting a daily skincare routine, centres around moisturising. We apply creams daily to keep our skin in top condition, but have you ever wondered how your favourite moisturiser works? Keep scrolling to learn everything you need to know about moisturiser and how to use it effectively.
How Does Moisturiser Work?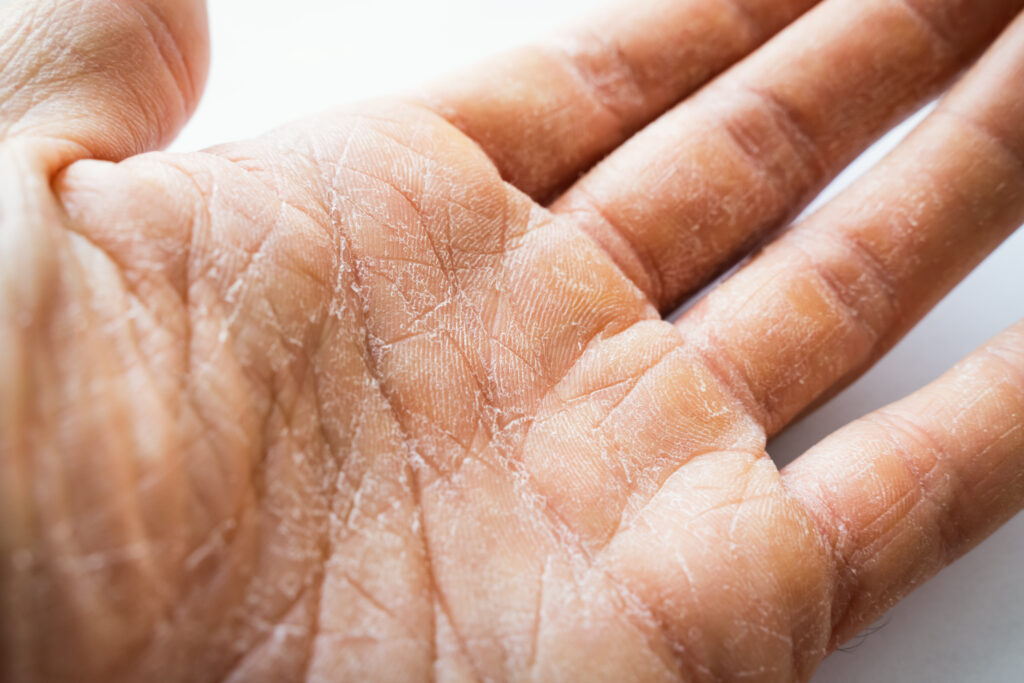 Your skin is the largest organ in the body. Its structure is designed to keep moisture trapped inside while preventing foreign materials from entering. To accomplish these functions, the skin has a protective covering of lipids, or oil-soluble molecules. It can be treated as the first line of defence against harmful microbes, pollution, and UV rays.
However, as our skin is constantly exposed to a harsh environment, it is easy to strip the skin's protective lipid covering. Especially during winter, our sebaceous glands, aka the glands that pump out the sebum that keeps our skin lubricated and healthy, are less active in the cold months, meaning that our skin is lacking in its own natural moisturiser. Without the right balance of moisture, skin can become unhealthy, dry, and even crack.
In order to help the skin hydrate, moisturisers are often used to restore the skin to its natural condition. Moisturisers have a significant amount of water, grease or oil that traps the moisture on the upper layer of skin so that water doesn't evaporate immediately. Furthermore, they also can penetrate the cell membranes to rehydrate and plump the outermost layers of dead skin cells.
Moisturisers—whether for the face, body or hands —actually contain a variety of different ingredients, all of which work in slightly different ways to help address and treat dryness. These ingredients can primarily be classified into three different groups: humectants, emollients and occlusives.
1. Humectants
Humectants are known for their ability to retain moisture. They counteract dry skin by attracting moisture to the stratum corneum, or the outermost layer of the epidermis. Think of them like a magnet: they draw water into the skin and lock it in, keeping your skin hydrated and plump.
A few examples of skincare ingredients that can be classified as humectants:
Hyaluronic acid
Urea
Alpha-hydroxy acids (AHAs)
Amino acids
Peptides
Sugar alcohols (glycerin, sorbitol, xylitol, etc.)
2. Emollients
Emollients can treat and prevent dry, itchy skin and treat minor skin irritations. They soften, smooth, and condition skin by filling in the gaps between cells and skin flakes. Additionally, they increase the rate of skin barrier restoration to help repair any damage caused by sun exposure, environmental aggressors, harsh products, and more.
A few examples of skincare ingredients that can be classified as emollients:
Vitamin E
Ceramides
Jojoba oil
Rosehip oil
3. Occlusives
Occlusives create a protective barrier on the skin to prevent the loss of moisture. Think of this as applying a thick shield to lock in hydration and defend against outside toxins.
A few examples of skincare ingredients that can be classified as occlusives:
Dimethicone
Beeswax
Lanolin
Shea butter.
What's the Best Moisturiser to Keep Skin Hydrated in winter?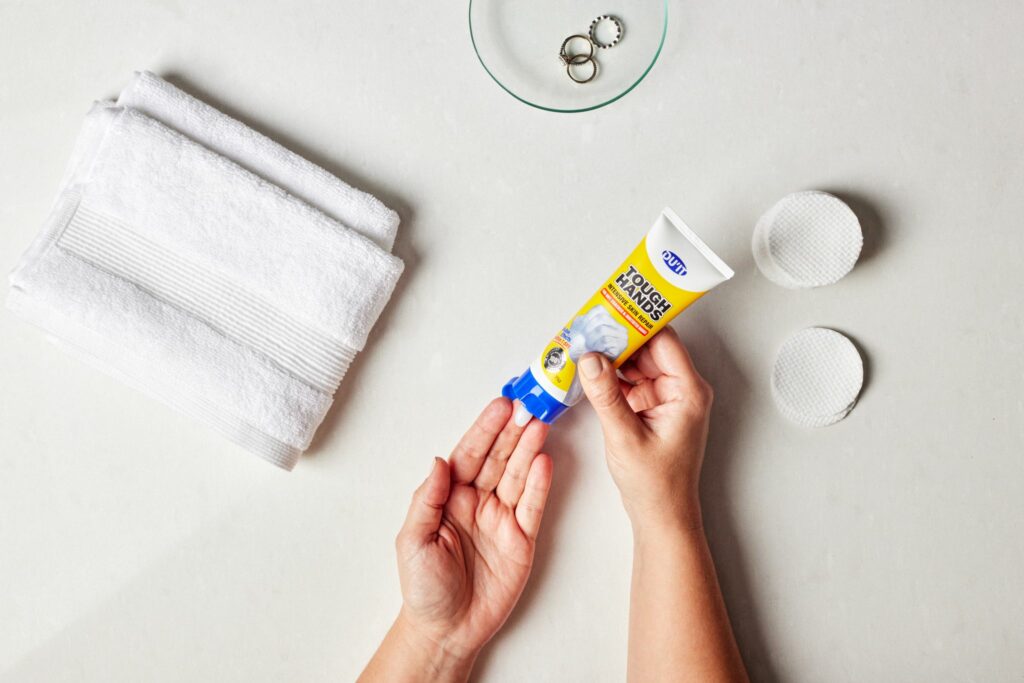 Our No.1 selling Tough Hands intensive hand cream uses a combination of humectants, emollients and occlusives to create a synergistic effect. Enriched with 10% Urea (humectants), Vitamin E (emollients), and Dimethicone (occlusives), it's clinically proven to smooth and soften dry, rough cracked hands with visible effects within 1 day. 100% free from parabens, petrolatum, mineral oil, and other irritating ingredients, Tough Hands is suitable for all skin types, including sensitive skin.
"The DUIT Tough Hands cream is a miracle in a tube. For dry, callused hands this is amazing. I get super dry hands in winter, like all of us, and always have calluses on my palms as well. This cream soothes the dryness, and helps keep moisture in for hours afterwards. It's not greasy, and settles in and "dries" so quickly. Can't recommend enough!."- Tarameoww, Beauty Heaven
---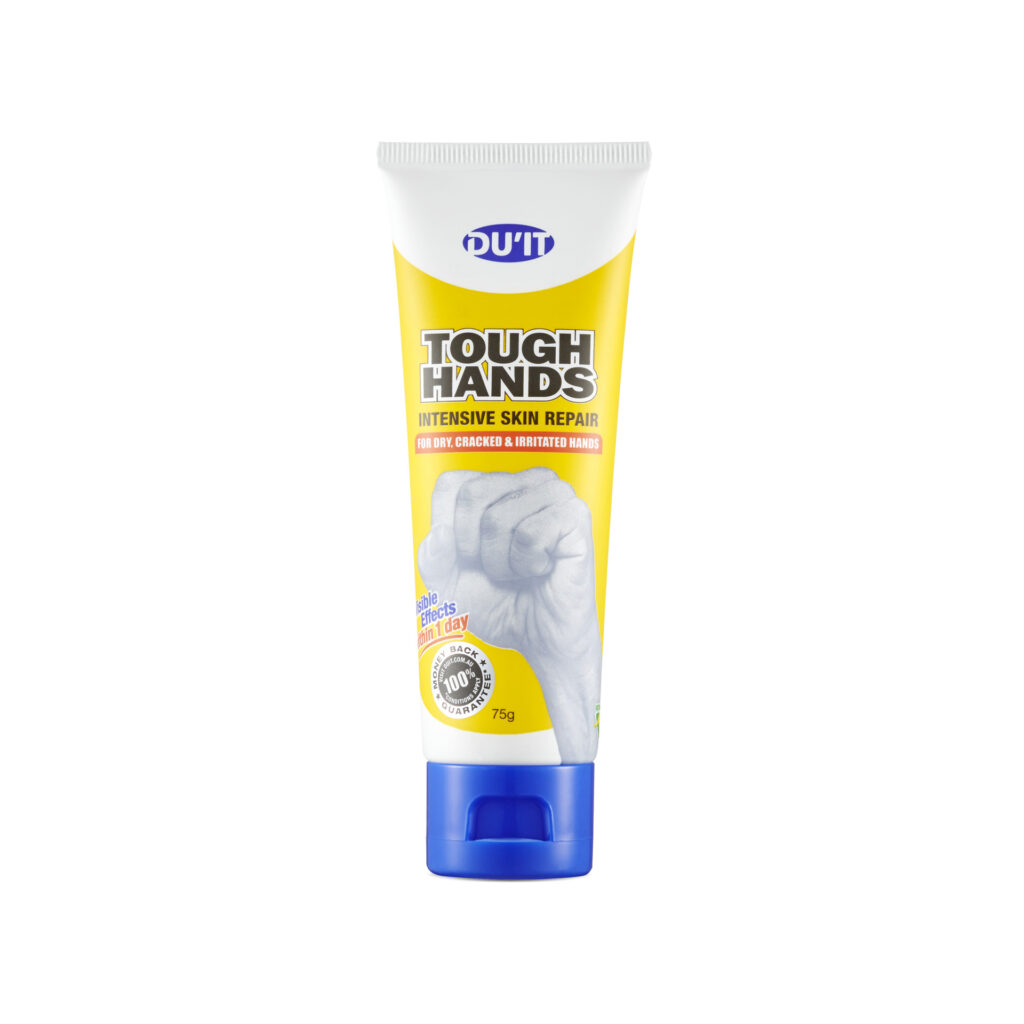 DU'IT Tough Hands 75g
DU'IT Tough Hands is a clinically proven, intensive strength hand cream and hand moisturiser for dry hands that works to seal cracks, replace lost oils, condition the skin and form a protective barrier to keep hands in top condition and repair dry hands.
It's Australia's No.1 hand cream* (IRI data, Grocery & Pharmacy, 2021) with visible effects in 1 day.
SKINCARE QUIZ
Take DU'IT's skincare quiz to see which of our products are best for you