Dry skin is a very common and usually harmless skin condition. However, in some cases, dry skin can be accompanied by uncomfortable itchiness, irritation or even pain. So what are the common factors that trigger dry skin? How can we tackle dry skin? Today we'll take you through the causes of dry skin and introduce you to some of the best treatments for dry skin.
What causes dry skin?
According to dermatologists, the top layer of our skin is made up of dead cells and natural oils, which acts as a natural protective barrier that helps retain moisture and prevent irritants from entering the skin. Dry skin occurs when this skin barrier is impaired by below external and internal risk factors:
For most people, winter is the most challenging season for their skin because of its low temperature and humidity. In Australia, however, we face greater threats from the harsh environment all year round. The thinning of the ozone layer in the mid-latitude over Australia means more UV radiation is reaching the earth. Overexposure to the sun is one of the main reasons causing dry skin.
Besides, the semi-arid climate experienced by many of us, Australia typically features significant temperature swings between day and night. It is often coupled with low humidity, and therefore, the skin moisture evaporates quickly, which further dries out our skin.
What you eat can truly have an impact on your skin, too. Human beings are made up of about 80% water. Lack of hydration doesn't just disrupt the proper functioning of our body. With insufficient fluid intake, your skin can appear drier and wrinklier. If you find your skin dry and flaky, it is better to avoid things like alcohol, coffee or tea. These diuretic drinks take away moisture from the body, making your skin even drier. Salty and fried food can also make your skin drier as excessive salt in the body draws fluid out of the cells to help neutralize the salt.
On the contrary, food high in vitamins and omega-3 fatty acids will help increase your skin moisture from the inside out. These include fruits and vegetables, nuts, avocados, to name just a few.
Certain dry skin symptoms are associated with bad skincare habits. One thing relevant to most of us today is frequent handwashing. Many soaps, detergents and cleaning products are formulated to remove oil, which leaves your hands dry and tight. Repeated exposure to harsh substances such as alcohol and solvents also contributes to skin dryness and irritation.
It might sound tempting to take a steaming-hot shower after a long day, but did you know that high water temperature can accelerate the evaporation of skin moisture, leaving your skin dry? These bad skincare habits can really damage skin's barrier functions and worsen dry skin conditions.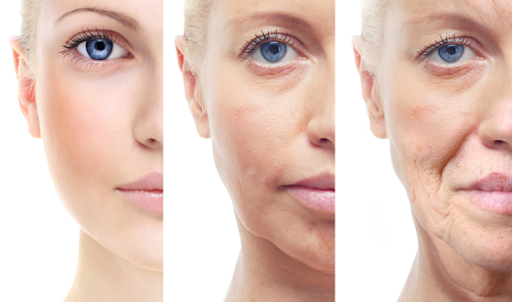 Our skin becomes drier with age
It's an unavoidable fact that as people age, and so does our skin. One of the most significant signs of skin aging is dryness. As we grow older, our skin starts to produce less oil and skin cell renewal slows down, raising the risk of developing dry skin. Loss of hormones can also lead to drier skin. Studies show that adults ages 40 or older are at a higher risk of experiencing dry skin, affecting about half of the individuals in this age group.
At the same time, collagen production of our skin starts to slow down. You might notice changes in the texture, firmness and elasticity of your skin. Although it is hard to reverse our body's natural aging process, it is not impossible to prevent premature aging of our skin by keeping it hydrated.
Occasionally, dry skin can be a sign of an internal medical condition. For instance, people with eczema often find their skin dry, flaky and itchy. Australia is among the countries with the highest prevalence of eczema. Figures show that around 10-15% of Australia's population suffers from eczema. Dry skin, in turn, can flare up symptoms of eczema.
People with diabetes are more likely to have dry skin, as high blood sugar can trigger poor blood circulation, which contributes to extremely dry and cracked skin. Other medical implications associated with dry skin include contact dermatitis, allergies and psoriasis.
How to get rid of dry skin?
Understanding these underlying causes of dry skin makes it easier to find a solution. A simple treatment for dry skin is making changes to your lifestyle by drinking plenty of water, cutting down on alcohol and caffeine intake, and using lukewarm water for shower. With these little changes, you'll notice improvements in your skin's softness and suppleness over time.
No matter what causes your dry skin, the golden rule is to provide it with extra hydration by using a moisturiser. Choosing the right kind of moisturiser can effectively relieve dry skin. If you're still hunting for the best moisturiser for dry skin, we recommend trying our DU'IT dry skin range. 100% made in Australia, DU'IT dry skin range are functional skincare products designed for Australian's skin needs.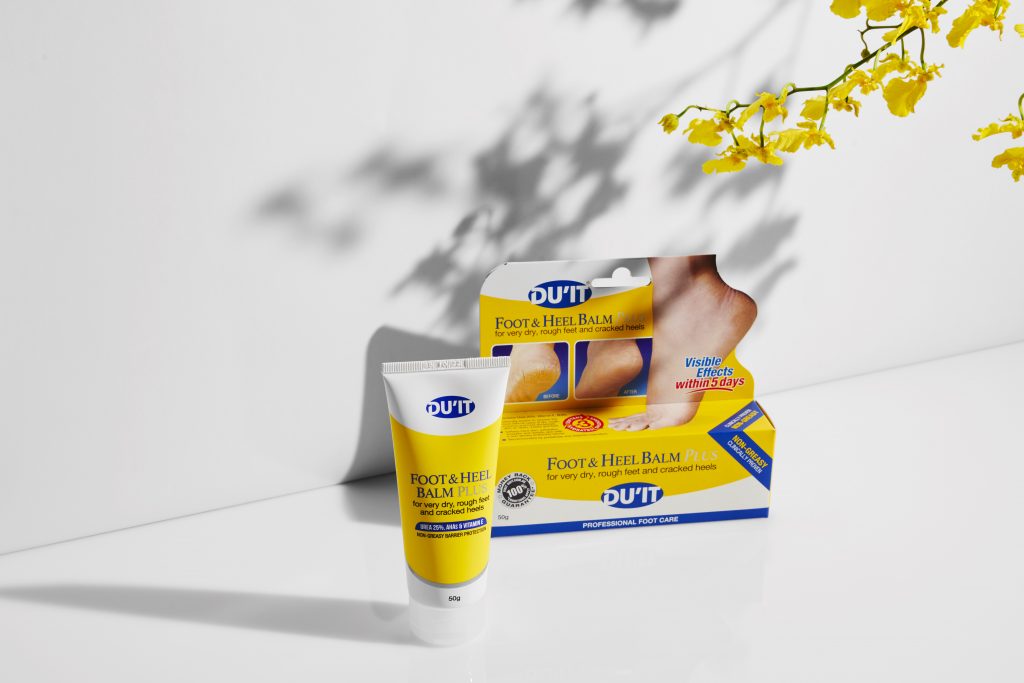 Foot & Heel Balm Plus
Your feet and hands are some of the areas most prone to dry and cracked skin. Our Foot & Heel Balm Plus is an intensive foot cream scientifically formulated to repair dry, rough and cracked heels. With a high potency of 25% UREA, Foot & Heel Balm Plus instantly replenishes skin hydration and nourishes chronically dry skin. It works to seal cracked heels and soften hard calluses. Enriched with natural vitamin E and dimethicone, it repairs damaged skin, prevents moisture loss and shields your feet from harsh environments. We recommend using our Foot & Heel Balm immediately after shower or before bedtime for best results.
Tough Hands Intensive Hand Cream
Our Tough Hands Intensive Hand Cream is Australia's No.1 hand cream in 2018*. It is clinically tested to rehydrate dry hands and strengthen skin's barrier functions. Its non-greasy gel-cream consistency absorbs quickly, providing fast relief to dry palms, peeling fingertips and cracked skin. It is the best remedy for damaged hands caused by frequent handwashing and prolonged wear of gloves. If your skin is on the sensitive side, we also have Tough Hands Fragrance Free, containing no added fragrance. Tough Hands is the best hand cream for those with hardworking hands, including tradies, healthcare professionals and people in the hospitality industry.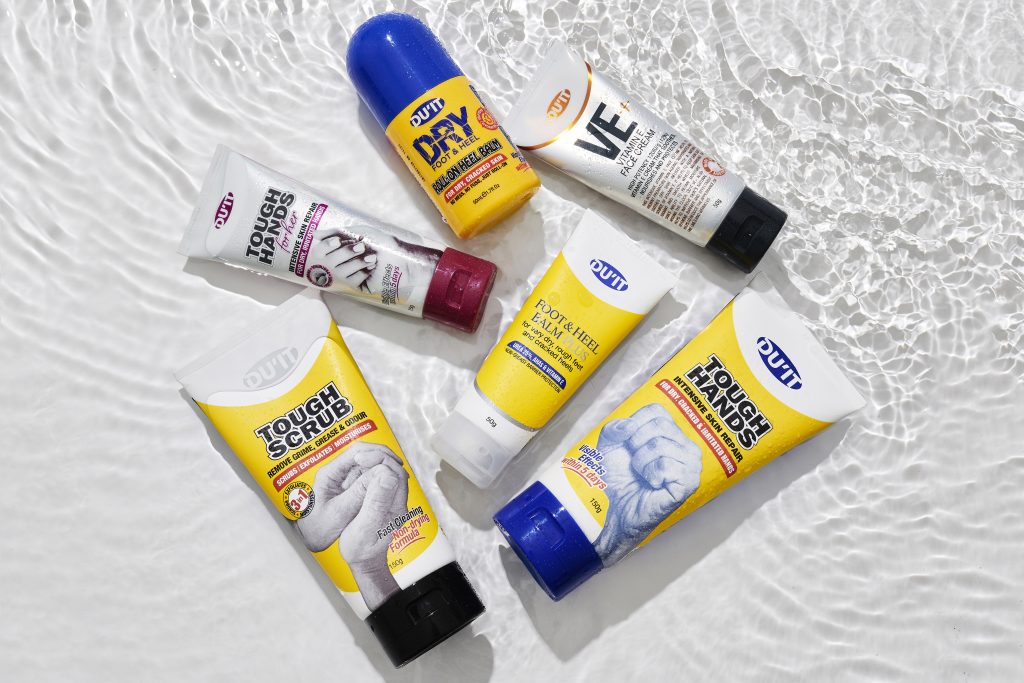 DU'IT Dry Skin Range
In addition to foot and hand care, we also offer a range of dry skin products for your face and lips. DU'IT dry skin range is proudly made and owned in Australia. After over 20 years of extensive research and rigorous testings, we offer a range of high-quality, affordable skincare products, delivering visible results in 1 day. DU'IT products are recommended by Diabetes Australia and the National Eczema Association of Australia and are safe for people with eczema or diabetes to use. Don't let dry skin take over your life. Try DU'IT skincare products for softer, smoother and healthier-looking skin.
*IRi scan sales data, 2018 Pharmacy and Grocery, Australia.
---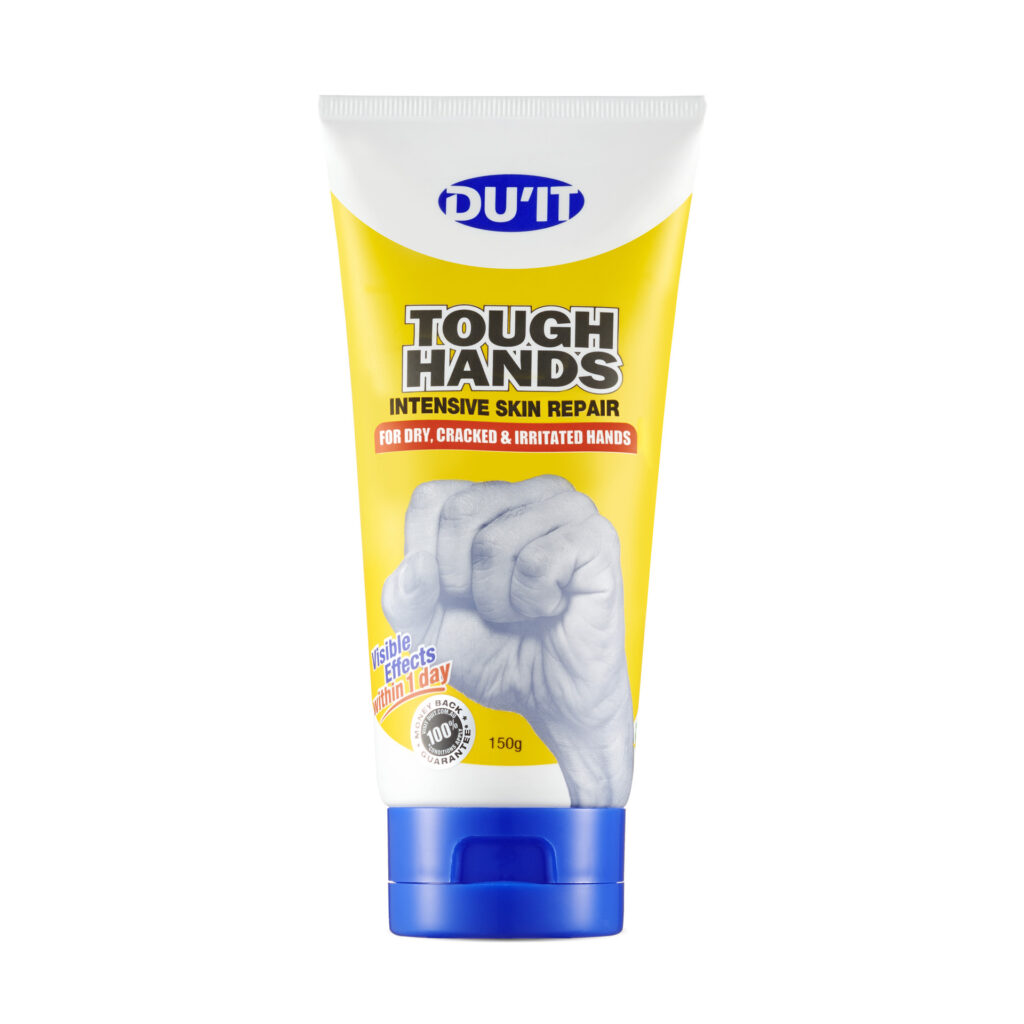 DU'IT Tough Hands 150g
DU'IT Tough Hands is a clinically proven, intensive strength hand cream for dry hands that works to seal cracks, replace lost oils, condition the skin and form a protective barrier to keep hands in top condition.
It's Australia's No.1 hand cream* (IRI data, Grocery & Pharmacy, 2021).
Repairs dry, rough, cracked, irritated and calloused hands, with visible effects in 1 day. It's non-greasy, made in Australia and contains no nasties.
DU'IT Tough Hands Fragrance Free 150g
DU'IT Tough Hands Fragrance Free is an advanced, multi-action hand cream treatment formula that contains skin smoothing natural lactic acid to exfoliate away dryness and improve skin texture and suppleness. It provides long-lasting protection from damage to hands caused by repeated washing, prolonged use of latex gloves, chemicals, solvents, glues, cleansers and contact with other allergens and irritants.
Fragrance Free Especially developed for sensitive skin, Tough Hands contains no fragrance, allergens or irritants. It's the perfect hand cream for sensitive skin.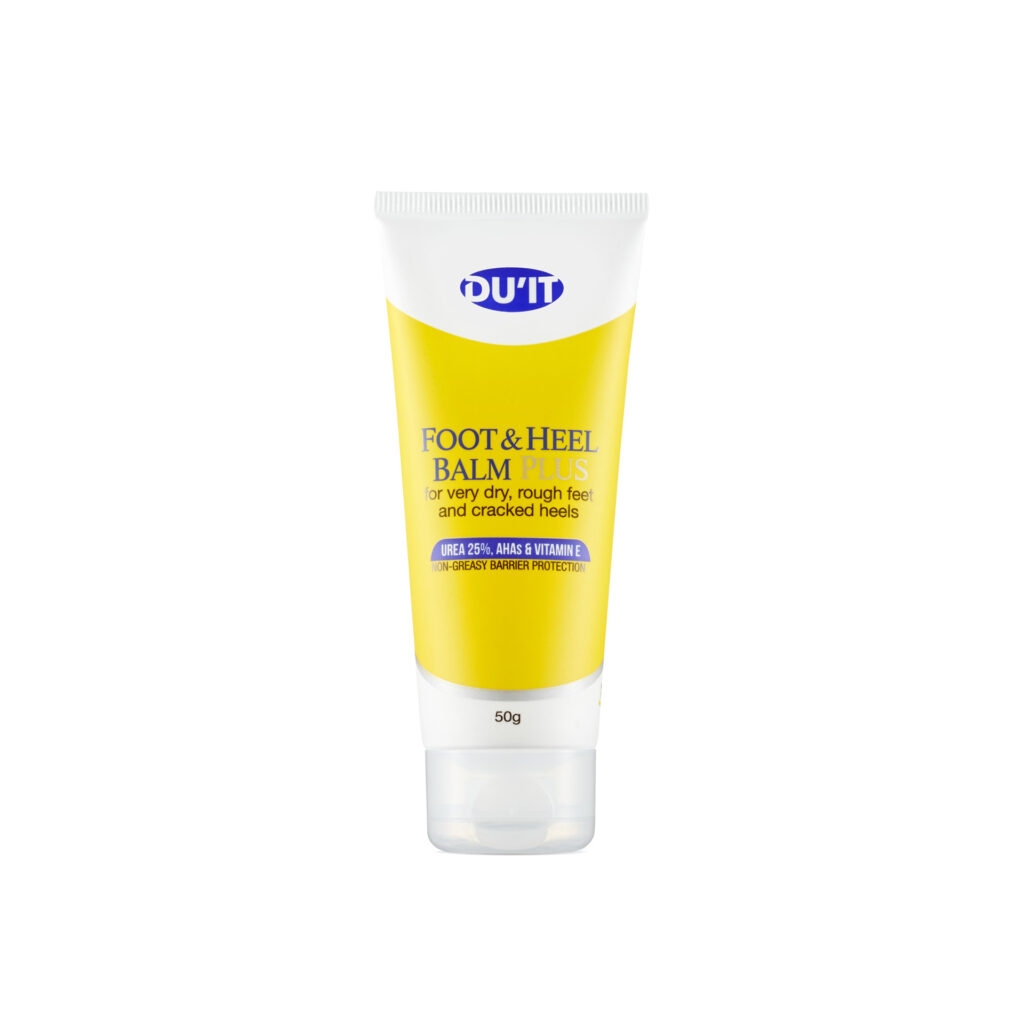 DU'IT Foot & Heel Balm Plus 50g
Visible effects within 1 day, DU'IT Foot & Heel Balm Plus is an intensive heel balm formula containing 25% Urea that helps repair cracked, dry heels.
This foot cream is clinically and dermatologically tested to effectively rehydrate, soften and protect feet, giving you soft, smooth, healthy feet.