Vitamin E in Skincare & Best Vitamin E Products
If you're a skincare lover, you're probably familiar with the word 'Vitamin E'. What you might not know, is what benefits this common ingredient has for your skin? Here's everything you need to know about Vitamin E and your skin.
What is Vitamin E?
Vitamin E, also known as tocopherol, is the collective name for a group of fat-soluble compounds with distinctive antioxidant activities. Natural Vitamin E can be found in various foods including meat, eggs, fruits and vegetables. It's also available as a dietary supplement.
Vitamin E is vital to one's health. It helps support the proper function of many organs in the body. Its antioxidant properties can also help prevent and repair damaged cells.
The benefits of Vitamin E in skincare
Studies show that Vitamin E is a versatile ingredient that has a wide range of skin benefits:
Moisturising: as an outstanding moisturiser, Vitamin E restores skin hydration, keeping it soft and supple.
Repairing: anti-inflammatory properties of Vitamin E helps to soothe and heal damaged skin.
Protecting: Vitamin E can also protect the skin by strengthening its natural defensive barrier.
Anti-aging: studies also show that Vitamin E can help combat premature aging and revitalise skin cells.
Vitamin E can treat various skin concerns, including dryness, acne, hyperpigmentation and sensitivity. It also works to reverse premature aging, repair scarring and stretch marks, and combat sun damage.
The best creams with Vitamin E
You probably haven't noticed, but Vitamin E is in almost everything from face cream to foot balm. Here are some of the best Vitamin E products we recommend for dry skin.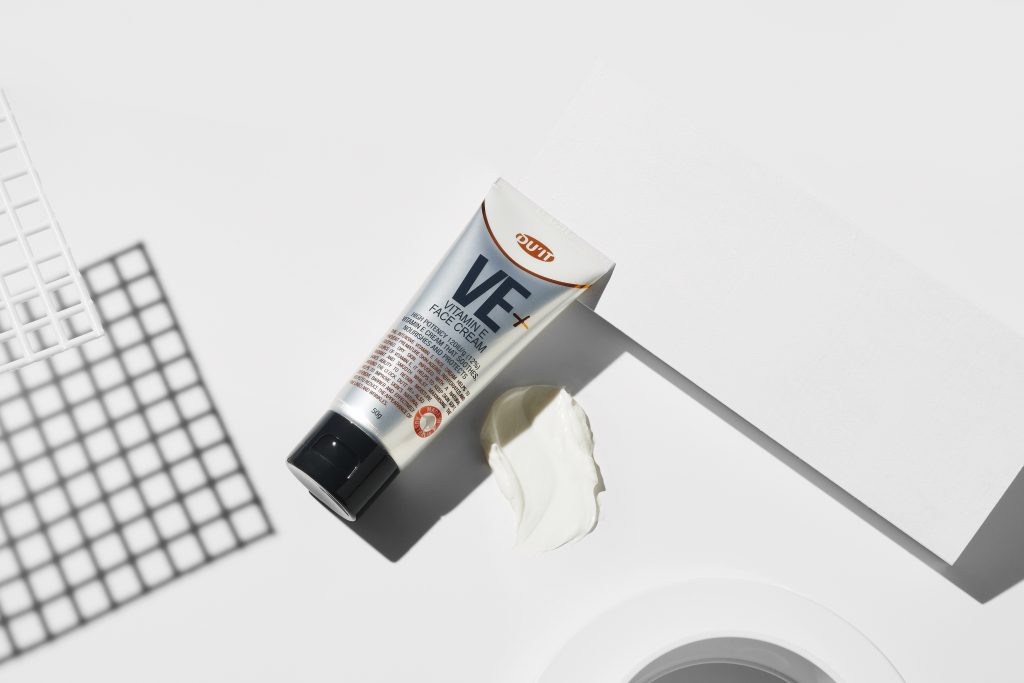 It isn't hard to find a face moisturiser with Vitamin E, but did you know our DU'IT VE+ Vitamin E Face Cream contains 12% of active Vitamin E, which is 6 times higher than that of a standard Vitamin E cream. The highly concentrated Vitamin E boosts skin hydration to keep it soft and supple. It neutralises free radical activities and protects the skin from UV damage. It effectively improves skin texture and reduces the appearance of fine lines, wrinkles and uneven skin tone, making your skin look more youthful. Additionally, Vitamin E works to soothe and repair damaged skin, which can be used to treat scarring and stretch marks. You'll notice visible improvements in hydration, radiance and firmness of your skin.
Many people find Vitamin E face creams too heavy, especially for oily or acne-prone skin. Our VE+ Vitamin E Face Cream has this rich, lightweight texture, which sinks into your skin quickly, without clogging your pores or leaving any greasy feeling. VE+ Vitamin E Face Cream is the best Vitamin E cream for the face with the highest potency of Vitamin E you can find in the market.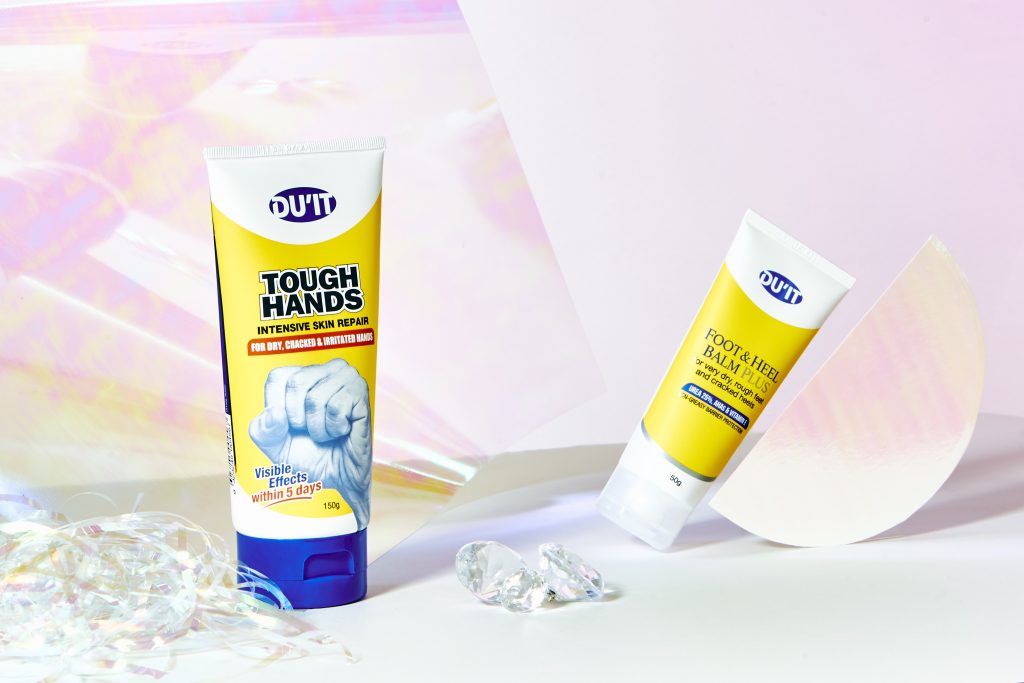 Vitamin E can be used on its own or in conjunction with other ingredients. The outstanding moisturising properties of Vitamin E combined with humectants like Urea can instantly rehydrate dry skin.
Specially designed for chronically dry skin, our Foot & Heel Balm Plus and Tough Hands intensive hand cream targets dry skin conditions including chapped, calloused and cracked skin, providing visible effects in 1 day. Recommended by Diabetes Australia and the National Eczema Association of Australia, these foot and hand care products with Vitamin E can deeply nourish dehydrated skin, strengthen skin moisture barriers and prevent moisture loss. Vitamin E also works with antimicrobial tea tree and lemon myrtle extract to promote the healing of cracks and minor cuts. Together they help calm irritated skin and prevent inflammation.
Vitamin E can also be found in lip care products. DU'IT Tough Lips intensive lip balm is enriched with Vitamin E and grape seed extract, both being superior antioxidants that assist in the healing of chapped lips and shield the skin from sun damage. With added shea butter, panthenol and beeswax, Tough Lips lip balm instantly softens and revives dry lips. Tough Lips lip balm is one of the best Vitamin E lip balms that moisturises your delicate lips and protects them from environmental stress.
Is Vitamin E safe to use?
Vitamin E has a long history of safe use in the beauty and skincare industries. When applied to the skin, Vitamin E is suitable for most people. DU'IT Vitamin E skincare products are scientifically formulated and clinically tested with the safest and most effective ingredients that condition, repair and protect your skin from head to toe. However, if your skin is on the sensitive side or used on children's skin, we recommend doing a patch test before applying. In rare circumstances, it might cause itching and swelling for some people.
DU'IT Vitamin E products are high-quality, affordable skincare products made in Australia with fast results. If Vitamin E products are not already in your skincare routine, it is time to incorporate them into it. Stock up on our favourite Vitamin E creams from DU'IT.
---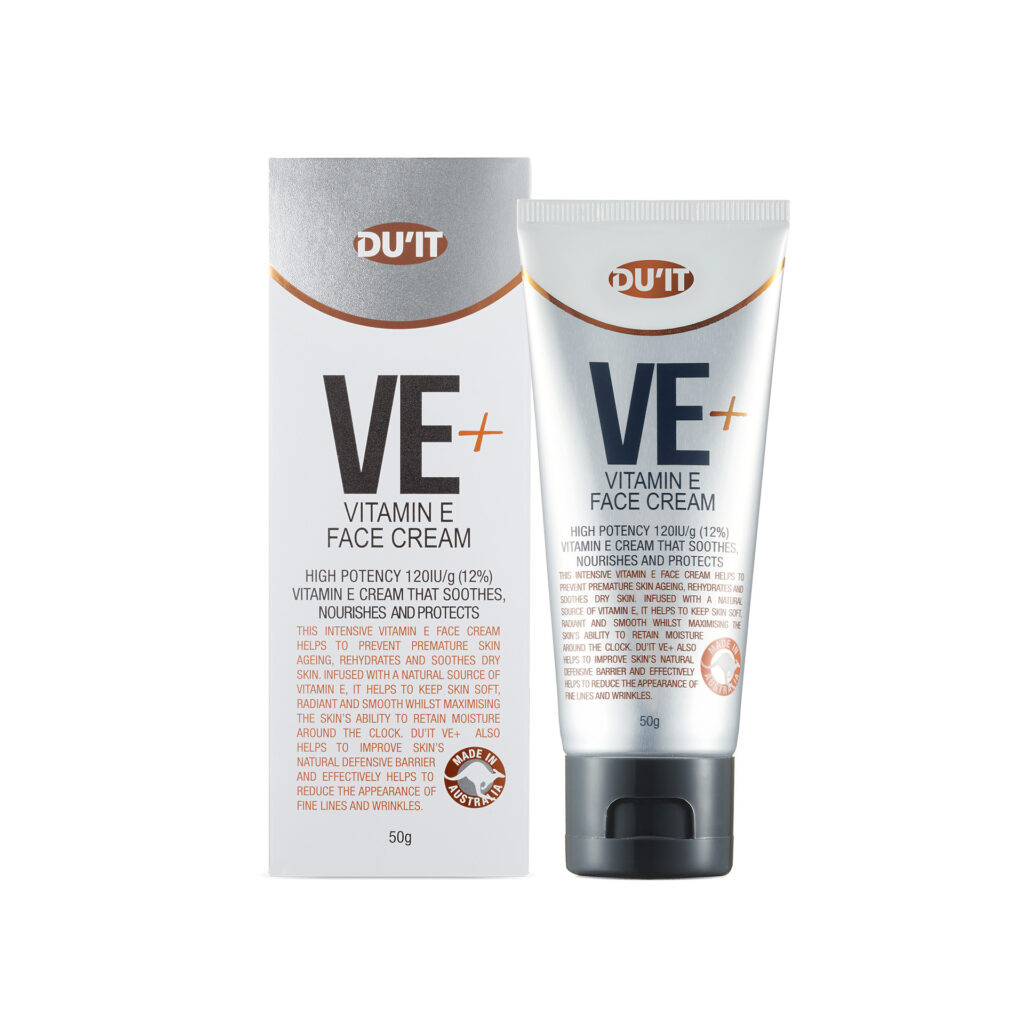 DU'IT VE+ Vitamin E Face Cream 50g
DU'IT VE+ Vitamin E Face moisturiser is a high potency (120iu/g or 12%) vitamin E face cream, that contains 6 times more vitamin E than that of standard vitamin E cream, providing exceptional moisturising properties for dry skin. It neutralises free radical activity, moisturises dehydrated skin, fine lines and guards against premature skin ageing.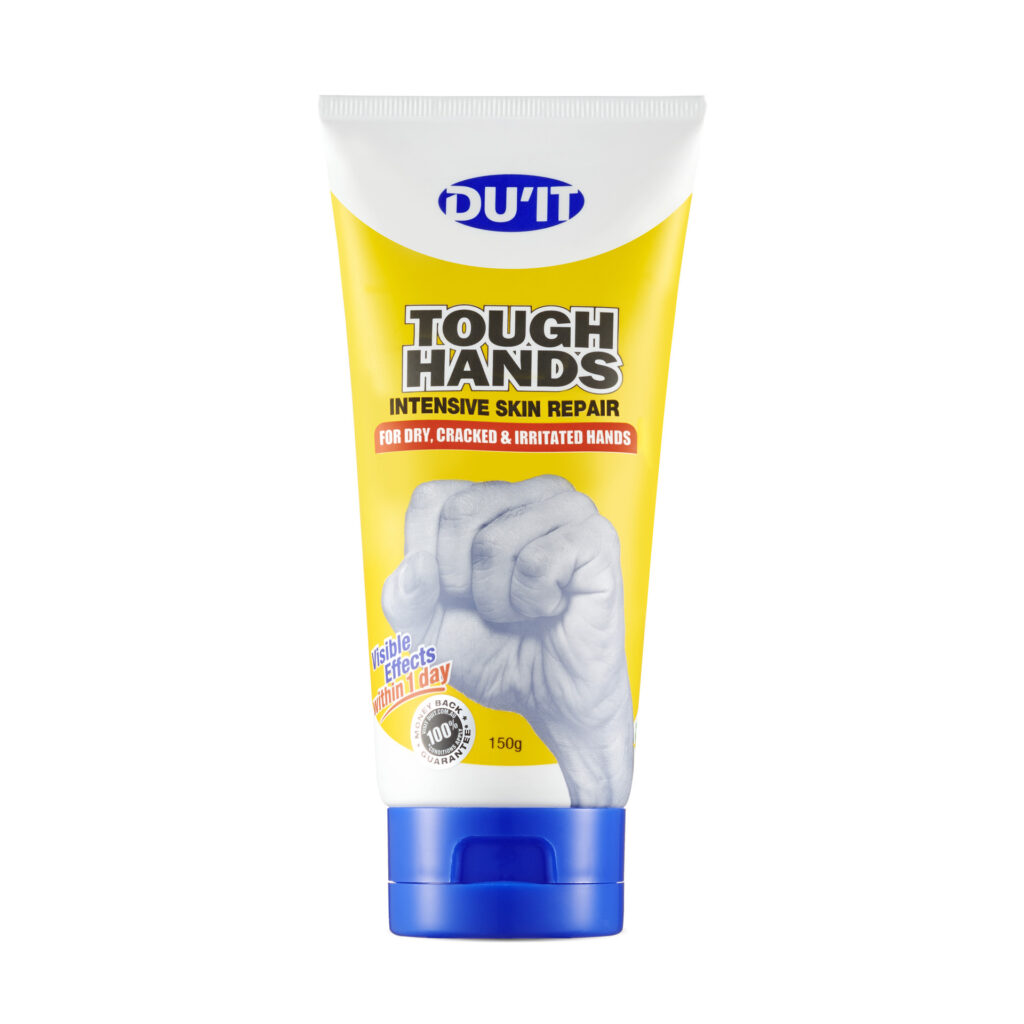 DU'IT Tough Hands 150g
DU'IT Tough Hands is a clinically proven, intensive strength hand cream for dry hands that works to seal cracks, replace lost oils, condition the skin and form a protective barrier to keep hands in top condition.
It's Australia's No.1 hand cream* (IRI data, Grocery & Pharmacy, 2021).
Repairs dry, rough, cracked, irritated and calloused hands, with visible effects in 1 day. It's non-greasy, made in Australia and contains no nasties.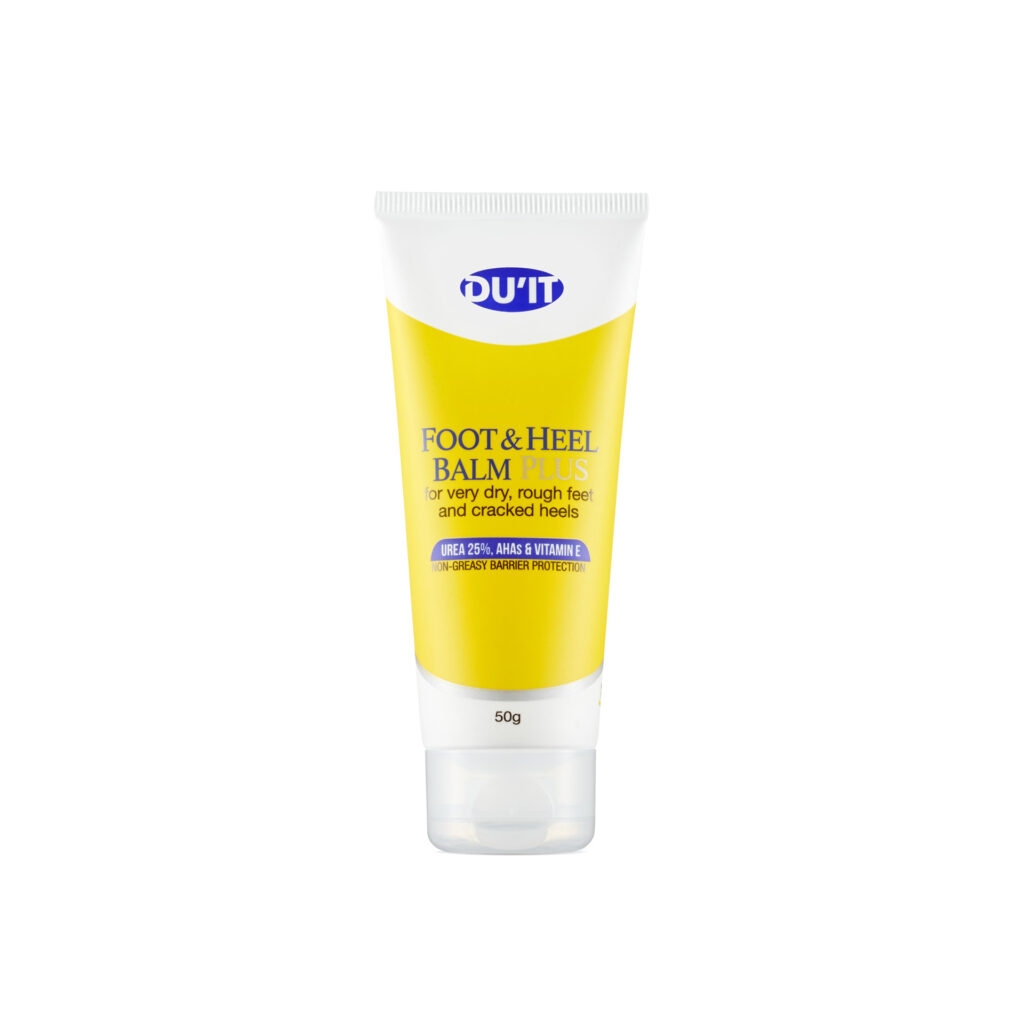 DU'IT Foot & Heel Balm Plus 50g
Visible effects within 1 day, DU'IT Foot & Heel Balm Plus is an intensive heel balm formula containing 25% Urea that helps repair cracked, dry heels.
This foot cream is clinically and dermatologically tested to effectively rehydrate, soften and protect feet, giving you soft, smooth, healthy feet.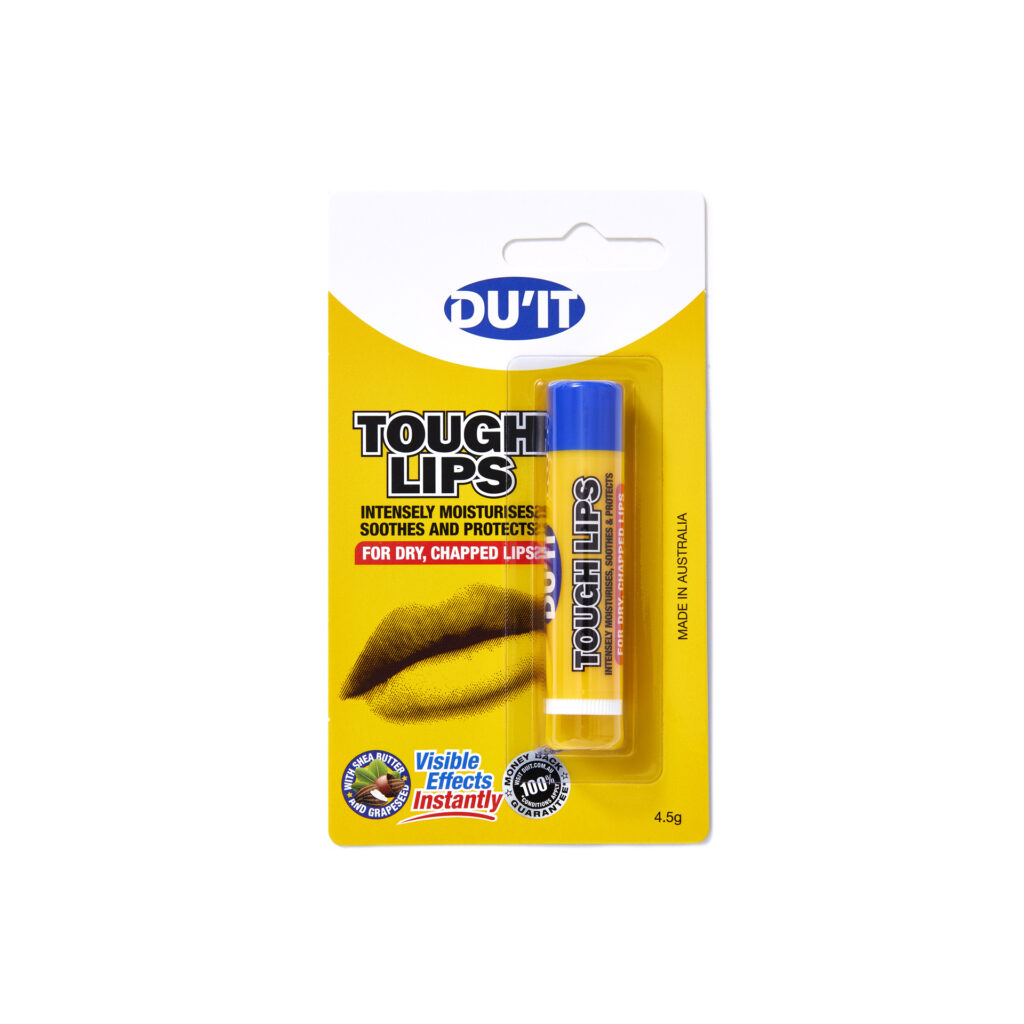 DU'IT Tough Lips 4.5g
Clinically proven DU'IT Tough Lips antioxidant intensive lip balm instantly hydrates and relieves dry, chapped lips, resulting in soft, healthy-looking lips. Enriched with nourishing grape seed, vitamin e and antioxidant polyphenols, its texture instantly melts without a greasy effect and leaves your lips moisturised.