When you lead an active lifestyle, it can often feel that every single thing you do conspires to dry your hands out.
While driving, your hands are inevitably exposed to the hot rays of the sun in summer, cold weather in winter and pollution all year round. Exposure to each of these elements dries the skin and causes some amount of skin damage.
If you enjoy spending time outdoors, whether you love trekking miles from home, cycling around the neighbourhood or gardening in your backyard, it's difficult to prevent your hands from getting exposed to cold or hot climatic conditions.
Whether you are a gym junkie who does a lot of power lifting or a homemaker who spends a lot of time cleaning, cooking, doing the dishes and caring for your children, you can see the damage your everyday activities are doing to your hands.
Caring for your hands does not have to be time-consuming or overwhelming. There are several simple things you can do to prevent damage to your hands and keep them looking softer, smoother and younger. What's more, most of these do not require you to invest a whole lot of time either.
DIY Hand Care Tips When You Are At Home
At home, keep bottles of lotion where they are easily visible and accessible. Keep one by your kitchen sink and one near your bathroom sink. At these locations, your bottles will serve as a gentle reminder to reach out and rehydrate your skin at all the right times.
Keep a bottle of skin-care cream at your bedroom side table too. Before you go off to sleep, dab a little on your hands and rub it in gently. The lotion will work its magic on your hands while you sleep so you wake up to softer skin in the morning.
TIP: Slip on a pair of cotton gloves to prevent the lotion from rubbing off on your sheets.
For best results, it is always a good idea to use a lotion that is specially formulated for skin care. We highly recommend DU'IT Tough Hands. This intensive strength cream forms a protective barrier over the skin, protecting it from the drying effects of soap, detergent and other chemicals.
DIY Hand Care Tips When You Are On The Move
Applying sunscreen over your hands before you venture outdoors in summer and wearing a pair of gloves in colder temperatures are basic skin care routines you should adhere to.
That may not always be enough however. Moisturising your hands adds another layer of protection and slows down the aging process.
Carrying a tube of DU'IT Tough Hands For Her in your handbag makes it easier for you to moisturise on the go. The cream penetrates deep into your skin without feeling sticky or greasy, making it the perfect hand-care solution for the person who is always on the move.
Professional Pampering For The Ultimate Hand Care Treatment
A professional manicure is like the ultimate pampering for your hands. It feels so great to get your nails filed and buffed, your cuticles trimmed and your hands massaged. By the time the manicurist is done, your hands look and feel absolutely amazing.
For an extra-special treat, get a paraffin-wax manicure. After the manicurist is done clipping and filing your nails, you dip your hands in a deep container of warm paraffin wax. The temperature of the wax is just warm enough to melt it but tolerable for you to dip your hands in without scalding. Remove your hands from the container. The wax cools and hardens around your hands. After about 15-20 minutes, the manicurist will crack off the cooled, hardened wax. You'll be surprised at how soft and rehydrated your skin feels after this luxe treatment.
Of course, getting a professional manicure everyday or even every week is not just impractical, it can also be frightfully expensive. It's how you care for your hands everyday that will be far more effective. Follow the above DIY hand care tips and you'll be amazed at how much softer and smoother your hands start to feel. DUIT Tough Hands and DUIT Tough Hands For Her are proven to show results within 5 days.
---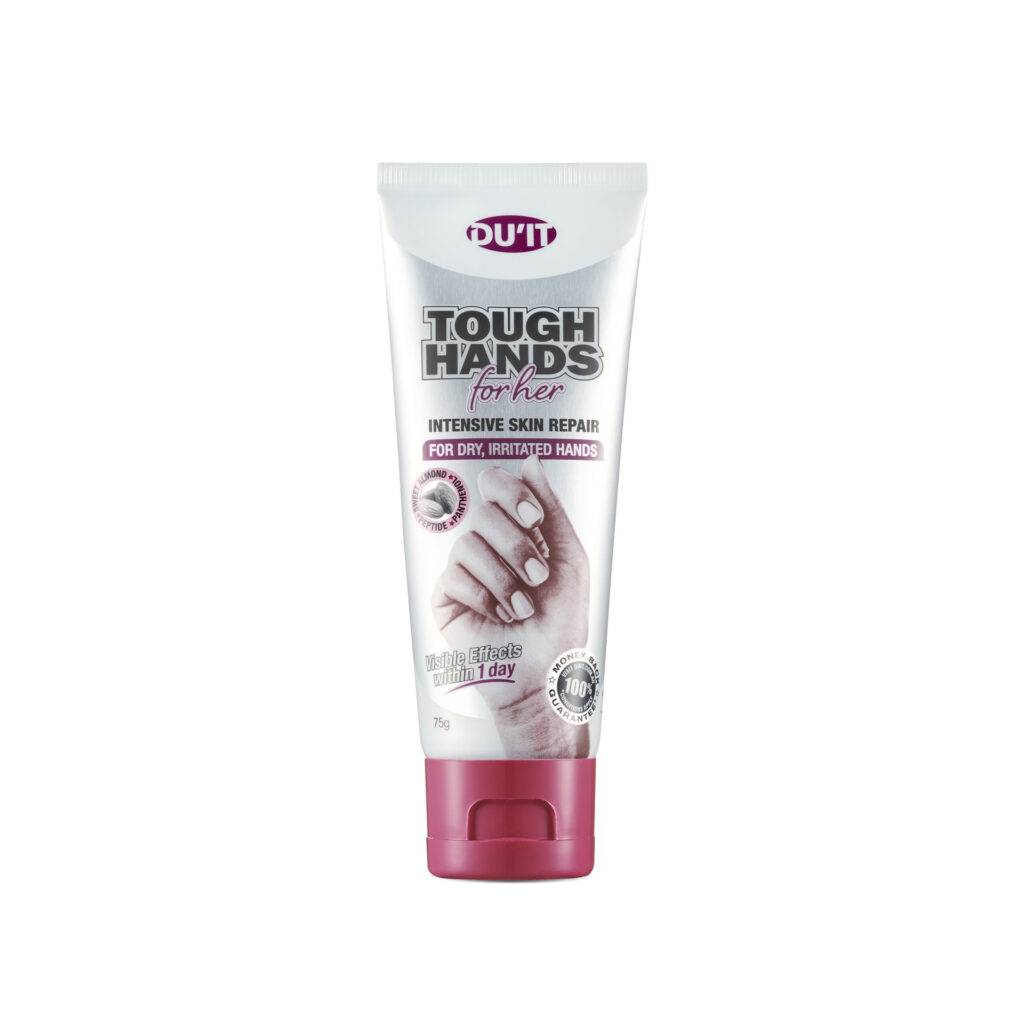 DU'IT Tough Hands for Her 75g
DU'IT Tough Hands for Her hand cream and moisturiser is a clinically tested anti-aging dry skin hand cream for tired, overworked hands. Repairs, brightens and softens dry hands with visible effects in 1 day. It contains a powerful peptide complex that supports natural collagen and softens the appearance of fine lines and wrinkles, panthenol for firming and improving skin elasticity and niacinamide for increased skin radiance.