Your hands work so hard, but they often suffer from dryness, roughness, cracks and calluses… When it comes to hand care, hydration is not enough. Still searching for a perfect hand moisturiser that softens the skin, keeps your hands highly hydrated and does not come off when you wash your hands? For results you can trust, try Tough Hands from DU'IT.
DU'IT has spent over 20 years of research and development, to bring you skincare products that are functional affordable and that work. Scientifically formulated and clinically tested, Tough Hands is our original best seller. In fact recent data released by IRi* announces that Tough Hands is Australia's number 1 hand cream in pharmacies. It does more than just hydrating your hands.
With just the right amount of natural AHAs, it gently removes dead skin cells and softens calloused skin, without the need of a pumice stone. Specially formulated with anti-microbial agents, it assists in the healing of minor cuts or cracks caused by chronial dryness.
People with long-lasting dry skin can benefit from its active moisturising ingredients, including urea and sodium PCA, that conditions skin and holds moisture in. It sinks into the skin, without leaving any greasy feeling. Your hands no longer have to suffer from flakiness and itchiness.
Whether you enjoy cooking, work at the hospital or are busy taking care of your children, repetitive hand washing and frequent contact with detergents could damage your hands. Unlike many beauty hand creams, this intensive hand cream does not come off as you wash your hands. Formulated with Dimethicone, it builds a thin, non-greasy protective barrier that shields skin from any irritants and harsh environmental factors.
The best thing about Tough Hands is that it does not contain any nasties! It is free from mineral oils that can clog pores, or lanolin that can trigger skin sensitiveness. It is also free from parabens, petroleum, artificial fragrances, which makes it suitable for people who have sensitive skin, eczema or diabetes.
Exfoliation, hydration and protection, Tough Hands is your dry skin saviour around the clock! People who have tried Tough Hands have found that it actually works within just 1 day of use.
Tough Hands is now available in a smaller size too! The new Tough Hands 75g perfectly fits into your everyday bag. You can take it with you anywhere you travel – on the plane, in your gym bag on the go. Available at our E-shop now – click here.
*IRi scan sales data, 2018 Pharmacy and Grocery, Australia.
"Data sourced from IRI MarketEdge based on data definitions provided by Orbis Australasia"
---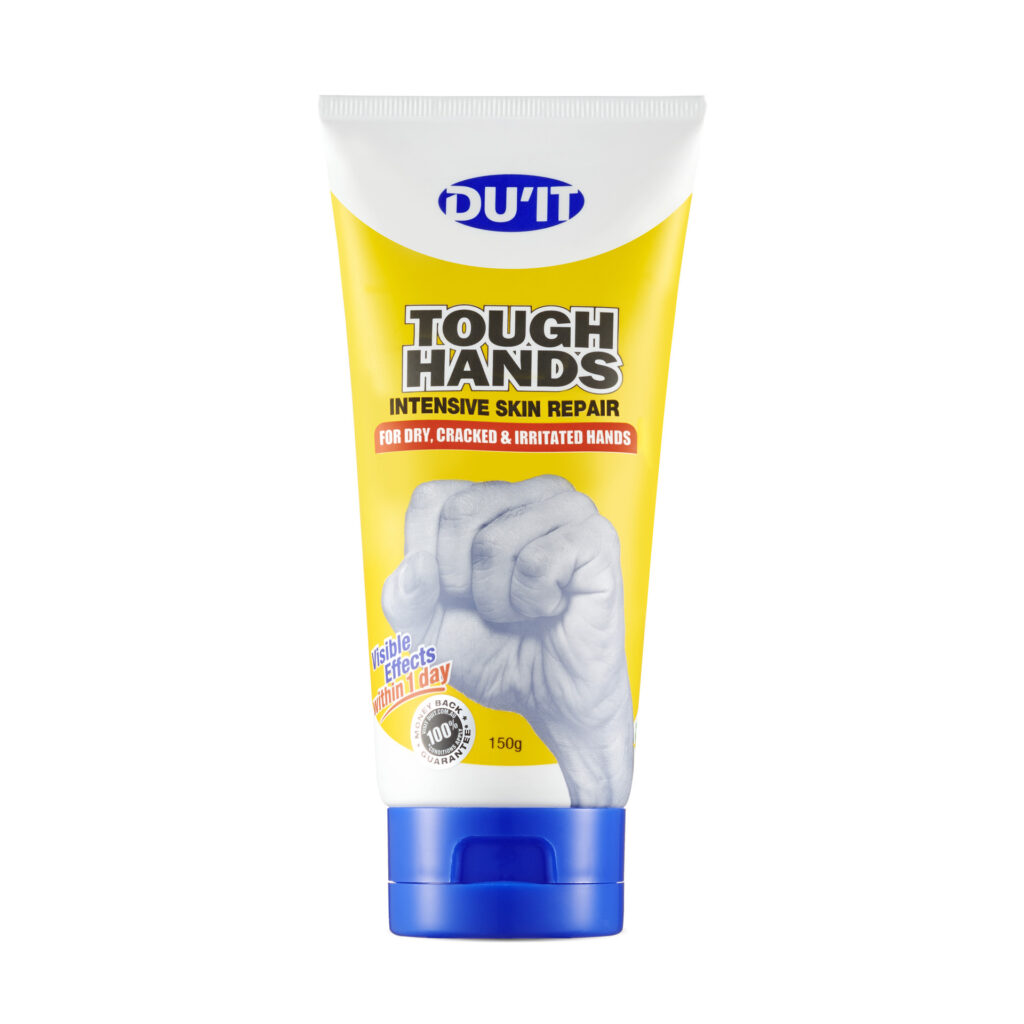 DU'IT Tough Hands 150g
DU'IT Tough Hands is a clinically proven, intensive strength hand cream for dry hands that works to seal cracks, replace lost oils, condition the skin and form a protective barrier to keep hands in top condition.
It's Australia's No.1 hand cream* (IRI data, Grocery & Pharmacy, 2021).
Repairs dry, rough, cracked, irritated and calloused hands, with visible effects in 1 day. It's non-greasy, made in Australia and contains no nasties.