After months of rain, chilly winds and frigid temperatures, spring is finally on the horizon. Winter has nearly left the building (well, almost), taking with it our dreary moods and dry, itchy skin. And while we've spent the first part of 2019 layering serums, balms, and oils, warmer air and increased humidity mean our skin is about to be in for a shock. How, then, to prep the face for sunnier days ahead?
Did you know that the average Australian spends 55 minutes per day behind the wheel, typically driving about 24,140 kms per year? While drivers may feel protected from the sun, research shows that UV rays can penetrate your car windows, increasing your risk of skin damage, leading to premature aging. Although wrinkles are natural signs of aging, sun aged skin is remarkably rougher, more pigmented and less flexible than chronologically aged skin!
Below is a list of how the sun can damage your skin:
Fine lines and wrinkles
Roughness
Pigmentation
Uneven skin tone
Change in skin texture
Loss of hydration
Skin laxity or looseness
Redness and dullness
……
Sunlight injures your skin by not just by making it look older, but also by deeply penetrating all layers of your skin. Prolonged and habitual exposure to strong sunlight might also lead to medical changes including irritation, bruising, or even skin cancer.
Once sun damage is done, it is hard to reverse it. However, it isn't impossible to prevent it. That's why these 5 must-dos come into their own in warmer weather, in order to avoid sun-damage.
Wear sunscreen lotions religiously
This is probably the easiest way to minimise harm brought by sunlight. It is recommended that you use sunscreen every day on days when the UV Index is 3 or above. Don't forget areas like your hand, feet and back of your neck. If spending time outdoors or after swimming, make sure you reapply sunscreen every two hours.
Sun protection clothing
Sunlight, especially UVA rays, can sometimes perpetrate sunscreen lotions, but it can be blocked by clothing. Sun protection clothing with lightweight and breathable fabric are preferred. Light-coloured clothes are ideal in summer as they reflect more sunlight and absorb less heat. Hats and sunglasses are also great accessories to prevent sun damage.
Keep your skin moisturised
Dry skin does not necessarily cause aging, but it would exaggerate signs of aging. Our Vitamin E Face Cream is packed with highly concentrated natural Vitamin E, which instantly restores moist. It helps your skin stay away from dehydration, improves the appearance of wrinkles and makes it look more supple and refreshed. With amazing repairing power, our Vitamin E also assists in cellular restoration from sun damage.
Put on your hand cream
When it comes to sun protection and anti-aging care, our hands are often forgotten. Tough Hands for Her gives your skin deep hydration and long-lasting protection. It shields your skin from harsh environmental factors, including UV radiation. It is enriched with peptides, which is an active ingredient that helps collagen production – thus visibly reduces signs of aging, including fine lines and wrinkles. Niacinamide works to rebalance pigmentation, brighten skin and improve skin elasticity, making your hands look softer and younger.
Healthy lifestyle
A number of other factors can have an impact on the appearance of our skin, including stress levels, sleeping quality, and dietary choices. So make sure you get plenty of sleep, exercise regularly, and learn to manage your stress. And don't forget to keep a balanced diet. If you are not getting enough nutrition from your diet, supplements such as vitamin C, Zinc and Coenzyme Q10 have proven anti-aging effects.
---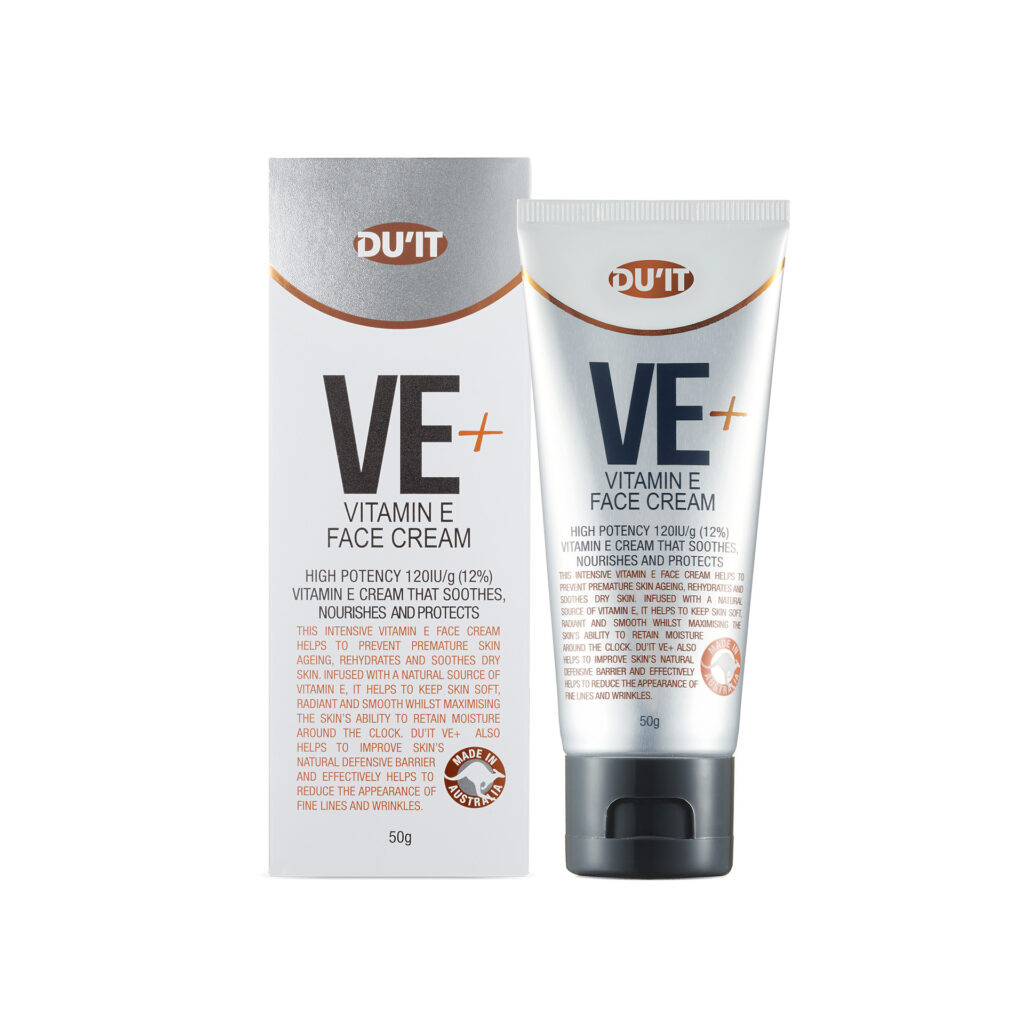 DU'IT VE+ Vitamin E Face Cream 50g
DU'IT VE+ Vitamin E Face moisturiser is a high potency (120iu/g or 12%) vitamin E face cream, that contains 6 times more vitamin E than that of standard vitamin E cream, providing exceptional moisturising properties for dry skin. It neutralises free radical activity, moisturises dehydrated skin, fine lines and guards against premature skin ageing.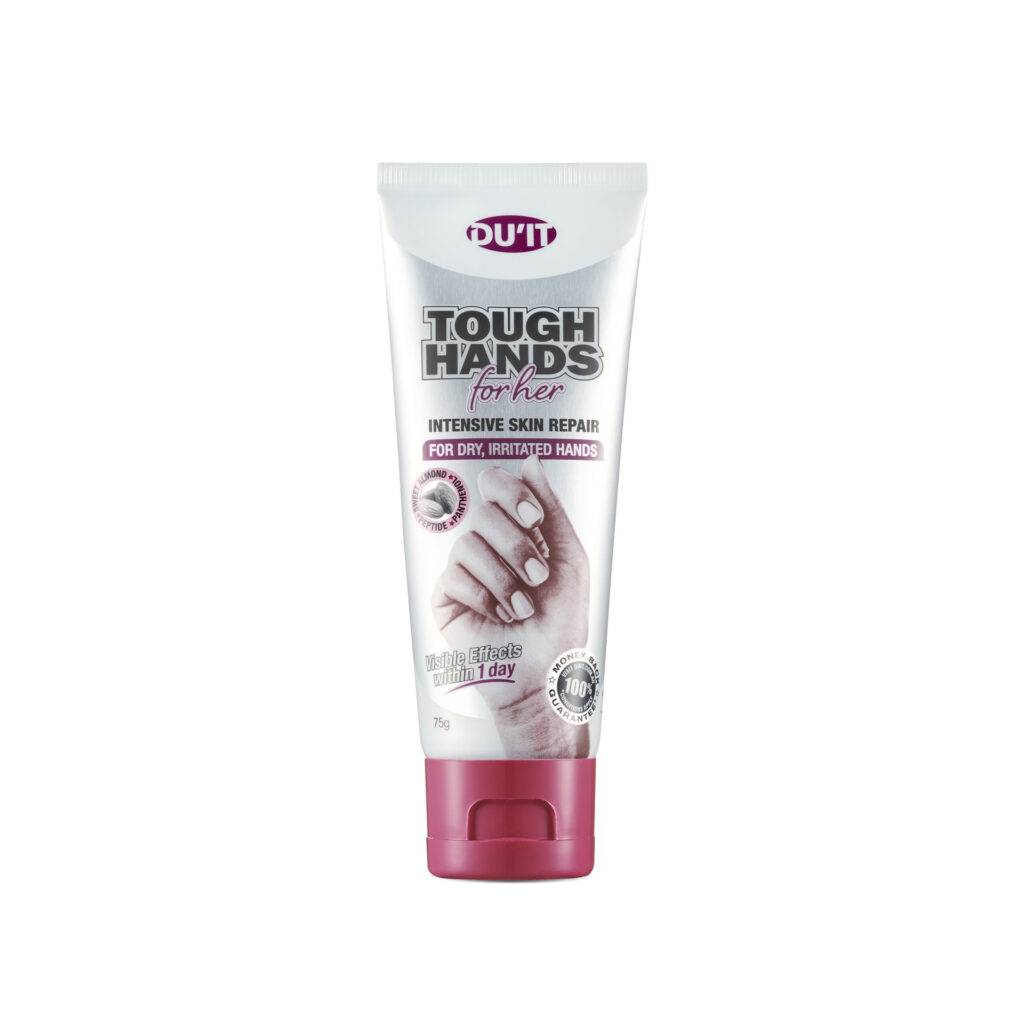 DU'IT Tough Hands for Her 75g
DU'IT Tough Hands for Her hand cream and moisturiser is a clinically tested anti-aging dry skin hand cream for tired, overworked hands. Repairs, brightens and softens dry hands with visible effects in 1 day. It contains a powerful peptide complex that supports natural collagen and softens the appearance of fine lines and wrinkles, panthenol for firming and improving skin elasticity and niacinamide for increased skin radiance.