Tight skin, rough knuckles, chapped lips? Say hello to winter, about to wreak havoc from head-to-toe.
Here are some tips for you to keep your skin happily hydrated throughout the cold snap.
Stay hydrated
Your body is 60% water, so hydration is the key to one's wellbeing. Aside from the hot weather when your body sweats a lot and requires rehydration, drinking plenty of water is also important in the cold weather. Water has multiple benefits for your health, including improving physical performance, boosting energy levels, preventing symptoms such as headaches and keeping you away from the Winter flu.
However if you don't like the plain taste of pure water, try infusing it with Winter inspired ingredients such as ginger, cinnamon and honey. These infusions make your water taste absolutely delicious and they assist with warming up your body, too.
Keep yourself warm
A soft knitted scarf goes perfectly with your Winter outfit, so always remember to layer up. Does exposure to the wind make your skin dry and irritated? Hands are very high risk for becoming chapped and sore in the winter months. Always remember to moisturise them. Our super hydrating Tough Hands for Her. Is a scientifically developed hand cream, with added anti-aging benefits gives your hands long-lasting hydration, as well as a protection barrier against harsh environmental conditions.
Speaking of warming yourself up, nothing beats a nice hot bath. It relieves stress and muscle pain, and helps your body relax, aiding in a better night's sleep. Remember to keep the water at a warm and comfortable temperature, because hot water dehydrates your skin.
Exercise regularly
Your body might feel lazy in cold weather, but it is always a good idea to have implement some physical activities into your daily routine. You can choose to work out in a gym, go out for a jog, or practise some yoga. Regular exercise has proven to have many benefits, both physically and mentally, the main benefits including improving the symptoms of anxiety, helping control weight and reducing the risk of chronic diseases.
Combat dry skin
Your skin will become drier and often more sensitive with the onset of colder weather and central heating. Make sure you keep hydrated during the day, swap your coffee for green tea which has great anti-oxidant effects. Gentle cleansing is a must, you need your skin barrier to be as healthy as possible so that it can retain vital moisturiser. Our VE+ Vitamin E Face Cream contains 12% natural vitamin E – 6 times that of a standard VE cream! It is a rich, thick moisturising cream that is non-greasy. Immediately absorbing, it gives your skin a softer and more radiant appearance. It also helps to improve discolouration, scarring and stretch marks. So say goodbye to itchy and irritated skin this Winter!
---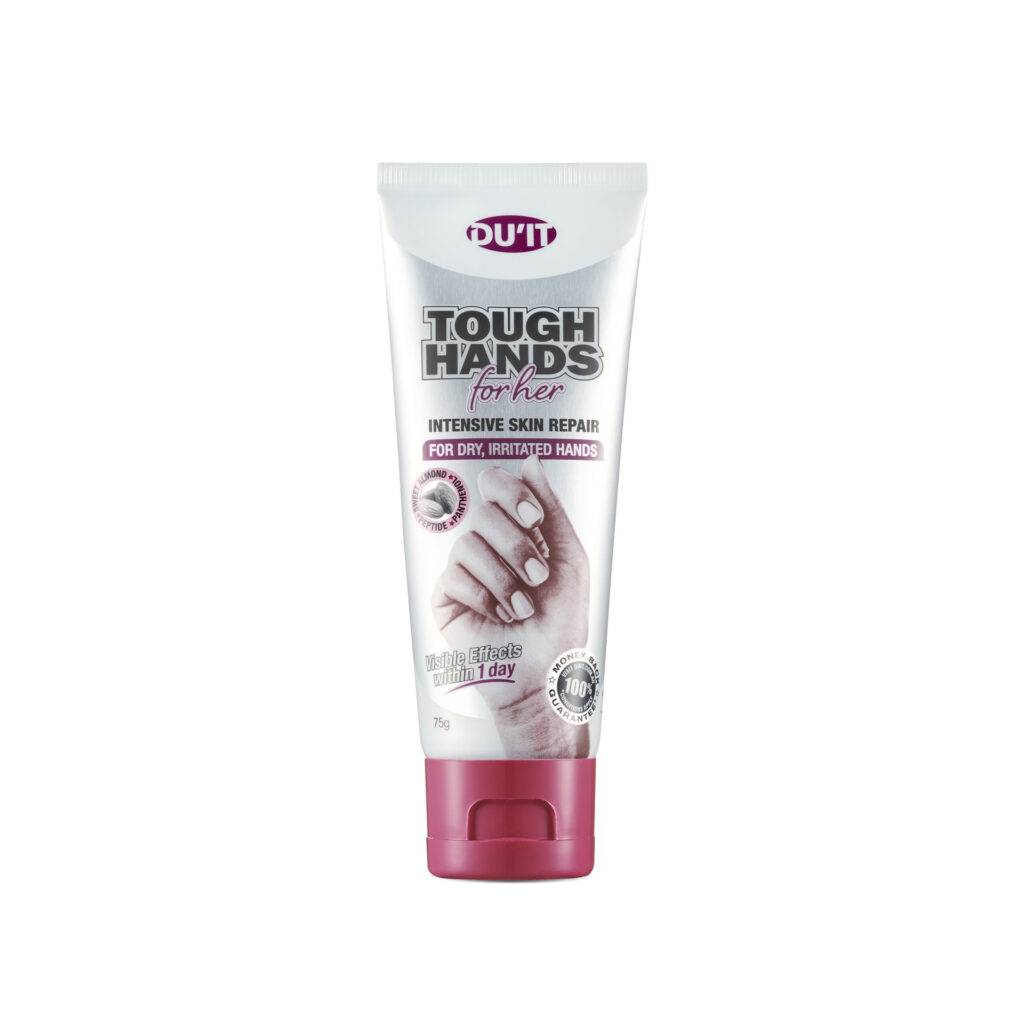 DU'IT Tough Hands for Her 75g
DU'IT Tough Hands for Her hand cream and moisturiser is a clinically tested anti-aging dry skin hand cream for tired, overworked hands. Repairs, brightens and softens dry hands with visible effects in 1 day. It contains a powerful peptide complex that supports natural collagen and softens the appearance of fine lines and wrinkles, panthenol for firming and improving skin elasticity and niacinamide for increased skin radiance.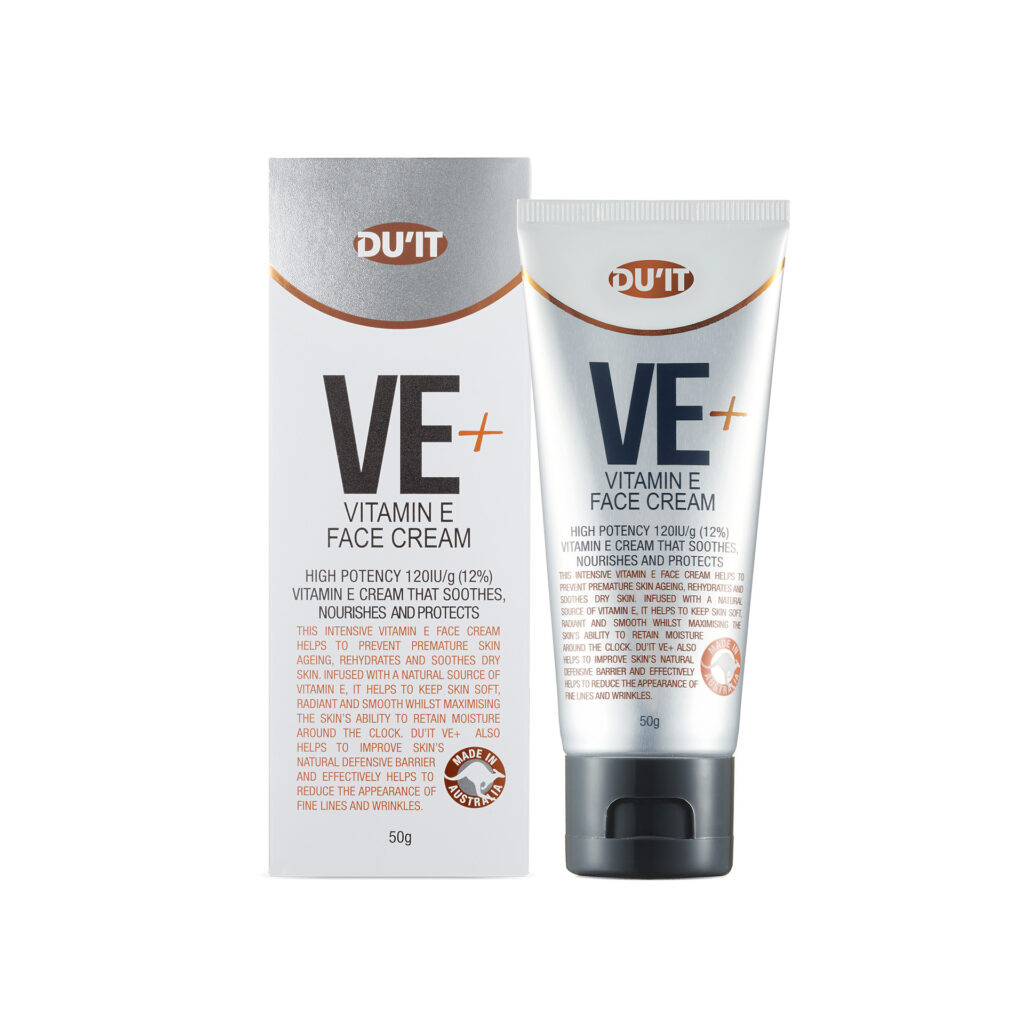 DU'IT VE+ Vitamin E Face Cream 50g
DU'IT VE+ Vitamin E Face moisturiser is a high potency (120iu/g or 12%) vitamin E face cream, that contains 6 times more vitamin E than that of standard vitamin E cream, providing exceptional moisturising properties for dry skin. It neutralises free radical activity, moisturises dehydrated skin, fine lines and guards against premature skin ageing.