With the COVID-19 outbreak, many of us have washed our hands more frequently than ever. Diligent handwashing helps keep germs away, but did you know it can also damage the skin barrier, causing dry, flaky and itchy skin? Without proper care, the skin may crack and even bleed, which can increase your risk for infection.
Here some tips to help keep your hands free from irritation:
Wash your hands with warm water
You might think that hot water would kill germs, but hot water can actually strip off the natural oils on your skin. Remember to always wash your hands in lukewarm water with soap for at least 20 seconds or use hand sanitiser when you're on the go. This can effectively remove germs on your skin. After washing, air dry or pat dry your hands.
Use gentle hand cleansers
We recommend that you always use a gently hand cleanser to cleanse/wash the skin, however did you know some hand cleansers contain aggressive solvents that can in fact aggravate the skin further. We suggest avoiding bar soaps as they usually have a high pH, which causes unnecessary dryness. Look for cleansers with added moisturising ingredients such as glycerine and no nasties.
We recommend our DU'IT cult favourite Tough Scrub. Its a 3-in-1 hand cleanser that uses natural Californian walnut shell to remove any dead skin, grease or dirt. With added moisturising actives such as glycerin and vitamin E, Tough Scrub leaves your hands clean, refreshed and soft. But more importantly, Tough Scrub does not contain any harsh chemicals or drying alcohol, a must for super soft, healthy hands.
Apply hand moisturiser after handwashing
If water isn't sealed into the skin after washing, your hands will dry out as the water evaporates into the air. We suggest applying a pea-sized amount of moisturising hand cream onto slightly damp skin immediately after handwashing. This helps to lock the moisture in, restore the skin barrier function and soothe stressed or irritated skin.
DU'IT Tough Hands, Australia's number 1 hand cream, is scientifically formulated with dimethicone, a gentle and effective ingredient that forms a thin, non-greasy protective film on top of the skin, which helps to keep your hands soft and hydrated even after repeated washing. With additional antimicrobial ingredients including tea tree and lemon myrtle, it also provides a barrier against environment aggressors.
Choose the right moisturiser
Last but not least, if your skin is prone to irritation, stay away from ingredients like added fragrances, because they are the key ingredients that usually cause reactions or rashes.
We suggest using our Tough Hands Fragrance Free hand cream. Just like our original best seller, Tough Hands, it contains no fragrance, parabens, petrolatum, mineral oils or any other nasties. It works to repair dry, chapped and irritated skin, providing amazing results in 1 day!
---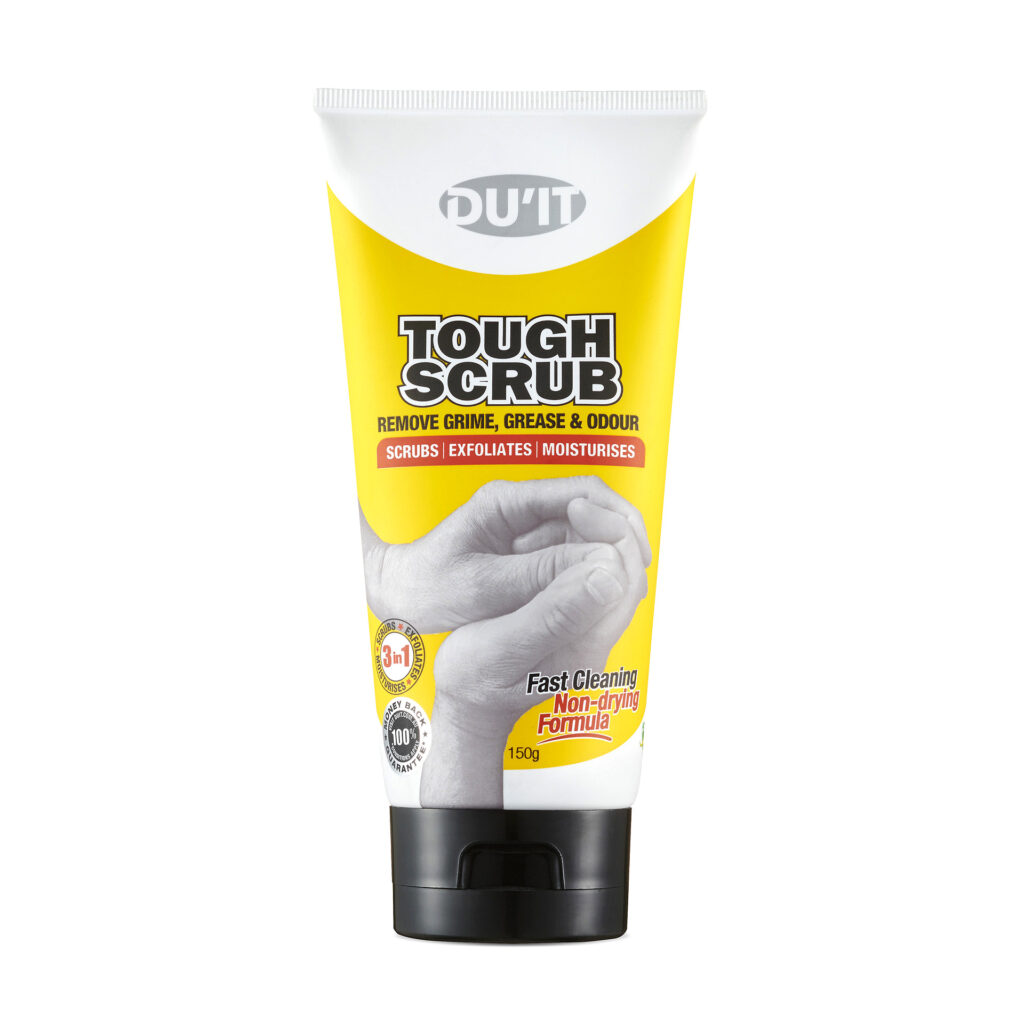 DU'IT Tough Scrub 150g
DU'IT Tough Scrub is a 3-in-1 moisturising hand scrub that works as hard as your hands. This hand scrub cleans, exfoliates and moisturises the skin and contains no harsh chemicals or irritants that dry out the skin.
It cleans stubborn dirt, removes odour, grease and grime, whilst leaving your hands silky smooth.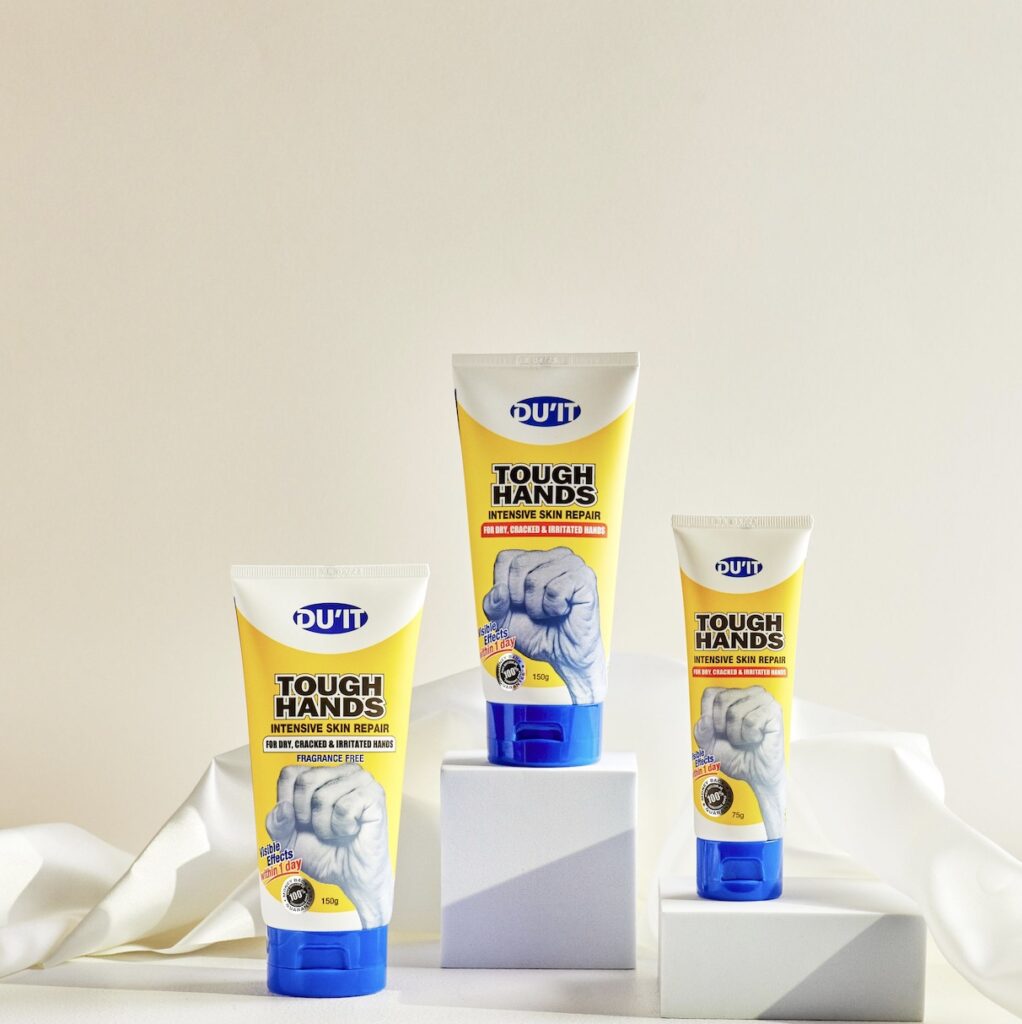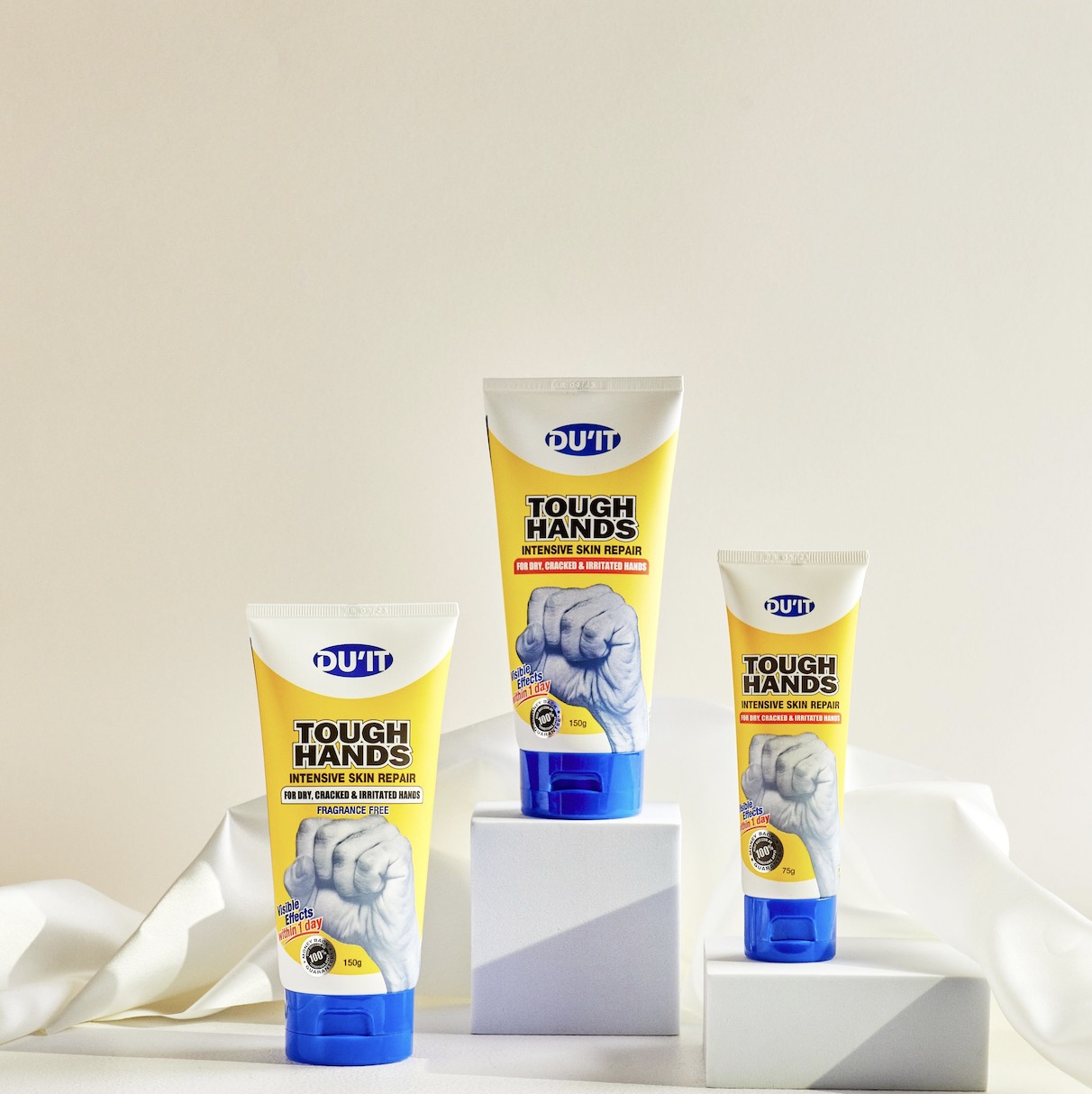 DU'IT Tough Hands
DU'IT Tough Hands is a clinically proven, intensive strength hand cream for dry hands that works to seal cracks, replace lost oils, condition the skin and form a protective barrier to keep hands in top condition.
It's Australia's No.1 hand cream* (IRI data, Grocery & Pharmacy, 2021).
Repairs dry, rough, cracked, irritated and calloused hands, with visible effects in 1 day. It's non-greasy, made in Australia and contains no nasties.