The best and most recommended way to prevent the spread of germs and bacteria is to wash your hands. But in instances where you might not be near a bathroom or just want extra protection, hand sanitisers are the next best thing (or best additional thing) — especially as we're all trying to prevent the spread of COVID-19.
When it comes to hand sanitiser, there are two types of people: Some of us have kept a little bottle in our bag for a decade, while others only associate it with hospitals and doctors. Whichever camp you fall into, the bottom line is that we want to stay as healthy as possible.
So what's a hand sanitiser? A hand sanitisers is designed to kill bacteria and viruses that cause infection. In order for hand sanitisers to be effective, you need to use enough to fully cover the entire hands and fingers.
How much is that exactly? We typically recommend about a quarter-size dollop. After applying, rub your hands together for about 20 seconds and let them dry fully. Hand sanitiser can be drying, so after applying make sure to use moisturiser like our best seller Tough Hands intensive hand cream to restore hydration and improve the skin's moisture barrier.
Keep in mind that hand sanitiser is meant to kill germs, not erase visible dirt. Sanitisers simply don't work as well when your hands are covered in dirt and grime.
Whether it's a traditional hand sanitiser brand or a new product, the first thing to look for is one of these three active ingredients on the label: ethyl alcohol, isopropyl alcohol, or benzalkonium chloride. Those ingredients all indicate that the formula contains alcohol, and as long as it hits that 60 percent mark, you're covered. As the alcohol acts as what's called a denaturing agent, versus soap, which acts as a detergent. Essentially, alcohol kills or inactivates viruses.
So, if you're going to stockpile, or need a trusty, quality hand sanitiser, we recommend adding to your cart our new Tough Shield hand sanitiser.
Leaving hands refreshed and hydrated, our non-drying Tough Shield, with 75 per cent alcohol content is a proven effective means of killing harmful germs and bacteria. Fragrance free, pick up a 60ml bottle for your wash bag and a heftier 500ml option to keep by your front door after a long day of collecting dirt
Shop our Tough Shield range now at our DU'IT eshop here.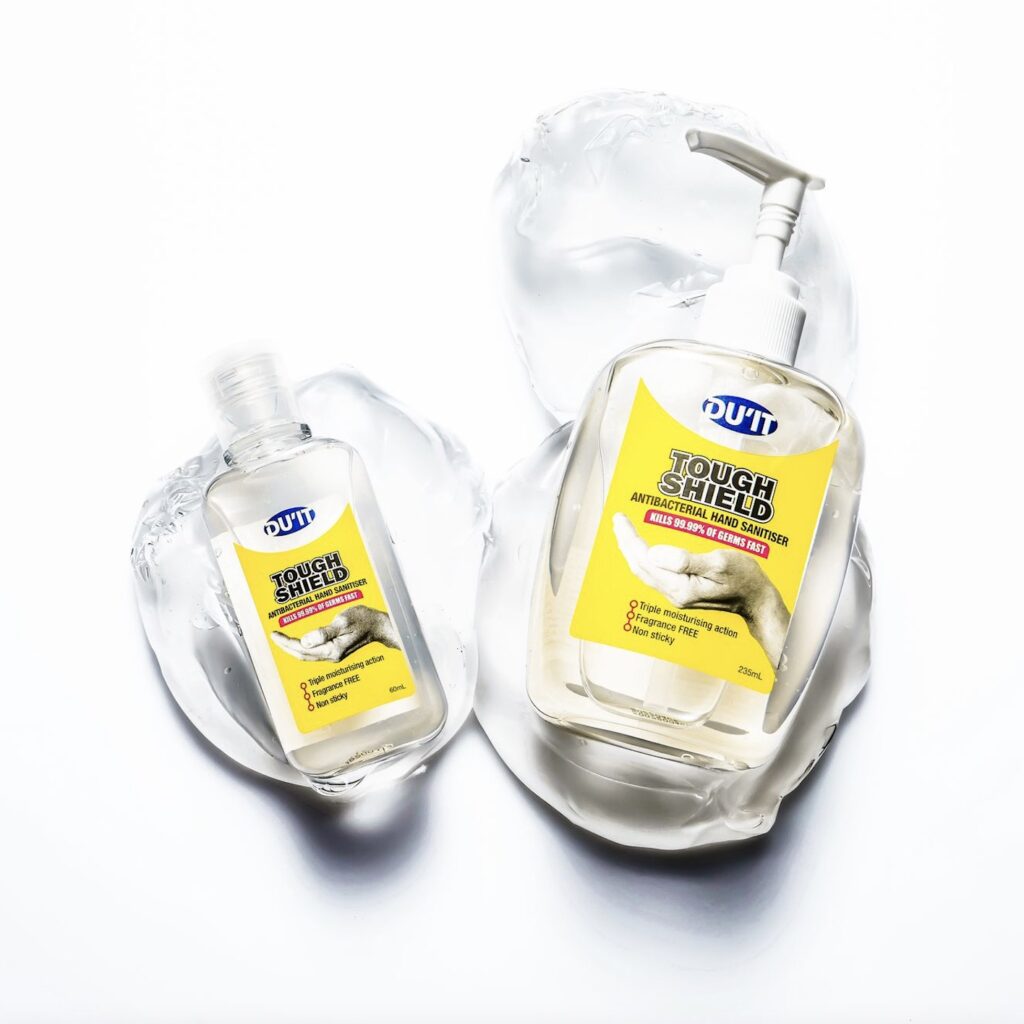 DU'IT Tough Shield 60ml
Hand Sanitiser | Kills 99.99% of germs fast without water. Enriched with a unique blend of moisturising panthenol, hyaluronic acid and glycerin, it leaves hands moisturised and protected. Non sticky formula, tough on germs and soft on hands.