As the temperature starts to drop, so does the humidity level. Dry skin is especially common in the colder months in Australia. The skin on our feet and heels are the most prone to dryness, cracks and soreness. As many of us struggle to keep our feet and heels soft, we might not know what causes the heels to crack. This article explores the main causes of dry, cracked and calloused heels, and introduces the best treatment for dry heels.
What causes dry, cracked heels?
Causes of dry, cracked heels can go beyond lack of moisture. Here are some of the most common causes of dry heels
Cold weather doesn't just leave our face and hands dry, it also places challenges to the health of the feet and heels. Lack of skin moisture around your heels can be a result of cold temperature and low humidity. Heating systems indoor can further dry out the skin.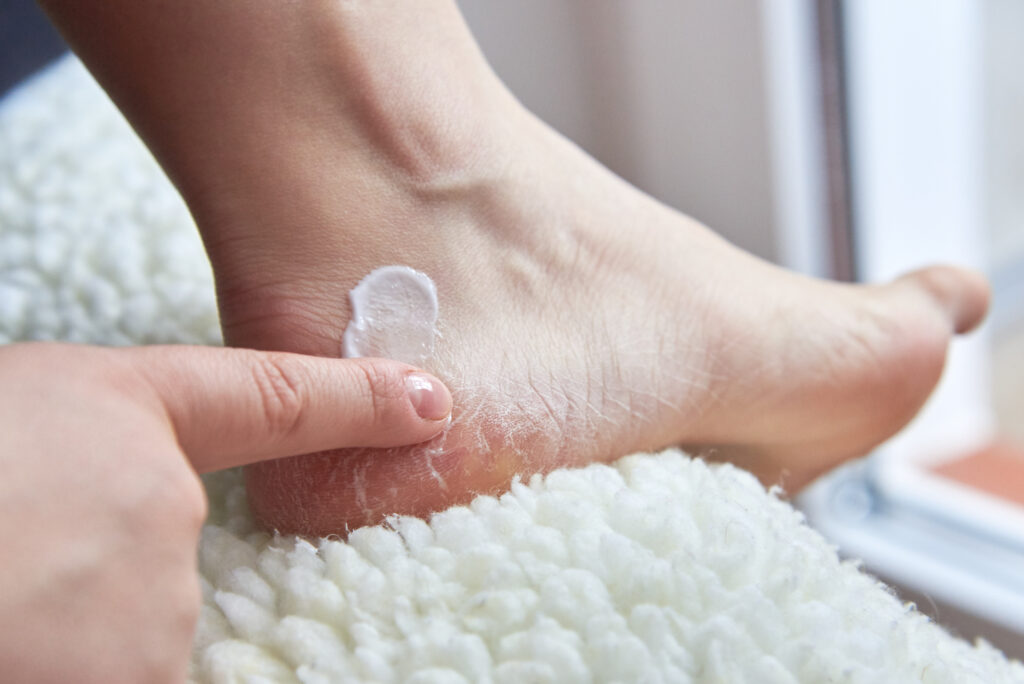 We use our feet all day, every day, but foot care is often neglected by many of us. For example, many of us don't see the importance of using a good foot cream, which is one of the most effective ways to prevent dry feet and heels. Using harsh soap to clean the feet, or taking long, hot showers can also strip off the skin's natural oils, leaving the feet dry and irritated.
Excessive dead skin layers
As a part of the skin's natural metabolic process, dead skin cells build up on the skin's surface continually. Excessive dead skin layers can prevent the absorption of skin's nutrition and contribute to the formation of calluses, leaving the heels hardened and rough.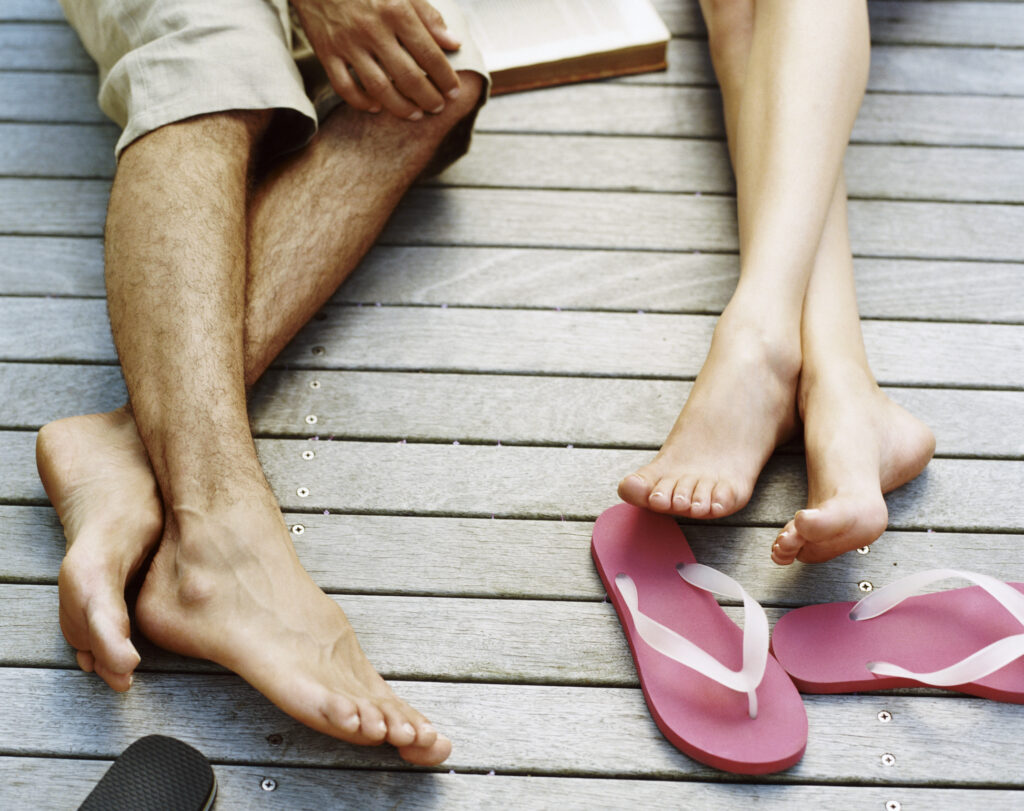 Wearing the wrong type of shoes
Standing or walking for long hours in shoes that don't fit well can cause lack of support to the heels and change in walking posture. Wearing open back sandals, flip flops or walking in bare foot will also increase the risks of sore heels. Therefore, choosing the right type of footwear is important for the prevention of cracked heels
This might be a surprising one, as you may think that pumice stone helps exfoliate the heels and promotes softer heels. But the overuse of pumice stones can worsen dry heels and cause sensitive skin.
Apart from the above factors, medical conditions such as high blood sugar and poor circulation caused by diabetes, fungal infection, obesity, eczema and dermatitis are also to blame for dry heels.
How to keep the heels from cracking?
One of the best home remedies that cure cracked heels is using a foot cream daily. A good foot cream can gently exfoliate and deeply nourish dry heel, leaving them soft and healthy.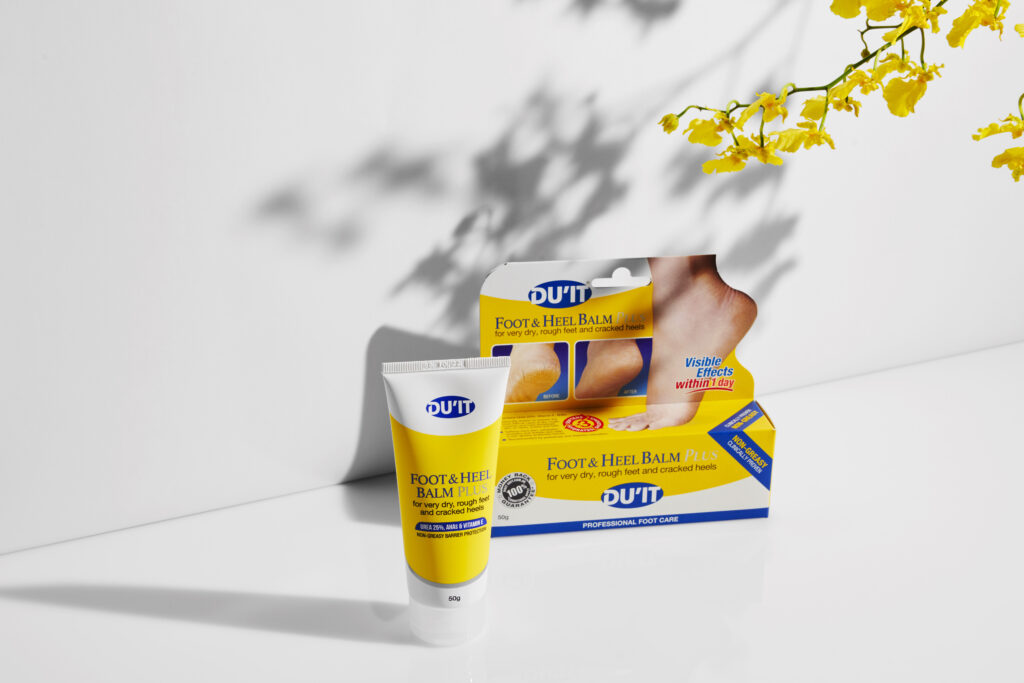 Our DU'IT Foot & Heel Balm is a professional foot cream recommended by dermatologists. Its scientific formulation is enriched with 25% UREA, a natural moisturizing factor (NMF), that helps quickly soften dry skin and promote smooth texture. As a humectant, UREA also draws moisture to the skin to help seal cracked heels. This foot moisturiser contains AHAs, a natural exfoliator that gently removes dead skin cells without the need for pumice stones. It thins hardened skin and allows skin conditioners to penetrate.
Foot & Heel Balm is also designed to provide long-lasting hydration. Dimethicone works to build a thin, non-greasy film on the surface of the skin, providing a barrier to prevent moisture loss, and shield the skin from environmental harsh. For extremely dry and irritated skin, Foot & Heel Balm contains vitamin E that soothes irritation and revives dehydrated skin.
Free from parabens, petrolatum, mineral oil, lanolin and artificial fragrances, Foot & Heel Balm is sensitivity tested and diabetic-friendly, providing fast relief to irritated, sore heels. This scientifically developed foot cream is clinically tested to deliver softer, smoother and healthier skin within 1 day. 100% Australian made and owned, Foot & Heel Balm is one of the best foot creams for dry, rough and cracked heels. It is recommended by Diabetes Australia and the Australian Eczema Association.
Dry, rough and calloused heels are fairly common, and they are usually not harmful. But without proper care, it can become really uncomfortable, from painful cracks to more serious medical conditions. Fortunately, with the right cracked heels treatment, these issues can be fixed easily. DU'IT Foot & Heel Balm is available at our e-shop and major pharmacies.
---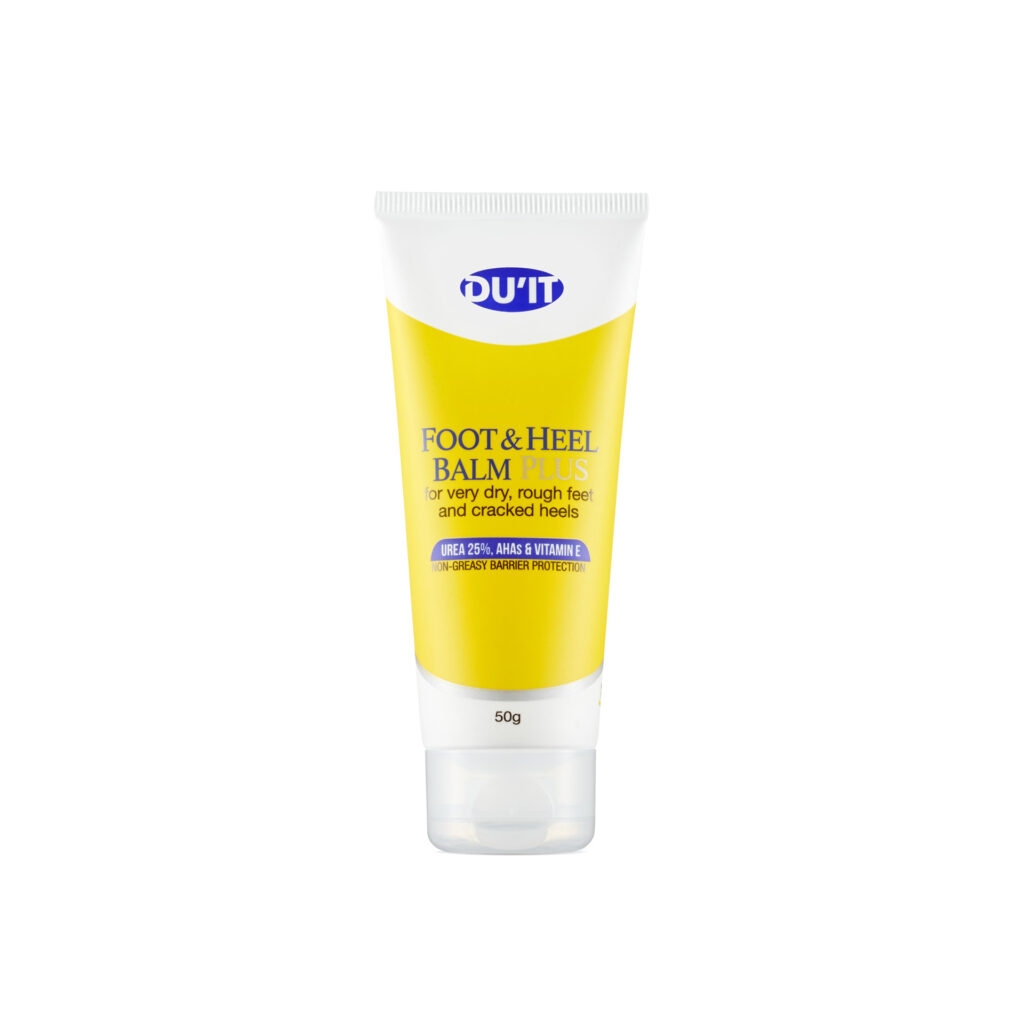 DU'IT Foot & Heel Balm Plus 50g
Visible effects within 1 day, DU'IT Foot & Heel Balm Plus is an intensive heel balm formula containing 25% Urea that helps repair cracked, dry heels.
This foot cream is clinically and dermatologically tested to effectively rehydrate, soften and protect feet, giving you soft, smooth, healthy feet.