When the seasons change, you switch up many things such as replacing cooler summer clothes with a warmer winter wardrobe or swapping lighter dinner into warmer soups and stews. Additionally, winter also brings about changes to your skin. Dry winter skin is extremely common when the weather turns cold. Even those who typically have healthy, hydrated and soft skin tend to develop tighter, drier and rougher complexions during the winter, which is why it's so important to switch up your skincare routine depending on the weather and climate. In today's article, I'll deep dive into why your skin gets dry often in winter and learn how to help your skincare transitions.
---
Why is my skin dry in winter?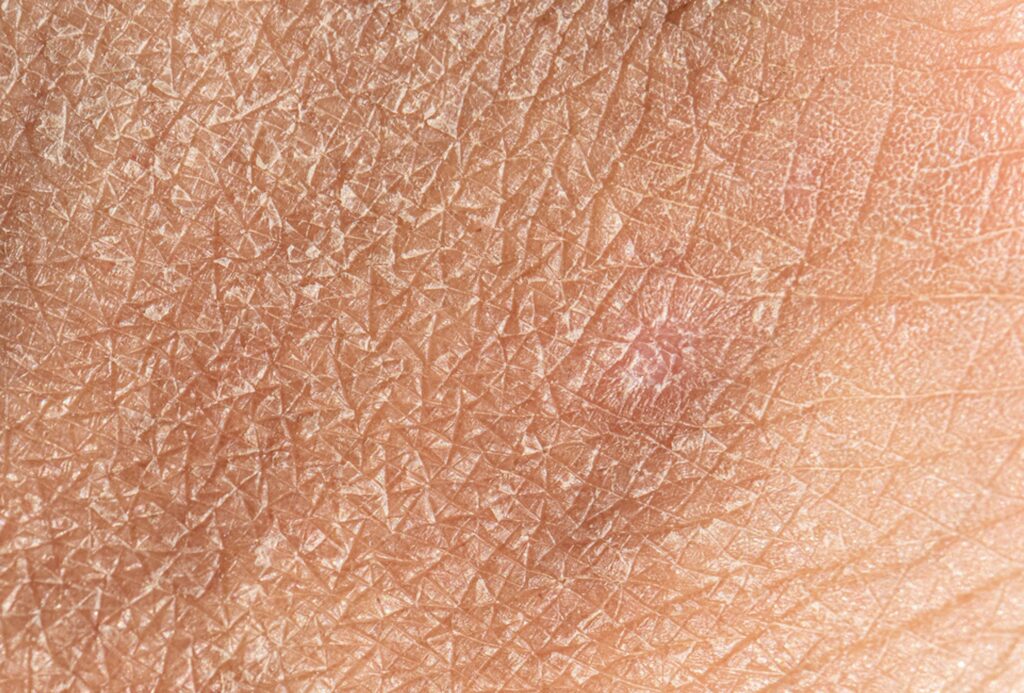 Water and natural oils in the skin help stay moist and enhance its protective abilities, however dry skin in winter occurs when the skin loses too much moisture during cold seasons. One of the main reasons is low humidity. During the winter months, low humidity levels tend to damage the skin's natural moisture barrier, which can lead to flaking and peeling. Dehydration is also more evident in winter. Factors like indoor heating and hot showers can dry out and disrupt the lipid layer of skin that locks in moisture.
---
Some tips to protect and prevent dry skin during winter
Fortunately, there are a few ways to prevent and treat dry skin during the winter:
1. Rehydrate using the right ingredients
When you're dealing with ultra-dry skin during winter, look to Urea, an amazing humectant that's renowned for treating more extreme dry skin conditions. It is often used to treat cracked feet, rough hands, or worse conditions like bumpy keratosis pilaris or scaly eczema rashes. Furthermore, Vitamin E is also a brilliant ingredient to incorporate into your routine as it helps protect your skin from external aggressors and prevents moisture loss. It is a perfect partner with urea to help restore dry skin, leaving them looking healthy and hydrated.
2. Opt for creams over lotions
One of the biggest mistakes people make with dry skin in the winter is still sticking to their summer skincare lotions. Opt for a cream or balm that's thicker than the lotion. The thicker texture seals moisturising ingredients into dry, cracked, flaking skin and it works to help them adhere for long-term, intense healing.
---
Our top picks for winter skincare
1. Best hand moisturiser for dry skin in winter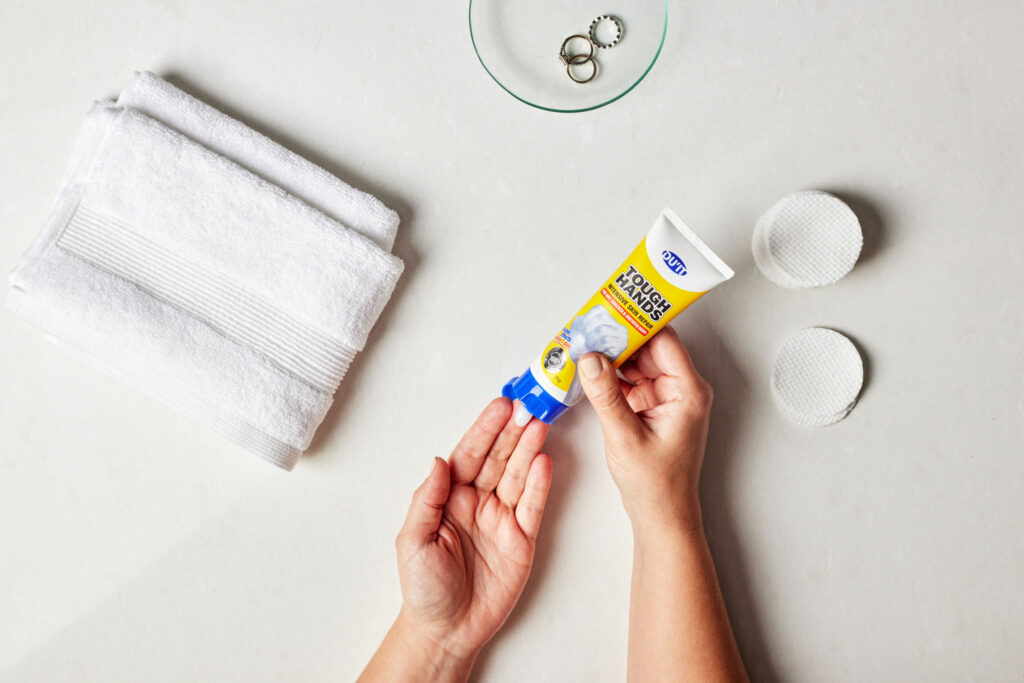 Formulated with ultra-moisturising urea and skin-repairing vitamins E, this non-greasy, long-lasting hand moisturiser Tough Hands is clinically proven to repair dry, rough and cracked skin with visible effects within 1 day. It works to seal cracks, provide intensive hydration and strengthen the skin protective barrier, leaving your hands soft and smooth. Additionally, Tough Hands is also 100% free from parabens, mineral oil or other irritating chemicals, making it suitable for all skin types and even including the most sensitive skin.
"I always have a tube of this handy but where it mostly gets used is during winter. My hands go super dry and even get red and flaky. This is an intense thick cream that works wonders to restore my dry winter skin. There's a very mild fragrance and the cream is sort of an opaque white. A pea-size amount is enough to cover both hands. Highly recommended!!" – Margaret759, Beauty Heaven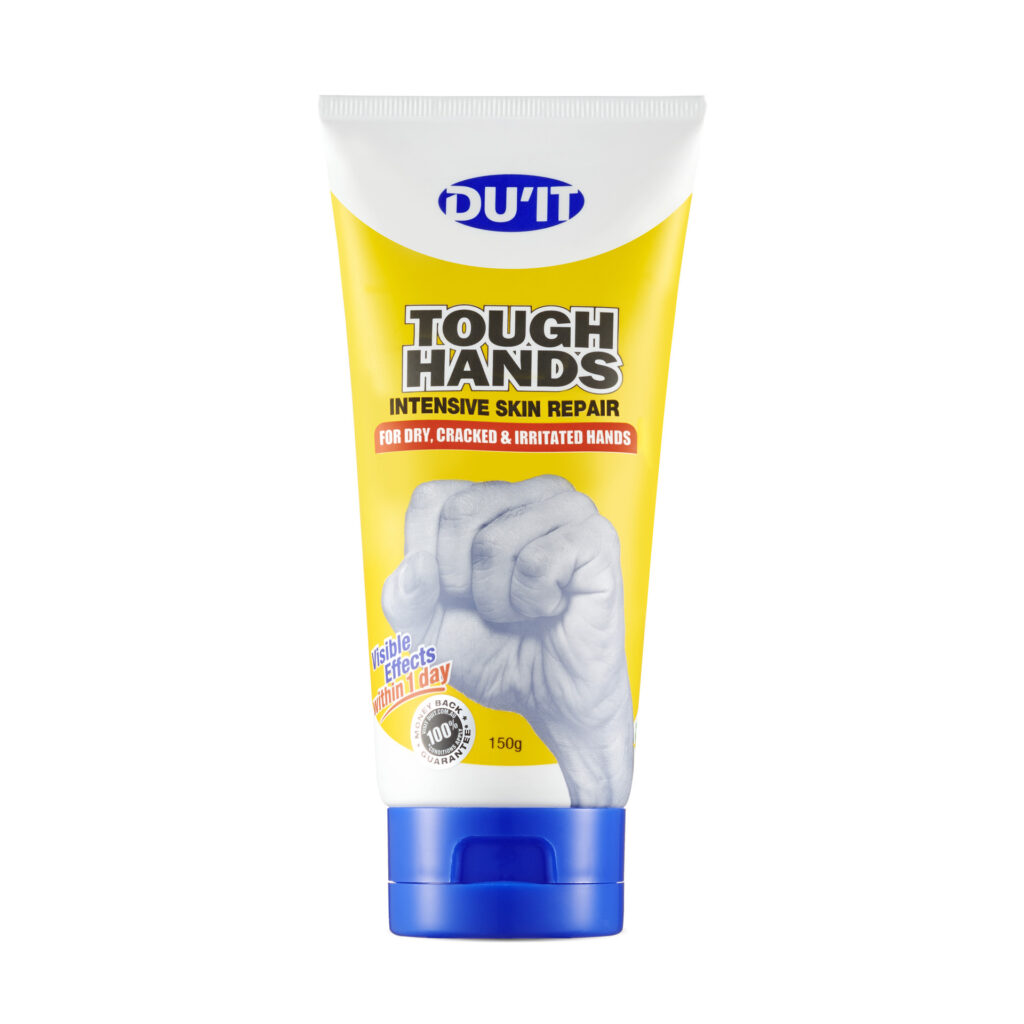 DU'IT Tough Hands 150g
DU'IT Tough Hands is a clinically proven, intensive strength hand cream for dry hands that works to seal cracks, replace lost oils, condition the skin and form a protective barrier to keep hands in top condition.
It's Australia's No.1 hand cream* (IRI data, Grocery & Pharmacy, 2021).
Repairs dry, rough, cracked, irritated and calloused hands, with visible effects in 1 day. It's non-greasy, made in Australia and contains no nasties.
---
2. Best face moisturiser for dry skin in winter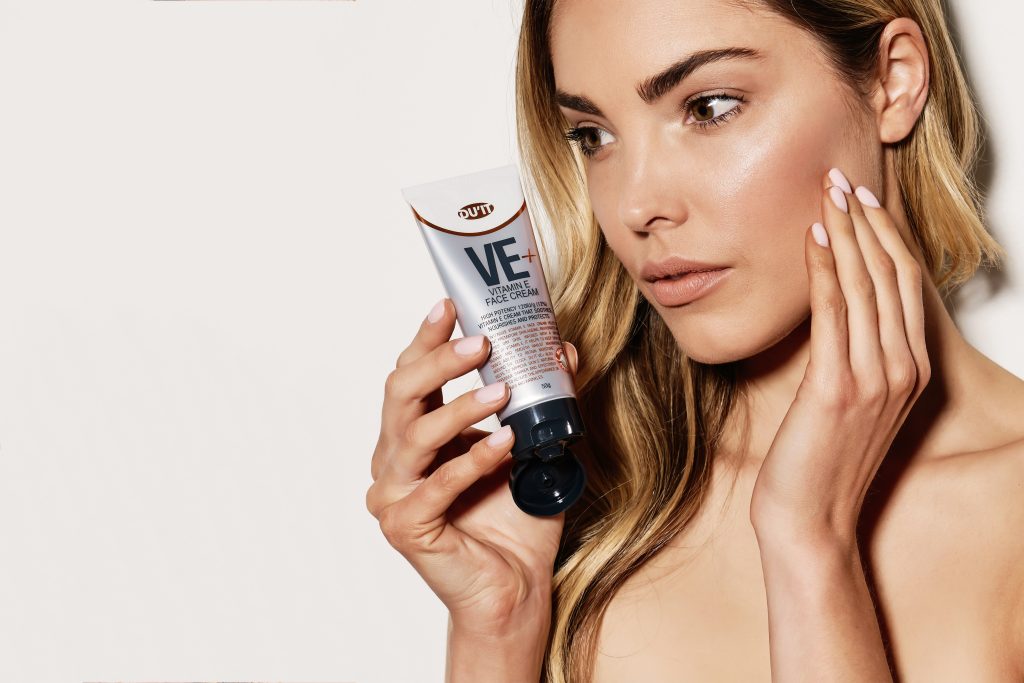 Clinically proven to immediately relieve and hydrate your skin, VE+ Vitamin E face cream has a high potency of 12% of naturally derived vitamin E which is 6 times that of standard vitamin E face creams. This highly concentrated vitamin E face moisturiser effectively restores skin moisture, soothes irritated skin and counteracts free radical damage, leaving the skin feeling smooth, soft and bouncy. The non-greasy and super nourishing texture absorbs quickly without leaving a greasy layer. 100% Australian made and owned, it's ideal for all skin types.
"I love me a thick cream and this is exactly it! I've been using it twice a day, once in the morning under my makeup and once at night before I go to bed and I'm totally in love with it. It smells absolutely divine while providing intensive hydration. The texture is thick and there's none of that drippy watery feel, some people like a lotion like consistency but I tend to prefer a thick cream. A pea sized amount is enough for the face and neck." – Bettina44, Beauty Heaven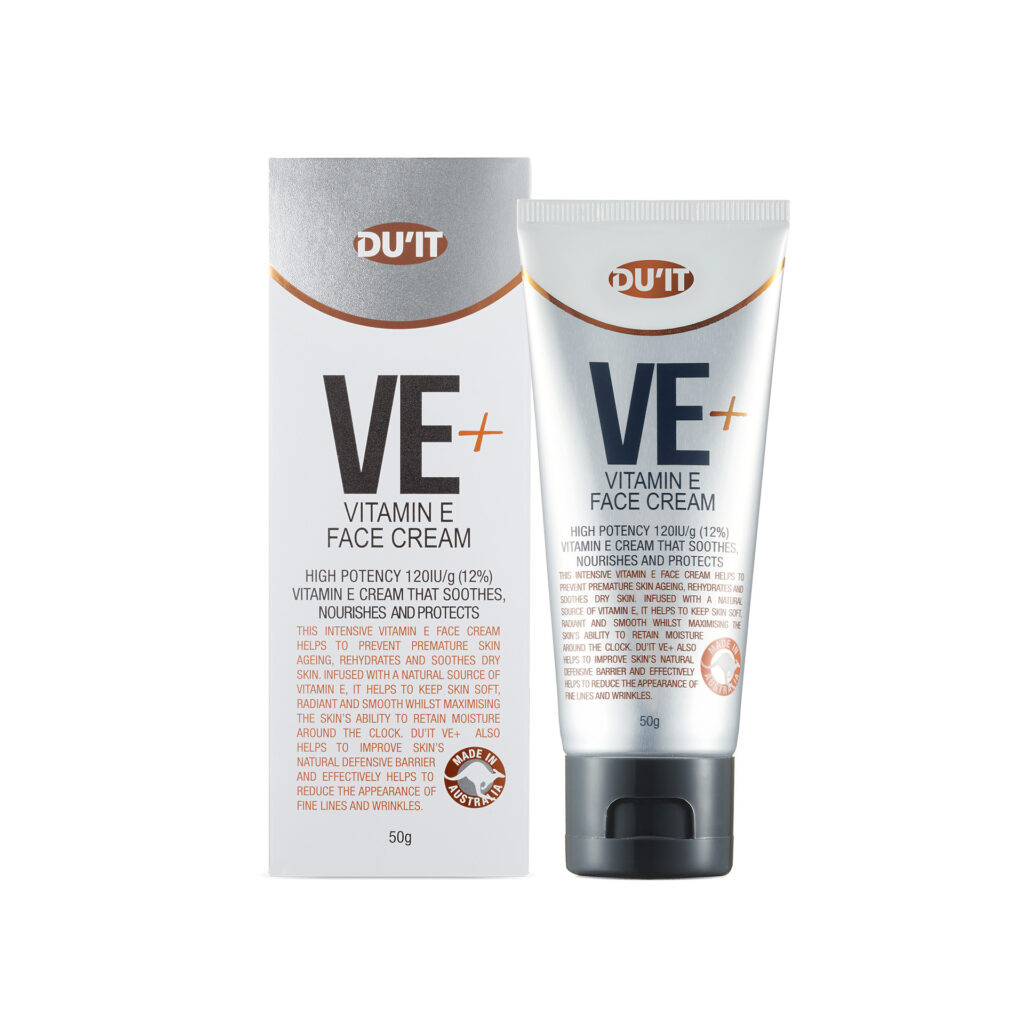 DU'IT VE+ Vitamin E Face Cream 50g
DU'IT VE+ Vitamin E Face moisturiser is a high potency (120iu/g or 12%) vitamin E face cream, that contains 6 times more vitamin E than that of standard vitamin E cream, providing exceptional moisturising properties for dry skin. It neutralises free radical activity, moisturises dehydrated skin, fine lines and guards against premature skin ageing.