Cracked heels are a typical foot problem that shows up as cracks around the edge of the heel. Most people consider cracked heels as a cosmetic problem only. However, the fissures can become a severe ongoing problem if they are large and deep enough, resulting in pain, bleeding, and infection. If you continue to ignore the situation, the cracks quickly turn into an entry gateway for bacteria, fungus and viruses that may progress to cellulitis and ulceration.
Heel balms are believed to be the most helpful way of softening and dissolving fissures. They act as repair creams, moisturisers or protective barriers. However, there're so many products on the market today, it can be hard to decipher which one is the most effective cream to treat your heel. To tackle this problem, you need to understand how they work.
How does heel balms affect your skin?
Feet skin is usually drier and more dehydrated than other parts of the skin, as your feet bare your entire body weight while walking and standing. That's why skin dryness, cracking and calluses usually occur in the heel area where there is a build-up of dead skin cells. When we apply heel balm, it can help your skin regenerate and repair, which is vital to heal cracked heels and restore skin hydration and softness. An effective heel balm should include two ingredients below to regenerate our skin:
Nature AHAs
you might not have heard of natural AHAs, there is a high chance that our skin at some point has benefited from its presence. Human skin cells periodically die and replace themselves, but the skin's natural exfoliation process might slow down due to aging, genetics, or environmental damages. When old dead skin cells start to build upon the surface of the skin, it can result in dry, rough-textured, and dull-looking skin.
Natural AHAs are chemical exfoliators made from a complex of natural and synthetic acids. It can exfoliate the uppermost layers of skin and promote cell regrowth. They are suitable for those with dry or sensitive skin. Natural AHAs can gently slough off your build-up of dead skin cells, dirt and clogged pores by dissolving the bonds that hold the cells together, leaving your skin with a visibly brighter and smoother complexion.
UREA
If you are one who pays attention to ingredient lists or are really into skincare products, you might be familiar with the urea ingredient listed on the product label. Urea is a humectant that has been found and used in skincare products to target skin dryness conditions for more than a century. Urea cream also has been listed on the World Health Organization's list of essential medications for a basic health care system due to its safety, effectiveness and affordability.
The humectant is another important ingredient that boosts vital hydration to maintain balanced, and healthy skin cell turnover. Urea is extremely helpful to repair and rejuvenate extra dry, rough and cracked skin by providing intense hydration to smooth the skin.
High concentrated urea can also become a natural keratolytic – a compound designed to dissolve and break down the outer layer of the skin. Urea heel balms can come in a variety of forms and strengths. It depends on the severity of the condition on your skin. Urea heel balms are available at lower concentrated 10% urea and at higher concentrated 25% urea. Both lower and higher concentrated balms can result in an increase of hydration in skin. However, 25% urea has a keratolytic effect combined with its hydrating properties, making it an effective skin treatment. If you are currently suffering from a severely dry and cracked heel problem, we suggest you choose a product with high concentration urea.
What is the best Australian heel balm?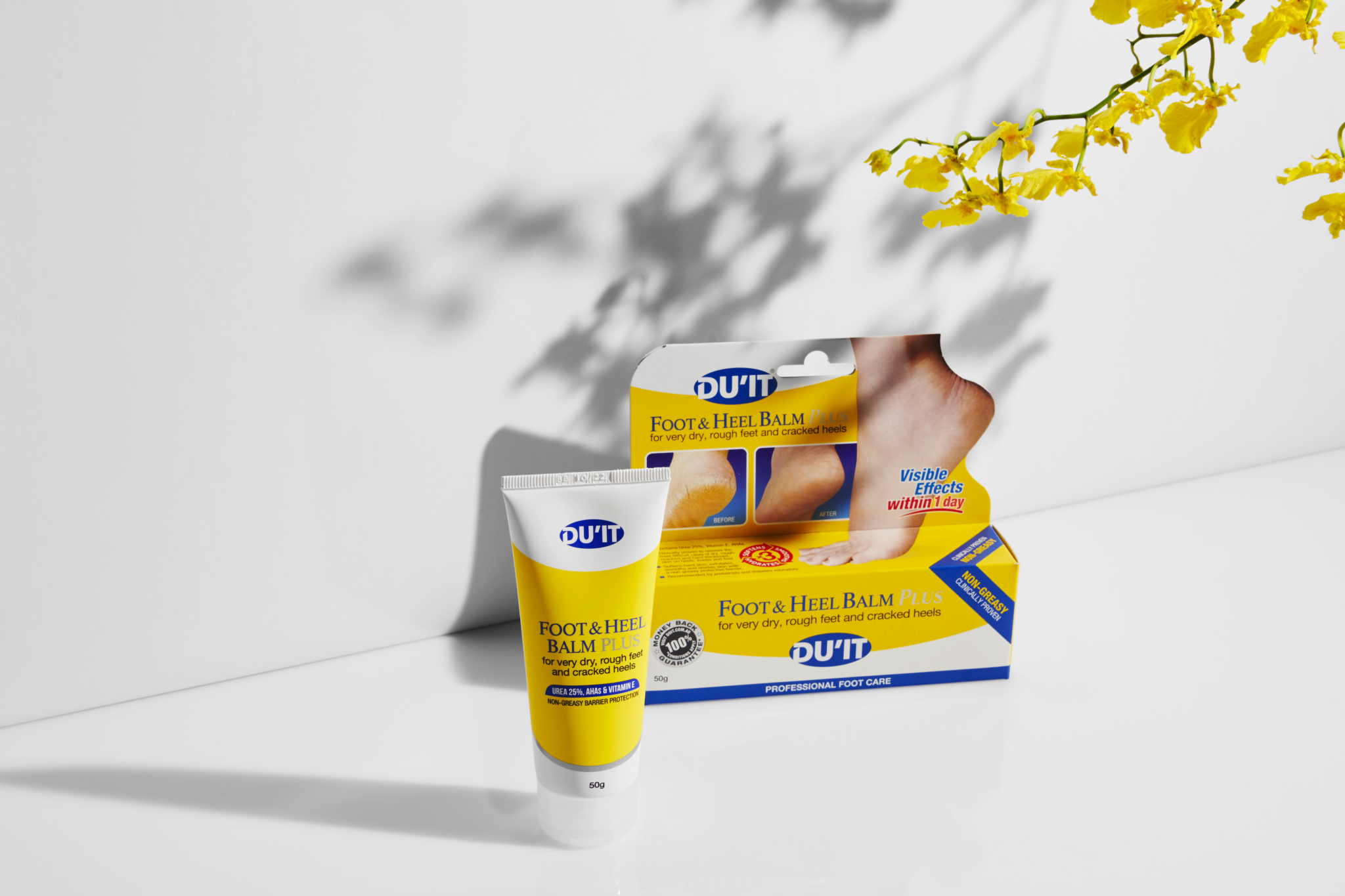 Foot & Heel Balm Plus 50g | Foot Cream
Foot and Heel Balm Plus is an ultra-nourishing functional foot balm designed for extremely dry or chronically cracked skin, that is clinically proven. It protects your skin from moisture loss and cracked condition with 25% Urea and natural AHAs, leaving softer, smoother and healthier within 1 day. To reach the best result, you can lather on this foot cream after a shower, then wear socks and head to the bed. This gives your skin enough time to absorb the cream properly while you sleep. Think of it like an intensive foot mask.
Here's what our customers have to say:
"The very first time I tried this product, I could instantly feel a difference in my heels. They instantly felt softer and smoother." One customer called Maryam Naeem reported. "I touched my feels before trying this product too and they were harsh and rough. This product is now my staple for foot and heels and definitely goanna recommends in my family as they have dry heels problems as well." – Helen, NSW
Why we love DU'IT Foot & Heel Balm Plus:
✔ 25% Urea to seal cracks and moisturise
✔ Softens, smoothes and hydrates skin, fast
✔ Visible results within 1 days
✔ No lanolin, parabens, petrolatum or chemicals
✔ Suitable for sensitive skin
✔ Australian made and owned
✔ Recommended by Podiatrists
---
DU'IT Foot & Heel Balm Plus 50g
Visible effects within 1 day, DU'IT Foot & Heel Balm Plus is an intensive heel balm formula containing 25% Urea that helps repair cracked, dry heels.
This foot cream is clinically and dermatologically tested to effectively rehydrate, soften and protect feet, giving you soft, smooth, healthy feet.