Dry and chapped lips are extremely common, especially during the cold winter days. Unlike other parts of your skin which have a protective layer, our lips have thinner skin. Therefore, they are extremely sensitive to environmental changes and are more prone to dryness and irritation. Beyond seasonal changes, a range of factors can cause dry lips, including wrong product ingredients, sun damage, an unbalanced diet or dehydration. Here are some of the best dry lip treatment and remedies recommended by dermatologists to help you heal dry lips.
Stay hydrated
Make sure you drink plenty of water throughout the day and moisten the air with a humidifier if necessary.
Have a balanced diet
Deficiencies in vitamins and minerals are another reason causing dry, chapped lips. Studies indicate that lack of iron, zinc and B vitamins may impair skin health, causing dryness and inflammation of your mouth and lips.
Stop licking or picking at your lips
Lip licking can worsen the problem, as saliva evaporates quickly and make your lips even drier. Picking or biting your lips can also irritate them, preventing healing.
Choose a good lip balm
Regularly applying lip balms or lip moisturisers is the easiest way to provide extra hydration to the lips. Always keep a good lip balm in your bag and by your bedside.
Everybody agrees that lip balms are a skincare essential, but there are so many options on the market, so how do we find the best lip balm that heals chapped lips?
A good lip balm should have the right ingredients. Aim for ingredients like beeswax, urea, shea butter and lanolin. These natural moisturising agents do more than hydrate your lips. They work to attract water, seal in moisture and keep dry lips soft for long-lasting protection.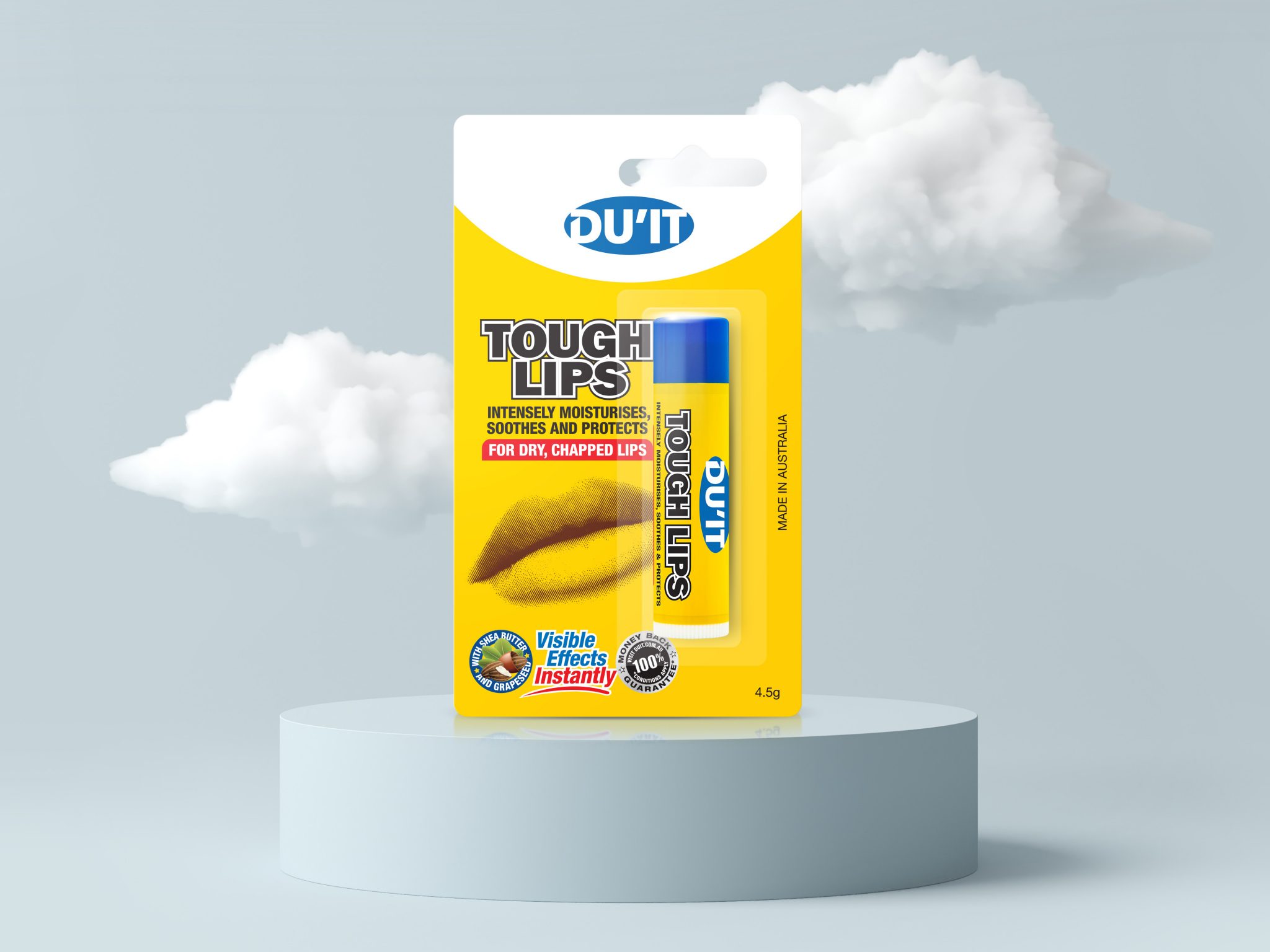 Our Tough Lips is an intensive lip balm containing a list of moisturising actives that effectively fix dry, chapped and cracked lips. It is clinically proven to repair, moisturise and protect lips with visible effects instantly.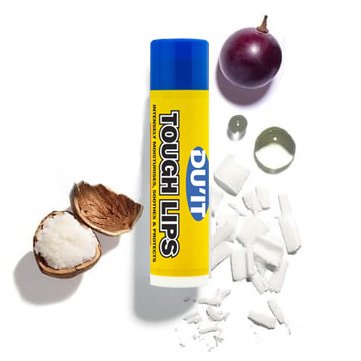 Grape seed extract:
As a powerful antioxidant that prevents free radical activities, grape seed extract shields your skin from UV rays and environmental aggressors. It softens, smooths and rejuvenates your lips. A lip balm with grape seed extract can make your lips appear plump, healthy and youthful.
Beeswax
Beeswax hydrates, conditions and soothes lips. It forms a protective barrier that prevents moisture loss without clogging pores, making it ideal for dry lips. It's regenerative quality and anti-inflammatory property also work in conjunction to promote the healing of cracked lips.
Panthenol:
Also known as provitamin B5, panthenol benefits your lips by strengthening their barrier functions and boosting moisture levels. Its outstanding hydrating properties help to soften lips and reduce inflammation.
Shea butter:
Shea butter has a high concentration of fatty acids and vitamins that replenishes dry and chapped lips. As a tree nut product, shea butter triggers no irritations and does not clog pores, making it friendly to sensitive skin.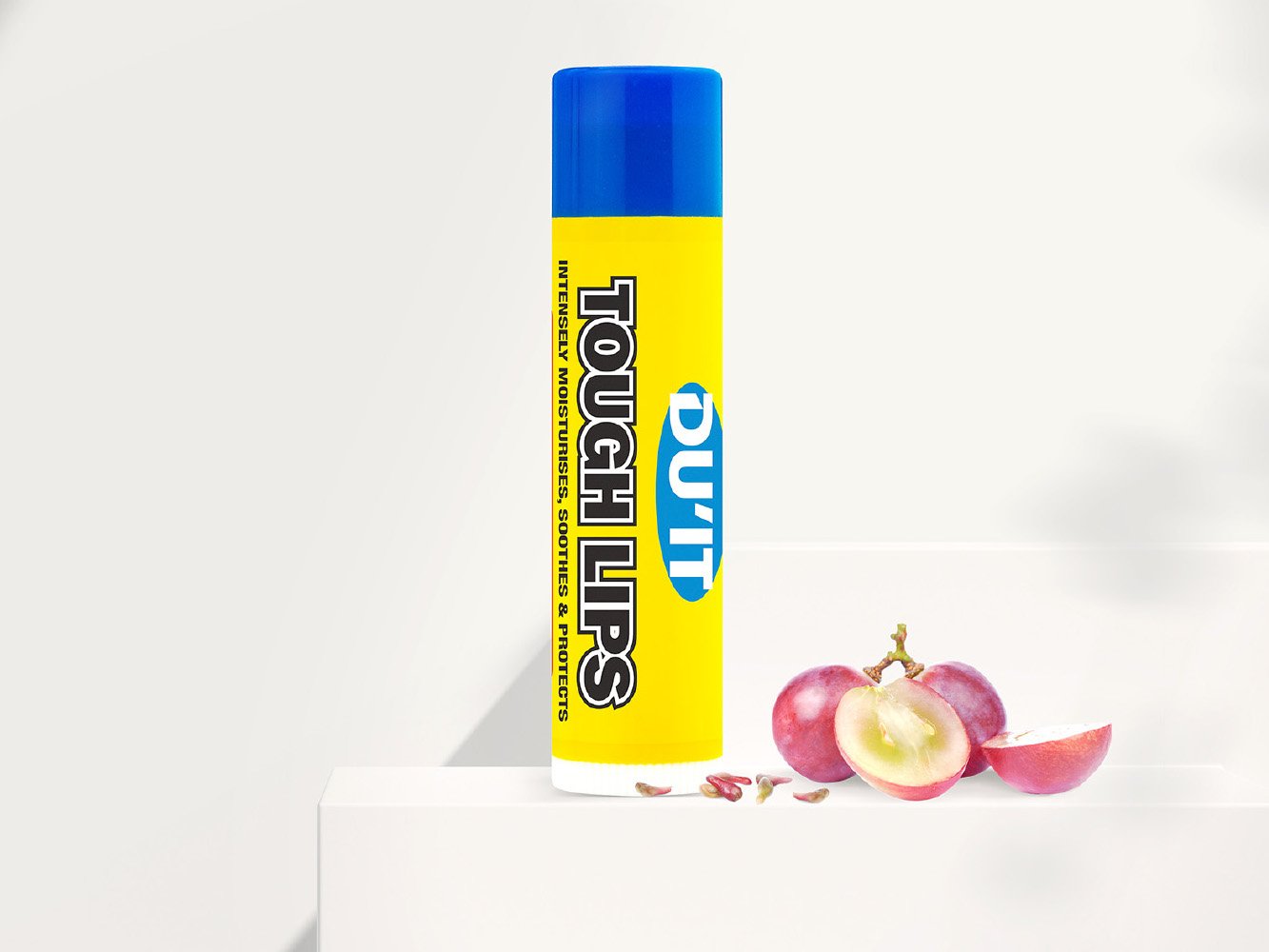 Because our lips are fragile, there are certain ingredients you should look out for in your lip balm. Substances like parabens, phthalates and artificial fragrances can be irritating, especially when you already have chapped and painful lips.
Our Tough Lips lip balm is scientifically formulated and tested, containing no allergens, irritants or harmful chemicals. Tough Lips is an effective lip balm suitable for all skin types, including eczema, acne-prone and sensitive skin.
If you're struggling with dry, chapped and uncomfortable lip conditions this winter, and looking for a high-quality lip balm that actually works, our Tough Lips lip balm is the best lip treatment you can find. Tough Lips lip balm can be used as everyday lip care, overnight lip remedy or lip primer. 100% Australian made and owned, Tough Lips lip balm delivers visible effects instantly.
---
DU'IT Tough Lips 4.5g
Clinically proven DU'IT Tough Lips antioxidant intensive lip balm instantly hydrates and relieves dry, chapped lips, resulting in soft, healthy-looking lips. Enriched with nourishing grape seed, vitamin e and antioxidant polyphenols, its texture instantly melts without a greasy effect and leaves your lips moisturised.