Because your lips have thinner skin compared to the rest of your body, they are more delicate and prone to dryness and environmental aggressors. Here are some common lip symptoms that most people experience:
Dryness:
Dry lips are the most common symptom. Lips can feel dry and tight caused by dehydration.
Chapped lips:
Dryness is usually accompanied by flaky, chapped and cracked lips.
Redness:
Unnatural redness and swelling can occur when lips are extremely dry and irritated.
Itchiness:
Itchy and inflamed lips are often associated with exposure to allergens, harmful chemicals or sunburn.
Sores and bleeding:
Dry lips aren't just unattractive. For some people, lips can become uncomfortable and painful.
Threats to your lips come from everywhere, including weather changes, sun exposure, windburn, unbalanced diet, etc. When it comes to lip protection, licking your lips to keep them moist is not the best solution. Instead, bad lip care habits can worsen lip irritation. Finding the right remedy for lips is vital to healthy and smooth lips.
People, especially men, often forget the importance of a good lip care product. It is time to include a great lip balm in your daily skincare routine alongside your usual sunscreen, moisturiser and other grooming products.
Lip balms can rehydrate dry lips, enhance skin's barrier functions and protect lips from environmental harshness. Therefore, it is important to pick up a lip balm that contains loads of moisturising agents that keep your lips well-nourished and protected.
DU'IT Tough Lips is a natural, intensive lip balm designed to soften and protect dry lips. It is a scientifically formulated natural lip balm delivering visible effects instantly. As a functional chapped lips treatment, Tough Lips intensive lip balm is loaded with natural, active ingredients that work to rehydrate, repair and replenish severely dry lips.
Tough Lips intensive lip balm's key ingredients start with grape seed extract, a powerful antioxidant that helps fight free radical activities and combat damage from sun exposure. It's extraordinary repairing power is particularly helpful to soothe your sunburnt or irritated lips. It works in conjunction with natural vitamin E, an effective anti-inflammatory ingredient, to promote the healing of lips and shield your lips from environmental threats. Together they replenish moisture and rehydrate dry and stressed skin. If you like to stay outdoors, this lip balm provides the protection your lips need against UV damage and strong wind.
In addition, Tough Lips contains shea butter. Rich in fatty acids, it helps to soften, condition and hydrate your lips. Super moisturising actives Panthenol, also known as provitamin B5, penetrates deep and prevents moisture loss. Beeswax helps to gently remove dead skin layers. Its anti-inflammatory property works to calm irritated skin.
When choosing a lip balm for men, it is important to consider its texture and scent. If you're looking for a lip balm with a matt finish, we recommend our Tough Lips lip balm, which has a rich and non-greasy texture, melting into your skin quickly, leaving no shiny  residue. Its intensive formulation acts fast and stays on for a long time, meaning you won't need to reapply all the time.
Not a fan of that fruity or floral scent? With Tough Lips, you'll notice a subtle and light fragrance, but it is almost unnoticeable. Its unisex scent makes it a lip balm suitable for both men and women. Free from parabens, phthalates, and irritants, Tough Lips is a non-irritating lip balm suitable for all skin types, including sensitive skin. Tough Lips intensive lip balm comes in a convenient, compact stick that allows you to carry it in your pocket and quickly apply it anywhere, when you're on the go.
If you're suffering from dry, chapped lips, it is time to take care of them. Switch to an effective lip balm with natural ingredients today. Scientifically formulated and clinically tested, Tough Lips intensive lip balm is the best lip balm for men. It provides instant relief to dry, chapped and irritated lips, and keeps lips soft, smooth and free from irritation all year round.
---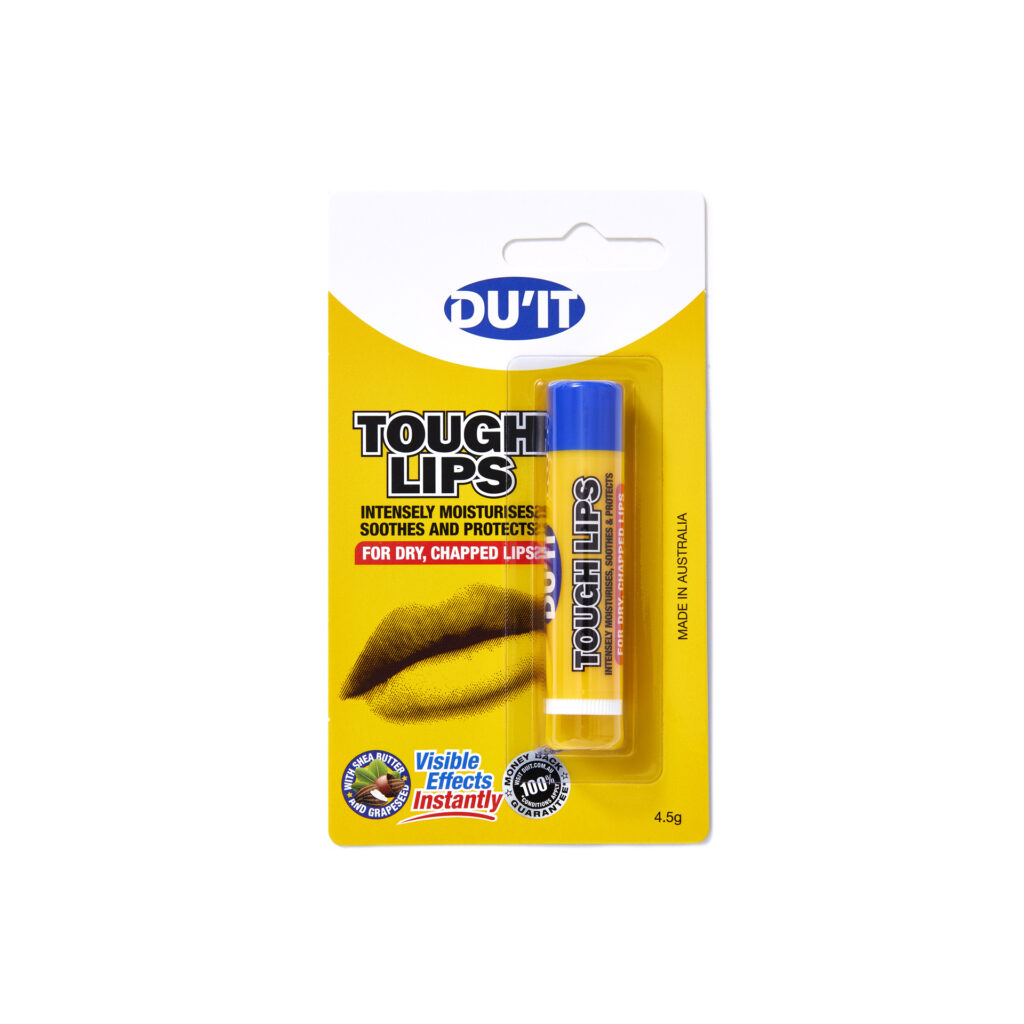 DU'IT Tough Lips 4.5g
Clinically proven DU'IT Tough Lips antioxidant intensive lip balm instantly hydrates and relieves dry, chapped lips, resulting in soft, healthy-looking lips. Enriched with nourishing grape seed, vitamin e and antioxidant polyphenols, its texture instantly melts without a greasy effect and leaves your lips moisturised.