Winter is hard on your hands. When the weather turns cold and the air dries out, your skin can no longer hold onto the moisture. With excessive hand washing, our hands can become even drier and rougher. Many people can also feel their hands getting dull, chapped, and troubled in winter. Our hands need some extra attention during the winter season. Here are some home remedies you can try to soothe dry skin and restore soft, supple and healthy hands.
Exfoliate
Your hands can become rough and irritated during the winter season. Hand exfoliating products can help remove dead, dry and damaged skin on your hands. It also helps the absorption of your hand cream. Try to avoid hand scrubs with harsh ingredients such as alcohol or solvents as they might strip away the body's natural oils, and cause itchy skin.
DU'IT Tough Scrub is an award-winning hand cleanser that contains natural walnut shell to remove dirt, grime, and grease gently. It exfoliates your hands without drying or irritating them. With added vitamin E, a healing agent and glycerine, an effective humectant, Tough Scrub removes damaged skin and heals chapped hands, leaving your hands feeling smooth, refreshed and soft.
Protect
Prolonged exposure to water and detergents can dry your hands because it washes away the natural oils in the skin and weakens the skin barrier functions. Wearing a pair of protective gloves gives a layer of protection against harsh substances.
Cold air outside can also affect the skin condition by stripping the moisture from your skin, causing dryness and sensitivity. Wearing gloves outdoors can keep your hands warm. It also helps to protect your hands from the harsh winter wind.
Moisturise
Cracked skin, peeling fingertips and chapped cuticles may be caused by many reasons from dryness, and frequent handwashing to the use of products with harsh chemicals. Keeping your hands moisturised will ensure they are supple and smooth for longer. So always remember to use a good hand cream after handwashing, before bed or anytime you like, to significantly improve skin hydration.
You can even use your hand cream as an overnight mask, like what you do with your face. Soak your hands in lukewarm water for 5 minutes, pat dry, and apply a thick layer of your favourite hand cream before bed. You'll wake up with baby-soft hands.
A good hand moisturiser can rehydrate, repair and protect your stressed hands, which is especially important in winter. So what makes a good hand cream? Here are some of the factors you should consider when picking your winter hand cream.
Best hand creams should be able to:
Add moisture and attract water
The first thing that hand creams should do is fix dehydrated skin. Humectants like glycerin, urea and sodium PCA will give your skin a moisture boost and pull moisture from the surrounding air into your skin like a sponge.
Choose a hand cream that penetrates, not just stays on top of the skin. The cream should be absorbed quickly, deeply nourish thirsty skin cells and you don't need to worry about it being washed off easily.
You would also want your skin to stay hydrated for a longer time. Look for ingredients such as dimethicone on your label as they can seal in hydration. It also helps to restore the skin's natural protective barrier.
When it comes to cracked hands, antimicrobial ingredients like tea tree extract and lemon myrtle can effectively calm sensitive or irritated skin, promote the healing of minor cuts and seal cracks.
A good hand cream should also be non-irritating. Make sure your hand cream doesn't contain any nasties like parabens or lanolin, as they can trigger skin sensitivity.
Here are some of the best hand care products we recommend to you.
Australia's No.1 hand cream DU'IT Tough Hands is a clinically proven hand moisturiser designed to target chronically dry, rough and cracked hands (IRI Data, Pharmacy & Grocery 2019). It has an intensive formulation that contains urea, vitamin E, sodium PCA, glycerin and dimethicone, to nourish and protect your skin around the clock. Natural AHAs help to remove dead skin cells and combat calloused hands. Tea tree extract and lemon myrtle have unique antimicrobial properties that help the cracks to heal. Its gel-emulsion consistency sinks in quickly without leaving any greasy residue. Tough Hands hand cream also comes in a travel-friendly 75g size, allowing you to moisturise your dry hands on the go.
If your hands are prone to sensitivity, we also have a fragrance-free hand cream for you. DU'IT Tough Hands Fragrance Free is an effective hand cream that contains no added fragrances or any nasty ingredients. Free from parabens, petrolatum, mineral oil, lanolin and propylene glycol, it is super gentle and non-irritating even on the most sensitive skin type. It is the best hand cream for dry and sensitive hands and is recommended by the Eczema Association of Australia.
For those of you who would like a little extra hand pampering, try Tough Hands for Her, an anti-aging hand cream that tightens and brightens your skin, making your hands look younger and more radiant. Infused with peptides, niacinamide and panthenol, it keeps your hands amazingly soft. Tough Hands for Her intensive hand cream is voted 5 out of 5 stars on Beauty Heaven.
All DU'IT hand creams are Australian made, scientifically formulated and clinically tested. They deliver visible effects within 1 day.
It is time to reward your hardworking hands with an indulgent and nourishing hand cream from Australia's functional skincare expert DU'IT.
---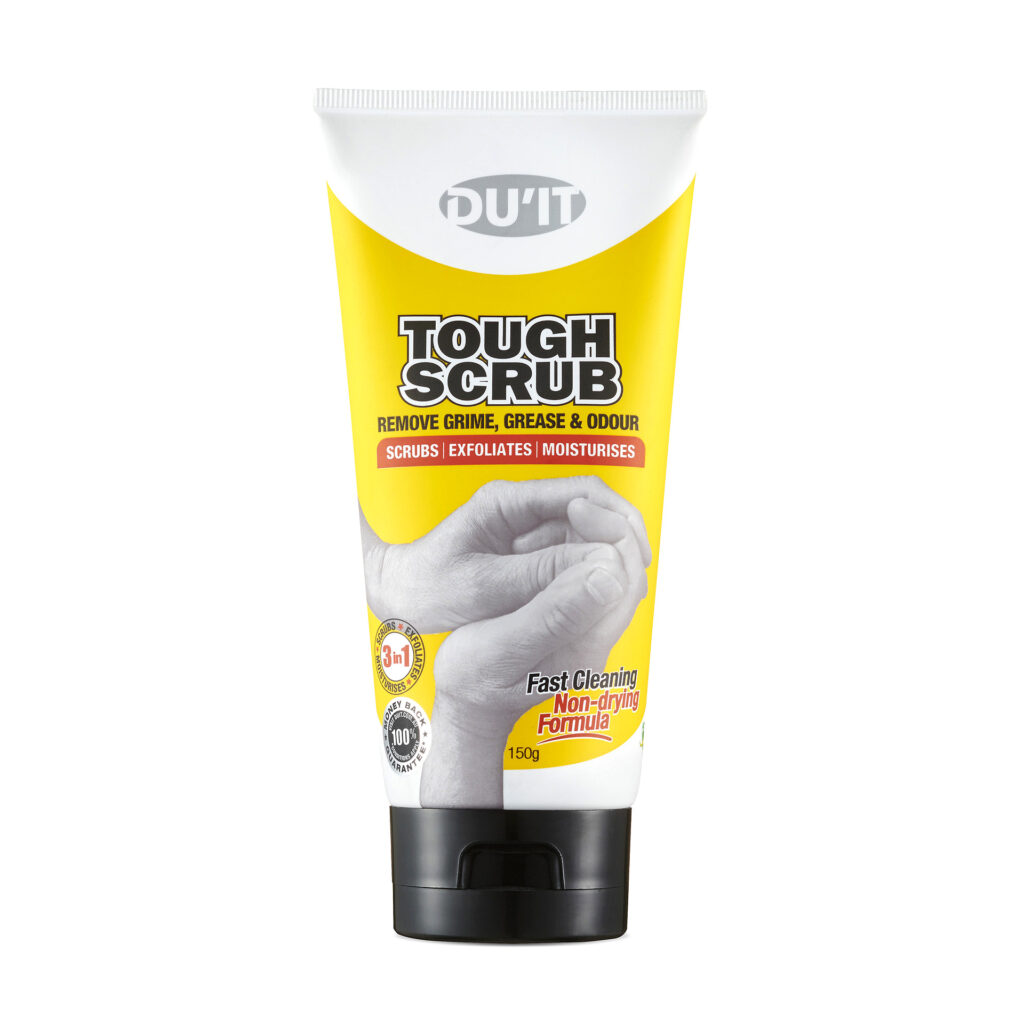 DU'IT Tough Scrub 150g
DU'IT Tough Scrub is a 3-in-1 moisturising hand scrub that works as hard as your hands. This hand scrub cleans, exfoliates and moisturises the skin and contains no harsh chemicals or irritants that dry out the skin.
It cleans stubborn dirt, removes odour, grease and grime, whilst leaving your hands silky smooth.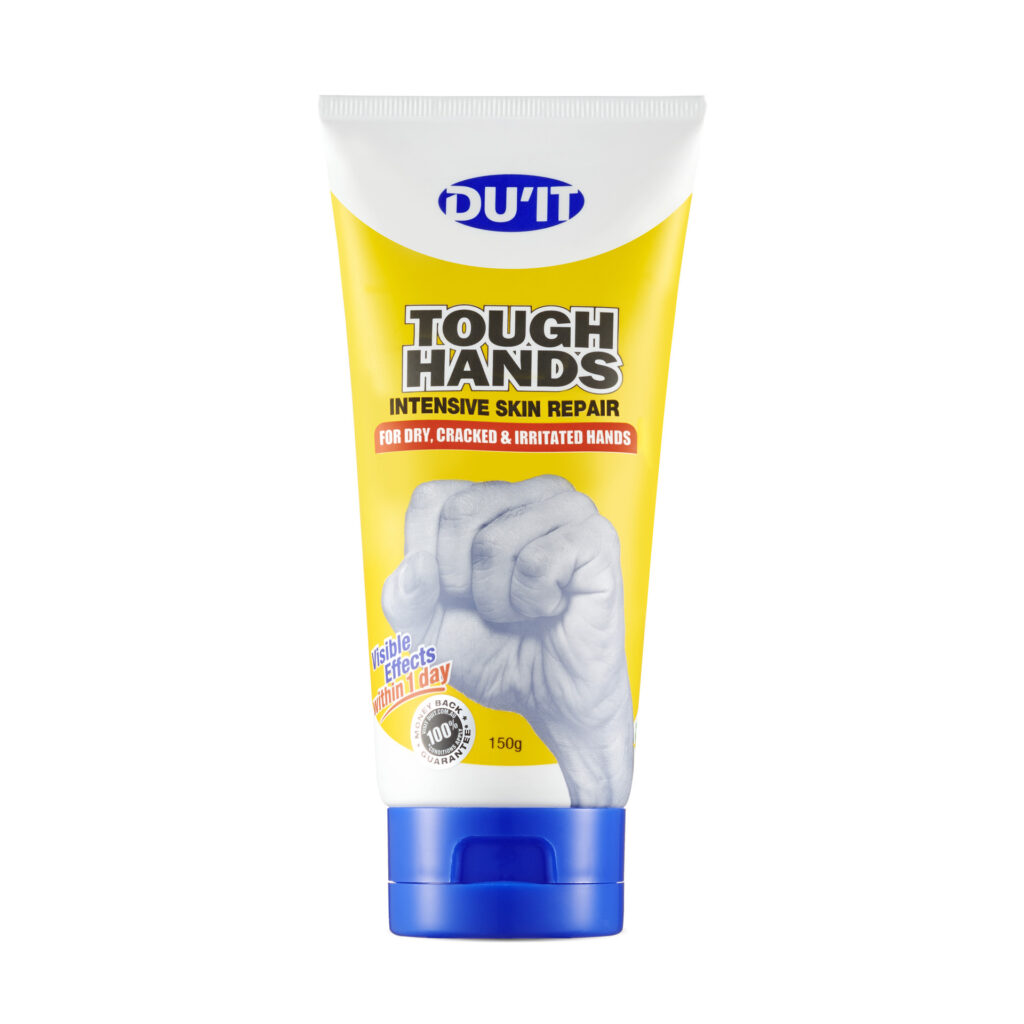 DU'IT Tough Hands 150g
DU'IT Tough Hands is a clinically proven, intensive strength hand cream for dry hands that works to seal cracks, replace lost oils, condition the skin and form a protective barrier to keep hands in top condition.
It's Australia's No.1 hand cream* (IRI data, Grocery & Pharmacy, 2021).
Repairs dry, rough, cracked, irritated and calloused hands, with visible effects in 1 day. It's non-greasy, made in Australia and contains no nasties.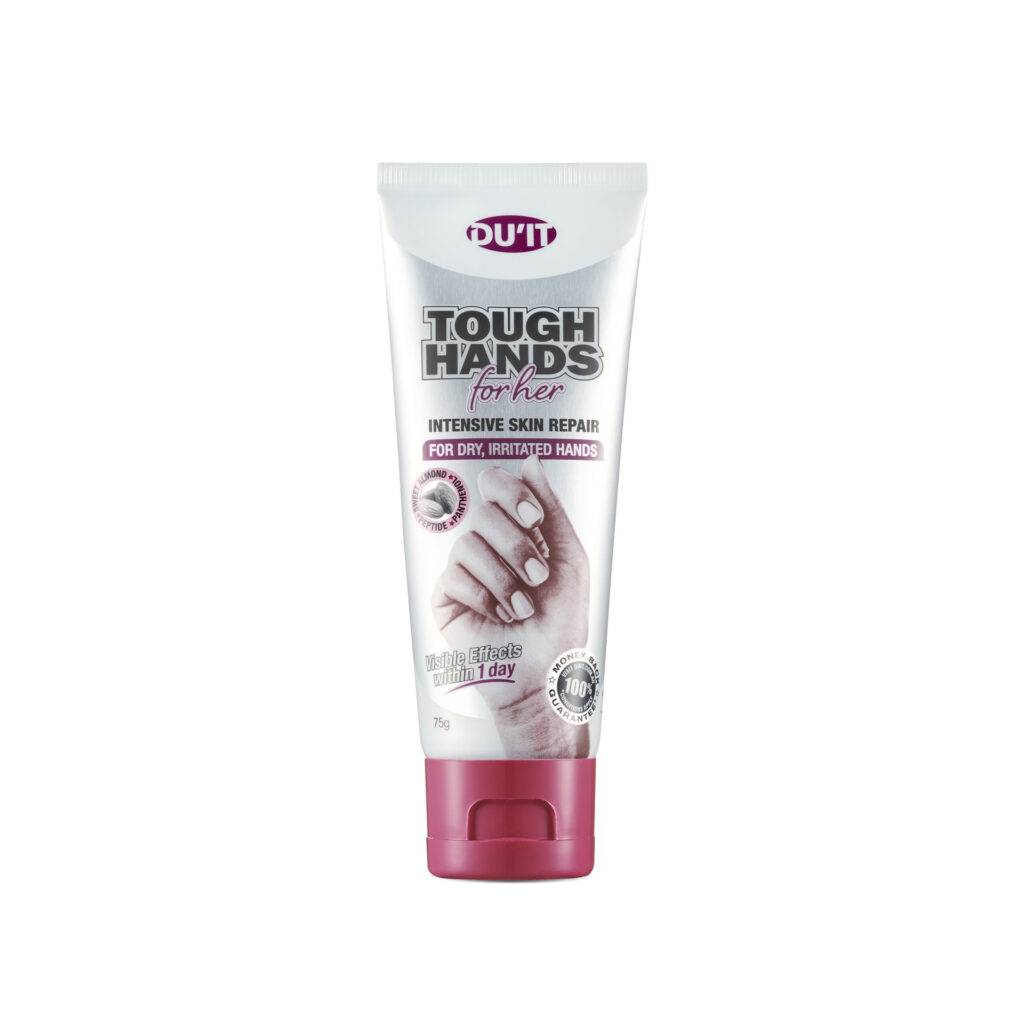 DU'IT Tough Hands for Her 75g
DU'IT Tough Hands for Her hand cream and moisturiser is a clinically tested anti-aging dry skin hand cream for tired, overworked hands. Repairs, brightens and softens dry hands with visible effects in 1 day. It contains a powerful peptide complex that supports natural collagen and softens the appearance of fine lines and wrinkles, panthenol for firming and improving skin elasticity and niacinamide for increased skin radiance.