We all want our skin to stay young. Most of us have incorporated one or two anti-aging products in our skincare regime. But how much do you know about your anti-aging products? How do they work to stop the process of skin aging? Today we'll introduce you to some of the best anti-aging creams in Australia. They help your skin look and feel younger.
The best anti-aging ingredients
Anti-aging products are everywhere! Unfortunately, some of them do little more than just hydration. Moisturisation does help improve skin texture, but when it comes to anti-aging, there are other things we should look out for in our anti-aging skincare products. Here we've listed some of the best ingredients with anti-aging properties. These ingredients recommended by dermatologists work beyond moisturisation.
Vitamin B3/Niacinamide
Vitamin B3, also known as niacinamide has become a popular skincare ingredient for its many skin benefits. It is proven to brighten up skin tone, improve hyperpigmentation and strengthen skin barrier. It is also great for mature skin as it works to stimulate the production of new collagen, which increases skin elasticity. It is worth noting that niacinamide can interact with vitamin C and have an adverse effect together, so remember to avoid applying these two vitamins at the same time.
Hydroxy acids
Hydroxy acids come in two forms: Alpha Hydroxy Acids (AHAs) and Beta Hydroxy Acids (BHAs). These acids are derived from natural sources such as fruits. They are highly effective in gently exfoliating the skin, removing dead skin layers and softening hard calluses. Meanwhile, they encourage the renewal of skin cells and promote smoother skin surface, leaving the skin fresher and more radiant. This ingredient is particularly helpful for dry or damaged skin.
Peptides
Peptides are essential to the function and structure of the skin. As we grow older, our skin starts to lose its natural collagen. Peptides in skincare products help to boost collagen production, creating a plumping effect. Peptides allow the skin to remain intact, prevent loss of firmness and reduce the appearance of wrinkles. Peptides also have incredible anti-inflammatory effects on the skin, which help reduce red patches.
Antioxidants
The natural process of skin aging can be accelerated by several factors. The most significant one is free radical damage. Antioxidants are substances that help protect the skin's surface from oxidative damage caused by free radicals and environmental aggressors like UV and pollution. Antioxidants are widely used in skincare products for their anti-aging abilities. Common antioxidants include green tea extract and grape seed oil.
The best anti-aging hand cream
Having learned about the best anti-aging ingredients, we've rounded up some of the best anti-aging products that contain these ingredients.
Studies show that most people can accurately tell a person's age by viewing only their hands. Premature aging on one's hands features wrinkles, fine lines and dark spots. Wearing sunscreen on your hands or putting on a pair of driving gloves can block out the harmful UV damage. Another effective way to get younger-looking hands is to use a good anti-aging hand cream.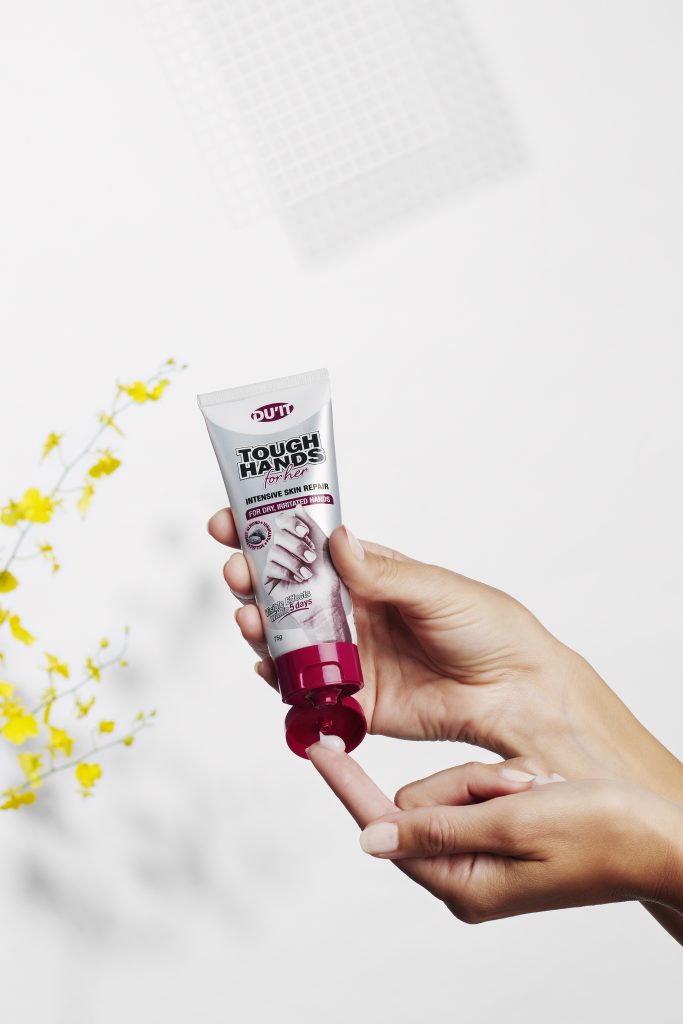 Our Tough Hands for Her is a dermatologist-approved anti-aging hand cream that contains a unique complex of peptides, niacinamide and panthenol. These actives work to plump the skin, restore skin elasticity and keep the hands smooth, radiant and tight. Its non-greasy texture quickly sinks in and deeply nourishes the skin. A pea-sized amount will keep the skin hydrated for a long time.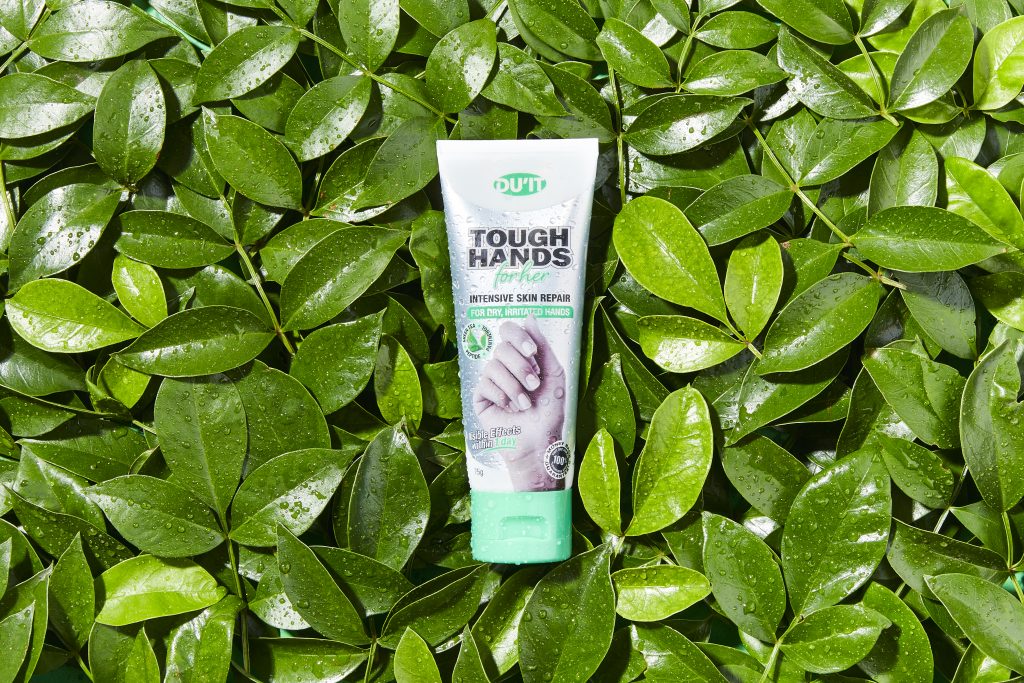 Tough Hands for Her is also available in Green Tea fragrance. Enriched with powerful antioxidant green tea extracts, this anti-aging hand moisturiser tackles skin concerns including dryness, loss of collagen and pigmentation.
Tough Hands for Her is from Australia's No.1 hand cream brand DU'IT and it is an Australian made hand cream. It is clinically tested to improve skin conditions in just 1 day.
The best anti-aging lip balm
Another place that reveals your age is the lips. Lip lines inevitably develop as we eat, drink and talk. Sun exposure and bad lip care habits also play a role in lips aging. A safe alternative to lip fillers is an anti-aging lip balm. Our Tough Lips intensive lip balm is infused with grape seed extract. This antioxidant ingredient can prevent pollution- and UV-induced free radical damage. It helps fortify the skin barrier, soften chapped lips and smooth the skin, without clogging pores. Its inflammatory property also calms irritated skin.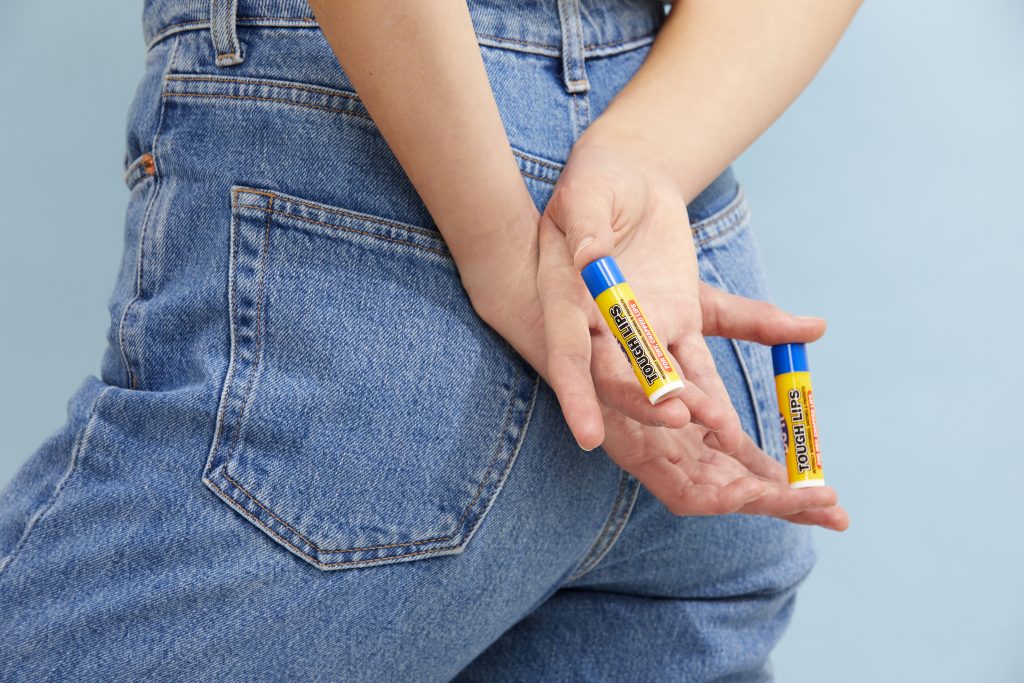 Grape seed extract works in conjunction with shea butter, beeswax and panthenol to repair chapped lips. This long-lasting lip conditioner instantly melts into the skin, hydrates dry lips and minimise lip wrinkles. It also offers protection against environmental aggressors, including UV rays.
There are so many anti-aging products on the market. If you're still confused by all those options, look no further. Introduce Tough Hands for Her and Tough Lips to your skincare routine. These expert-recommended anti-aging products help turn back time and keep your skin firm.
---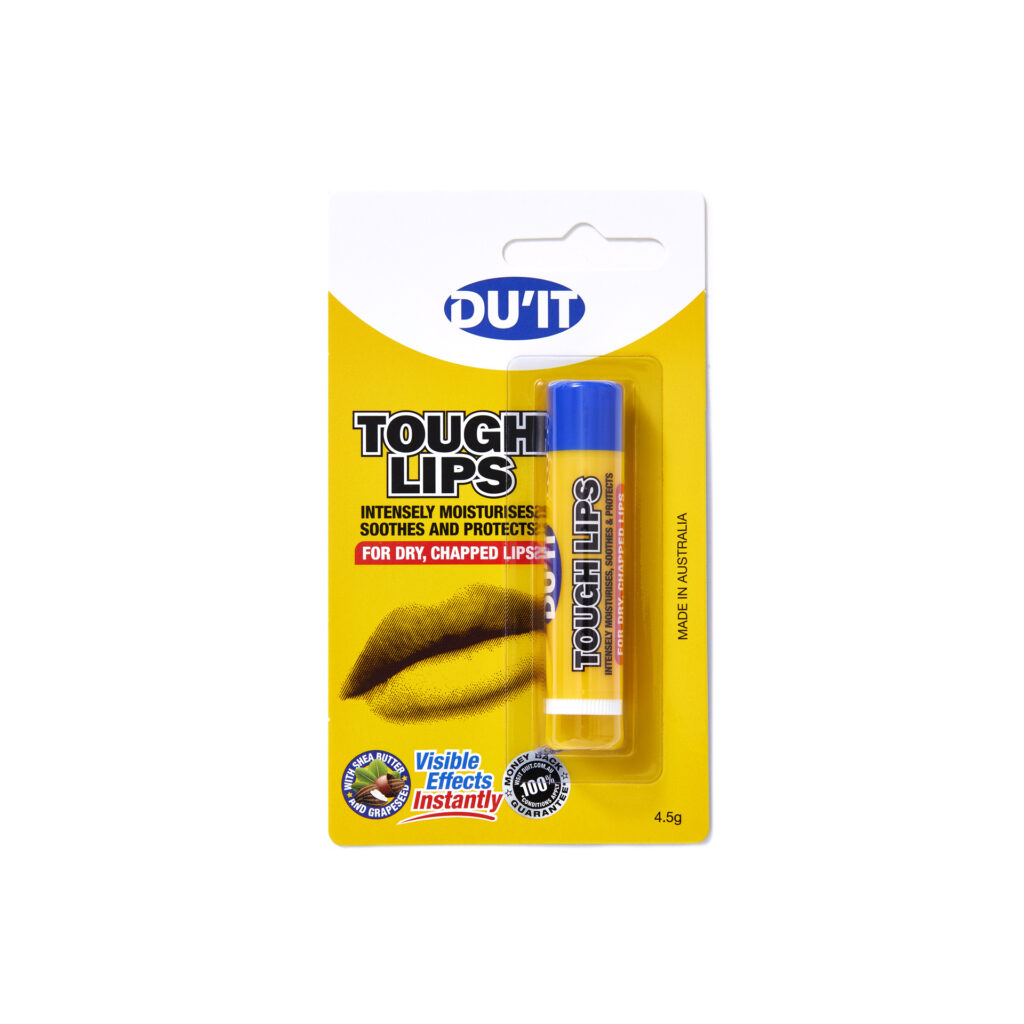 DU'IT Tough Lips 4.5g
Clinically proven DU'IT Tough Lips antioxidant intensive lip balm instantly hydrates and relieves dry, chapped lips, resulting in soft, healthy-looking lips. Enriched with nourishing grape seed, vitamin e and antioxidant polyphenols, its texture instantly melts without a greasy effect and leaves your lips moisturised.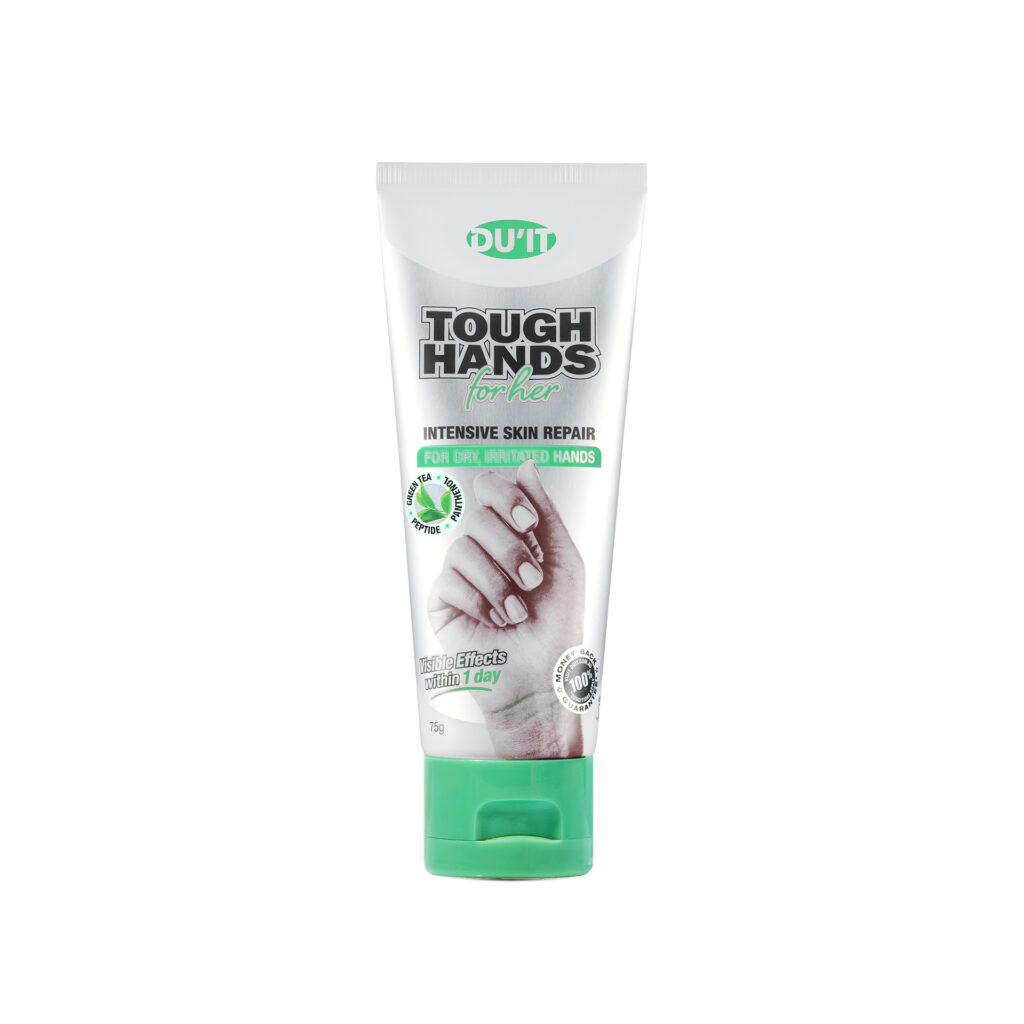 DU'IT Tough Hands for Her Green Tea 75g
DU'IT Tough Hands for Her Green Tea hand cream and moisturiser is a clinically tested anti-aging dry skin hand cream for tired, overworked hands. It works to repair dry, chapped, calloused and irritated skin, restoring luminosity to dull looking hands. It contains a powerful peptide complex that supports natural collagen and softens the appearance of fine lines and wrinkles, panthenol for firming and improving skin elasticity and niacinamide for increased skin radiance.