What is eczema?
Eczema, also known as Atopic Dermatitis, is a common skin condition that affects both children and adults. People with eczema have skin that has a weak moisture barrier, so it becomes dry and irritated.
Many factors can trigger eczema. For instance, chronically dry skin, bacterial infections, chemicals, perfumes and soap, allergens such as pollen, certain fabrics and high room temperature are all potential irritants that can cause eczema flare-ups or worsen its symptoms.
Eczema can affect different areas of your body too, including the face, scalp, hands, feet, ankles, wrists, neck and eyelids. Below are some common symptoms that patients with eczema may suffer from:
Dry, sensitive skin
Inflammation, redness, rash and itchiness
Darkened skin
Rough, thickened and scaly patches of skin
Areas of swelling
Skin infection
The uncomfortable itchiness often makes you want to scratch the affected area, which can break the skin barrier, causing more of a flare-up of the symptoms.
Eczema on hands
Environmental factors such as frequent hand washing, and exposure to products such as harsh soaps, detergents and disinfectants can also make our hands prone to eczema. Hands with eczema conditions are usually dry, itchy and cracked. In some cases, palms and fingers start to peel and flake to the point where they become painful or even infected. You might also notice thickened skin and blisters on hands caused by eczema.
Hand eczema or hand dermatitis doesn't just affect your appearance or make you feel uncomfortable. Severe hand eczema can lead to poor sleep quality, affect your self-esteem and impact your everyday life.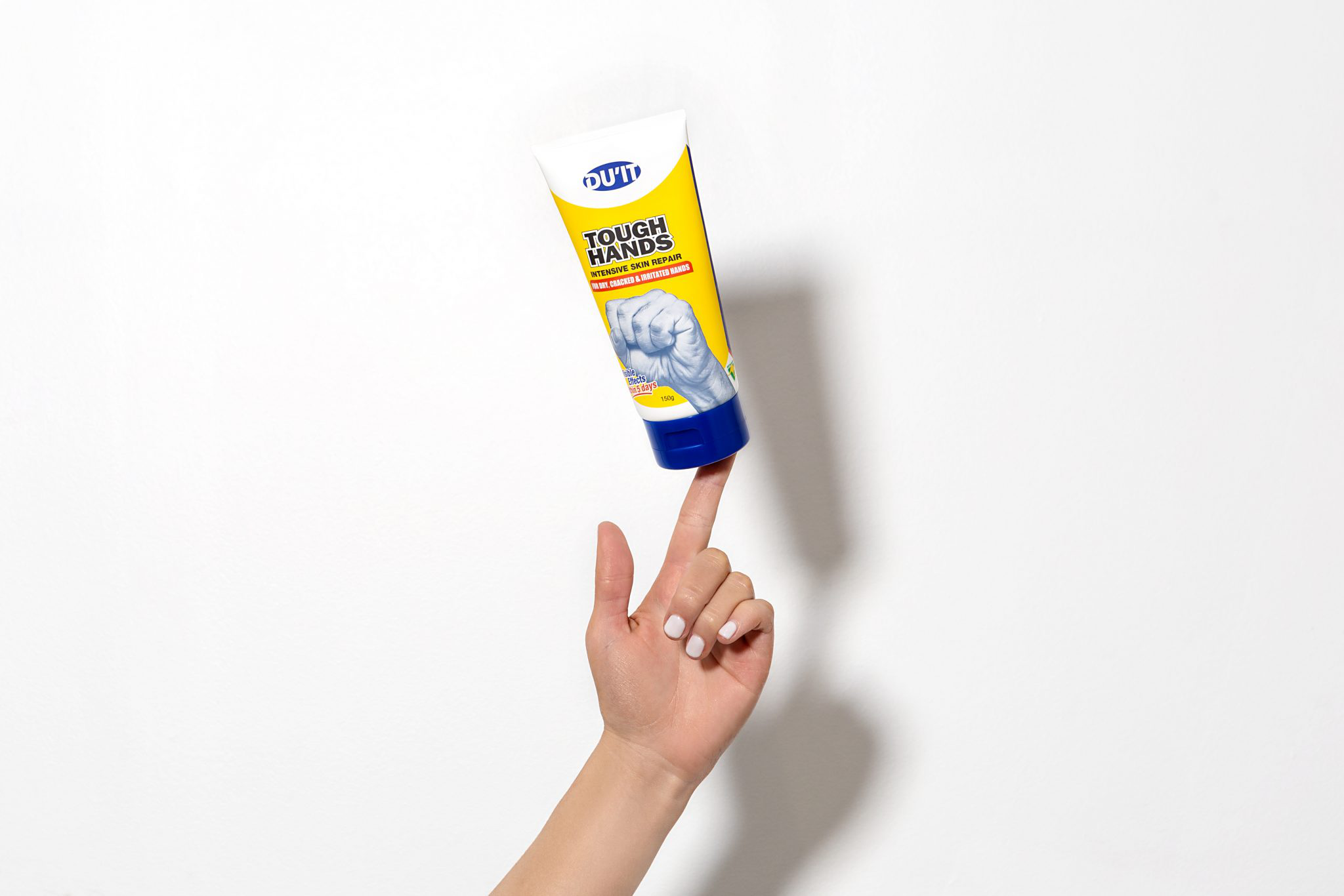 DU'IT Tough Hands Intensive Hand Cream 150g
What is the best treatment for hand eczema?
According to dermatologists, one of the best and easiest ways to control and treat eczema is by keeping your skin's moisture intact. Using a good ointment or hand moisturiser can effectively hydrate your hands. One of the best hand creams for eczema that we recommend is Tough Hands intensive hand cream that rehydrates dry skin upon application, prevents moisture loss and improves the skin's fragile moisture barrier.
DU'IT Tough Hands is an intensive hand cream that is a dermatologist recommended product and endorsed by the Eczema Association of Australia. Its fast-acting formula targets symptoms, to moisten dryness, sooth irritation and seal cracks. Unlike other beauty hand creams, our Tough Hands hand cream is a functional hand cream that is scientifically proven to improve skin conditions.
How does Tough Hands work?
Tough Hands hand cream has a unique triple-action formulation that effectively repairs damaged hands. With the safest and most active ingredients, Tough Hands hand cream makes your hands visibly softer, smoother and more hydrated delivering results within 1 day.
Below are the three main hand cream functions it performs:
1. Exfoliation
Infused with natural AHAs, a natural exfoliator that gently dissolves dead skin cells, Tough Hands hand cream softens thickened skin and smooths rough patches, allowing moisturising agents to absorb.
Eczema is prone to infections from bacteria and viruses which triggers symptoms to worsten. If you're suffering from peeling fingertips and cracked skin, antimicrobial tea tree and lemon myrtle extract help treat minor infections, reduce swelling and promote skin healing.
2. Hydration
Extremely dehydrated skin can become irritated and will worsen your eczema. Hence keeping your skin well hydrated is the key to relieving eczema symptoms.
Tough Hands contains Urea, an excellent skin conditioner that maintains the skins moisture balance and seals cracks. Working in conjunction with sodium PCA, these active ingredients nourish dry skin and provide intensive hydration to your hands. There is also added Natural vitamin E to soothe inflamed skin and replenish lost moisture.
3. Protection
Eczema makes the skin's natural moisture barrier thinner. Therefore, it is also essential for eczema-prone skin to prevent hydration from escaping.
Specially formulated with Dimethicone, Tough Hands hand cream forms a thin, protective film on your skin that helps lock in moisture, strengthen skin's natural barrier, and shield skin against environmental aggressors.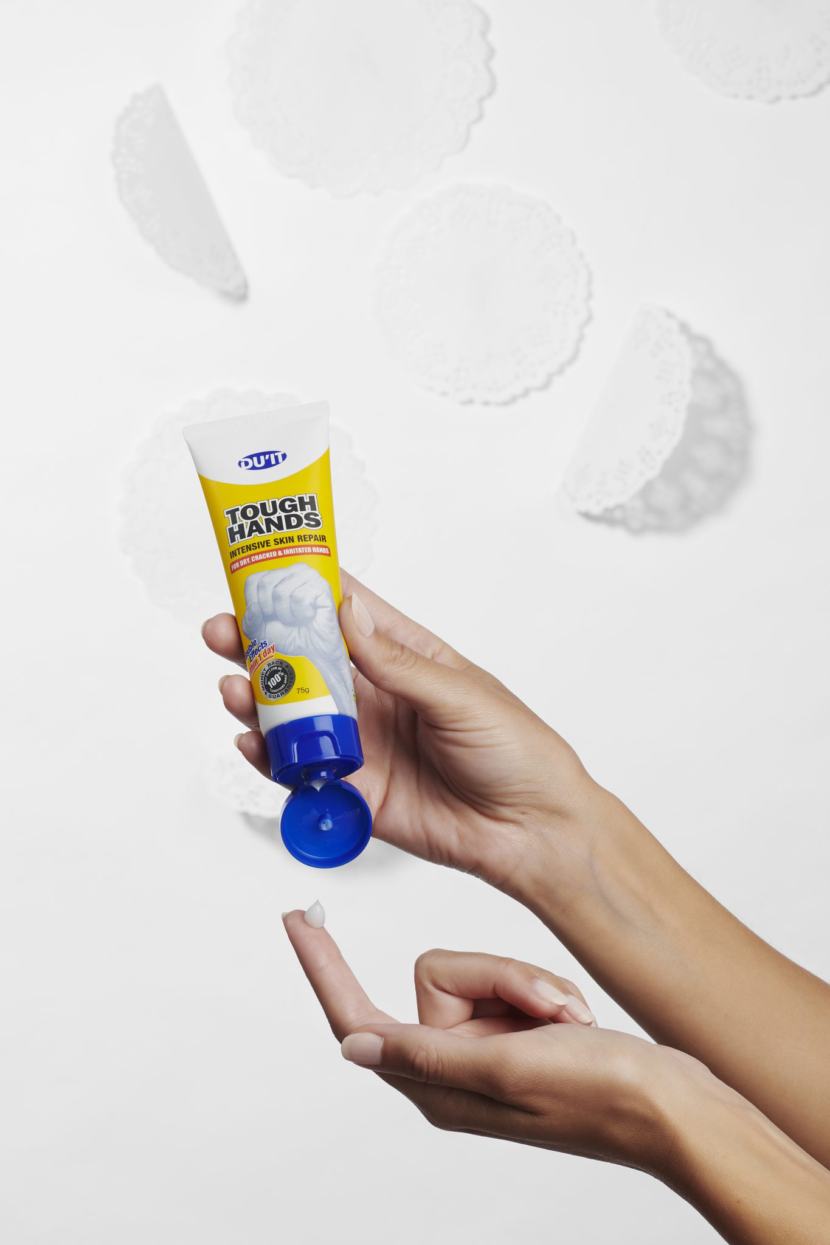 An eczema-friendly cream
In addition to its exceptional moisturising abilities and outstanding protection properties, our Tough Hands hand cream is an eczema cream that suitable for people with eczema or dermatitis because it is 100% nasty-free.
Tough Hands hand cream is non-allergenic, non-toxic and non-steroidal. It doesn't contain any harmful chemicals such as parabens, petrolatum, mineral oil and propylene glycol. Free from animal-derived lanolin, it will not trigger allergies or irritation.
Tough Hands hand cream is suitable for all skin types, including people with eczema, diabetes or sensitive skin. If your skin is extremely sensitive, we also have Tough Hands Fragrance Free. It is specially developed with no added fragrance, and is super gentle yet effective in repairing dry hands.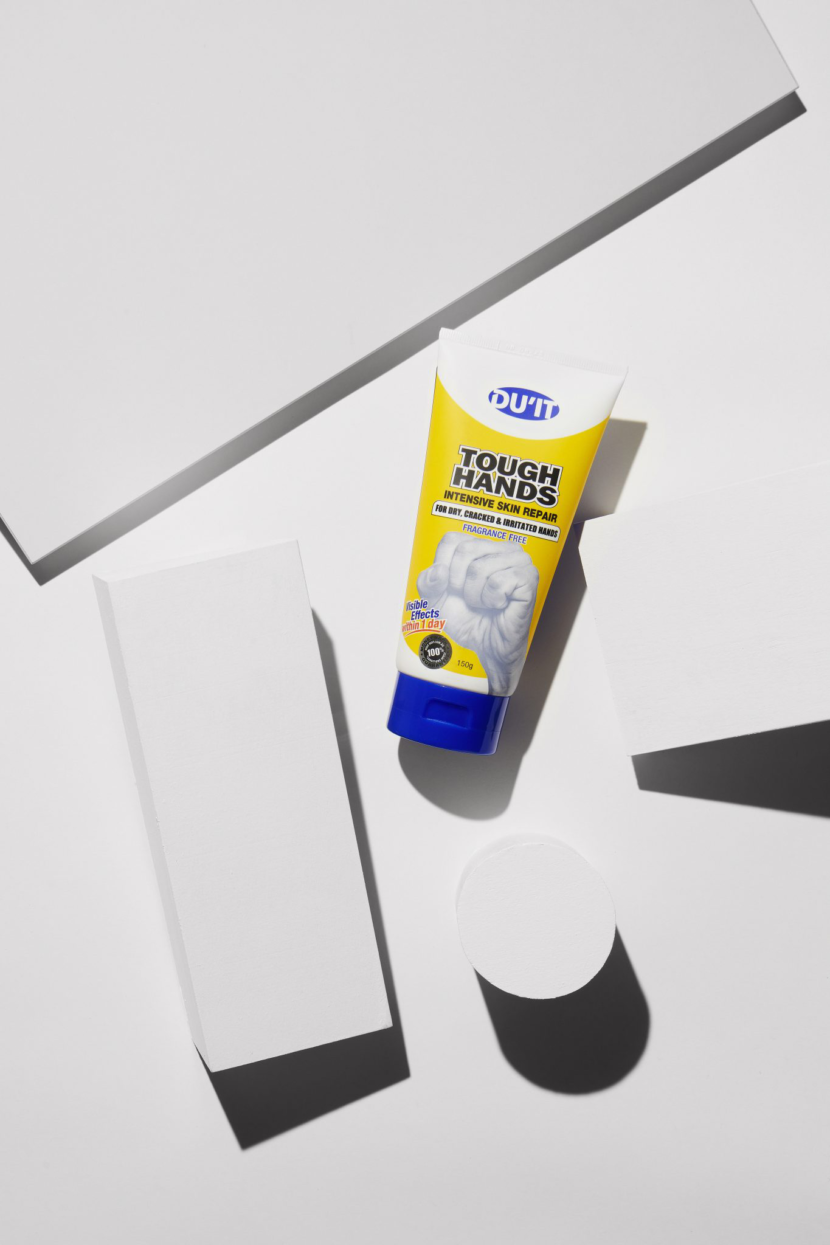 Tough Hands Fragrance Free 150g
Tough Hands hand cream range is clinically tested to improve itchy and irritated skin in 1 day. Its easily absorbed gel-cream texture leaves your hands smooth and silky, without any greasy residue. Because of the intensive formulation only a pea-sized amount is required to provide long-lasting hydration throughout the day. Tough Hands is Australia's No.1 hand cream* and is 100% Australian made and owned. Tough Hands is the best hand cream for eczema with results you can trust.
Note: For people with severe skin conditions, we suggest you consult your doctor and use prescription creams such as hydrocortisone as needed.
*IRi scan sales data, 2018 Pharmacy and Grocery, Australia.
---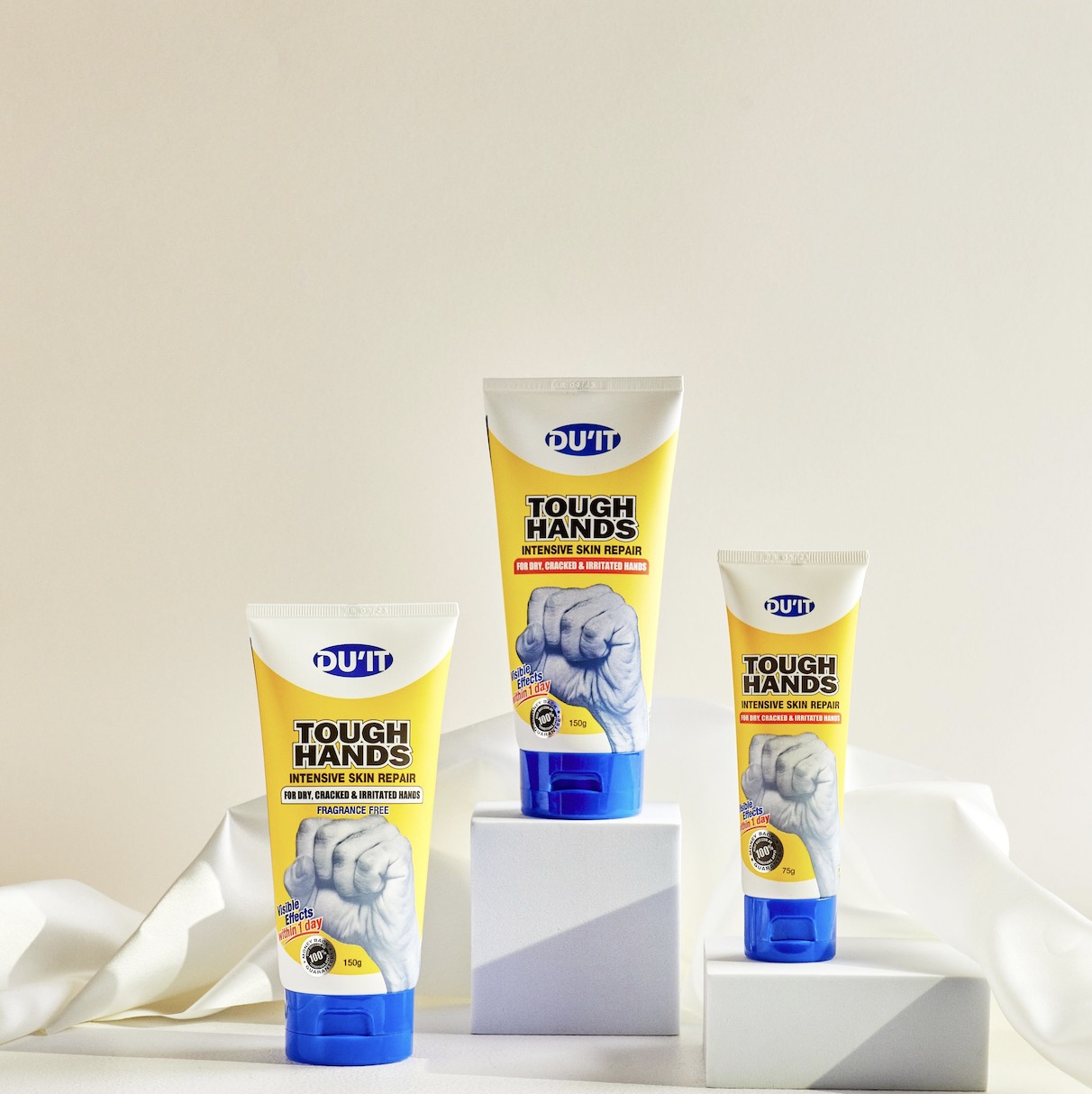 DU'IT Tough Hands
DU'IT Tough Hands is a clinically proven, intensive strength hand cream for dry hands that works to seal cracks, replace lost oils, condition the skin and form a protective barrier to keep hands in top condition.
It's Australia's No.1 hand cream* (IRI data, Grocery & Pharmacy, 2021).
Repairs dry, rough, cracked, irritated and calloused hands, with visible effects in 1 day. It's non-greasy, made in Australia and contains no nasties.