Working as a tradie is tough. Long hours of work and constant exposure to the sun are physically challenging, especially in the hot Aussie summer. Our hands have the fewest and smallest oil glands in the body. Therefore, hands are more prone to work-related damages than any other parts of the body. Dry, cracked hands aren't just unpleasant to look at. They can feel uncomfortable and painful. Here are some of the common symptoms of tradies' hands that you shouldn't ignore, and the best way to treat them.
What do 'tradie hands' look like?
Hard work with your hands every day can leave your hands extremely dry and tight. Constant friction with tools and machinery will cause hard calluses and thickened patches to build up on your fingers and palms.
Harmful elements such as sun exposure, harsh chemicals, over-washing contribute to skin peeling on hands and fingertips. Common irritants including dust, dirt, glue and solvents will worsen these conditions.
Extremely dry and overworked hands often become cracked and irritated. Untreated cracks will allow bacteria to enter the skin and lead to infections over time. Glove-wearing is vital to your work safety, but prolonged exposure to this warm, sweaty environment can make it harder for open wounds to heal.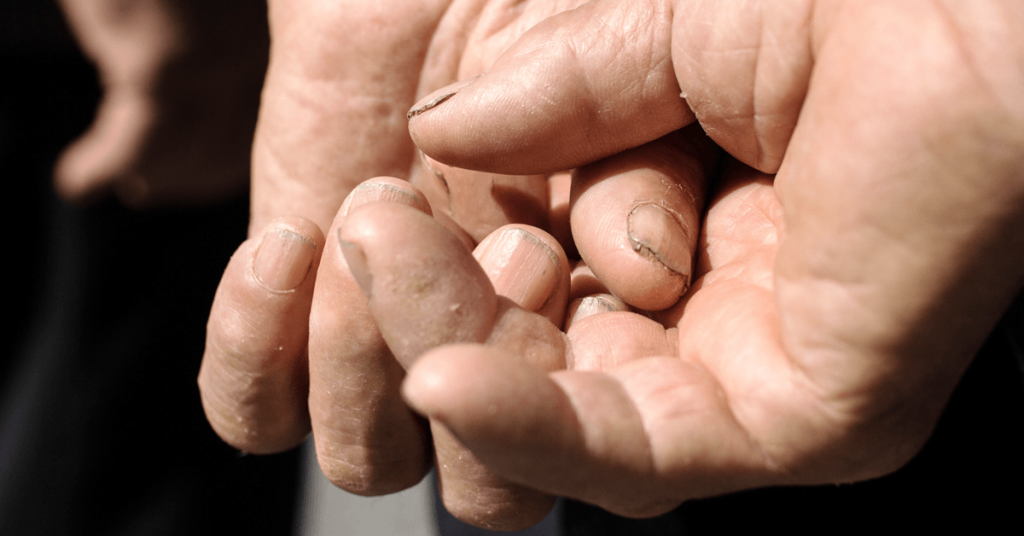 How to take care of 'tradie hands'?
As a tradesman, even though you might not feel the need of hand care, your hardworking hands do need some extra attention. Tradies often have drier, rougher and more calloused hands than anyone else's. Your usual beauty hand cream just won't help with all that. What you need is an industrial-strength hand cream that does more than hydration.
DU'IT Tough Hands cream is an Australian made, intensive hand cream that fixes dry skin problems fast. It is clinically tested to improve skin conditions within 1 day. Tough Hands hand cream has been ranked No.1 in Australia for 3 consecutive years. It is your fuss-free solution to have softer, smoother hands.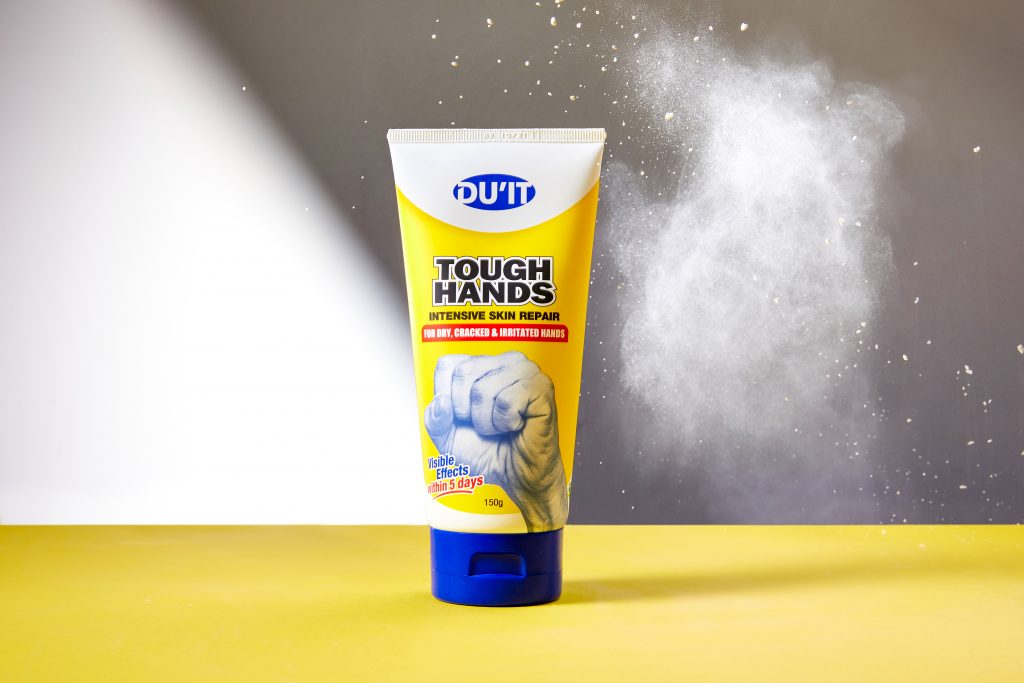 "Tough Hands is a great product! And I like that it is Aussie made. My hands have been really dry due to constant washing, especially in the web of my fingers. This product was an amazing fix. As a bloke, it's got a pleasant scent and is not oily or greasy. This is the best dry skin hand cream I've used."
"I bought this for my husband as he has ¨tradie hands¨ and needed something that works fast. It contains AHAs plus moisturising agents, which really helped my husband's hands that were so bad I thought nothing would help. This product is magic! If you use it at night, you'll wake up to new hands! It is great for women too."
Deep moisturisation
Tough Hands intensive hand cream is enriched with 10% UREA, deeply moisturising dehydrated skin. As an active part of our natural moisturising factor (NMF), UREA is a dermatologist-recommended ingredient that nourishes dry skin and retains the skin's moisture. This intensive hand cream also contains natural AHAs, which helps soften hard calluses and dissolve dead skin layers. It also assists in the penetration of skin conditioning ingredients.
Crack healing
Tough Hands intensive hand cream works to repair cracked skin. It is formulated with lemon myrtle and tea tree extract, two natural antimicrobial agents with well-proven anti-inflammatory properties. They encourage the renewal of skin tissue and promote the healing of minor cuts on your hands. With added natural Vitamin E, Tough Hands hand cream instantly soothes sore skin, calms itchiness and revives stressed skin.
Long-lasting protection
Busy work means you need a hand cream that protects your hands for longer so that you won't have to reapply all the time. Tough Hands intensive hand cream contains dimethicone, which forms a glove-like thin protective film on your skin to help prevent moisture loss and shield the skin from constant exposure to harsh elements.
Tough Hands hand cream has this rich texture, which sinks in straight away, leaving no greasy residue. Its natural, unisex herbal scent is ideally for anyone who isn't a fan of floral or fruity smell. This intensive hand cream revives stressed skin and strengthens skin's barrier that helps prevent cracked skin and rough hands. It is great for anyone who works with their hands in all weathers and with different materials.
Your hands work so hard, and they deserve better care. It is time to invest in a good hand cream. Update your everyday grooming routine with Tough Hands intensive hand cream, one of the best hand creams for tradies you can find in Australia. It delivers visible effects in 1 day!
---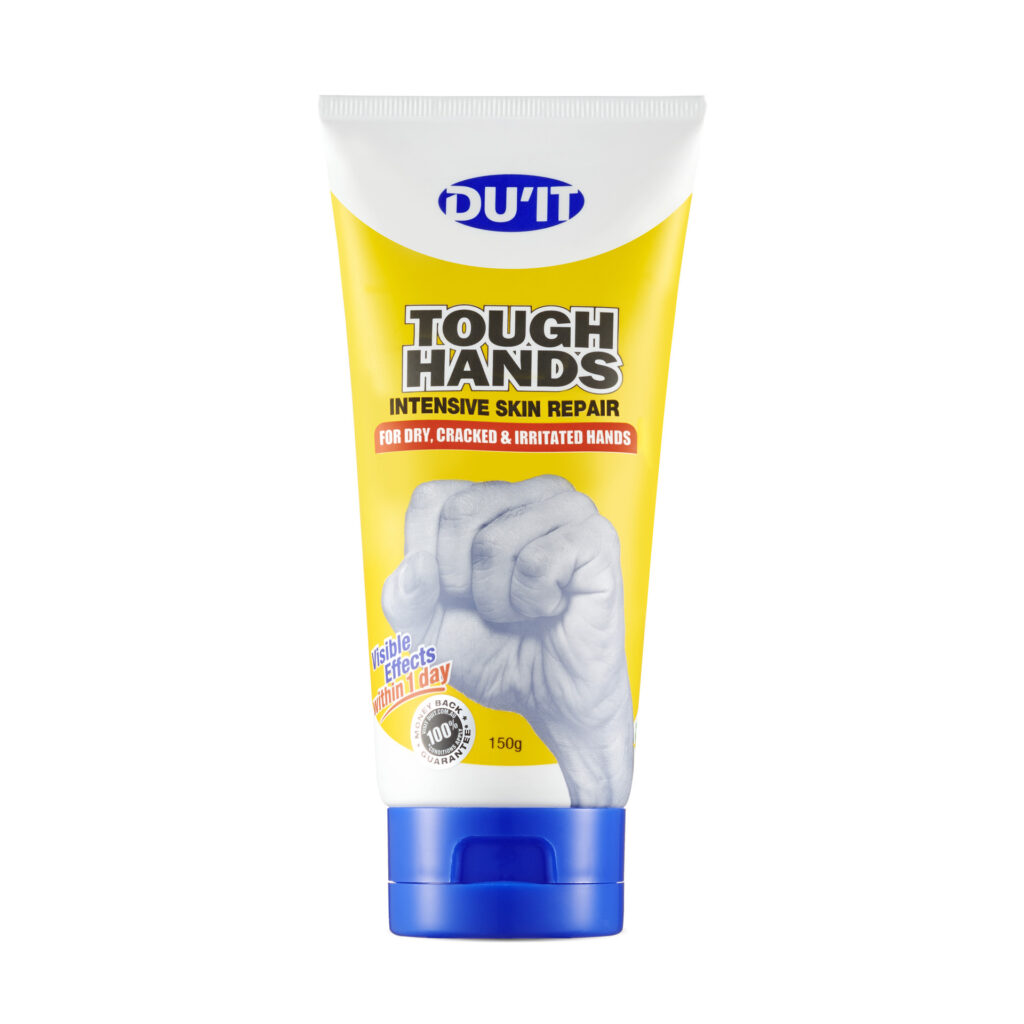 DU'IT Tough Hands 150g
DU'IT Tough Hands is a clinically proven, intensive strength hand cream for dry hands that works to seal cracks, replace lost oils, condition the skin and form a protective barrier to keep hands in top condition.
It's Australia's No.1 hand cream* (IRI data, Grocery & Pharmacy, 2021).
Repairs dry, rough, cracked, irritated and calloused hands, with visible effects in 1 day. It's non-greasy, made in Australia and contains no nasties.